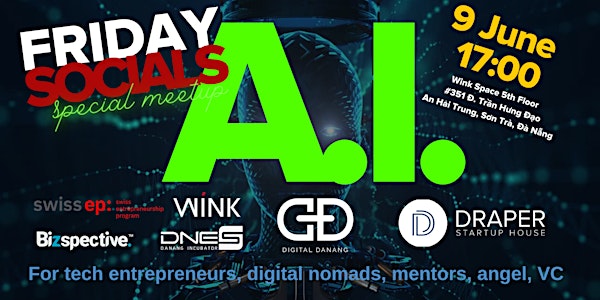 FRIDAY SOCIALS meetups
FRIDAY SOCIALS meetup is a regular event to connect, inspire, and empower entrepreneurs!
By Draper Startup House Vietnam
Date and time
Friday, June 23 · 5 - 8pm +07
Location
Wink Hotel Danang Riverside 351 Đường Trần Hưng Đạo Đà Nẵng, 550000 Viet Nam
About this event
FRIDAY SOCIALS meetup
A regular event to connect, inspire, and empower for tech innovation startups; teams of tech innovation founders; their mentors / teachers / professors serving entrepreneurs; plus angel and venture capital investors; incubators / accelerator programs, co-working space owners; and anyone curious or supporting our ecosystem.
#FridaySocials #TechInnovation #Entrepreneurs #StartupTeams #Mentors #Teachers #Professors #Investors #Incubators #AcceleratorPrograms #CoWorkingSpaceOwners #Networking #Empowerment #Inspiration #CommunityBuilding
Frequently asked questions
Is it free to partcipate?
I can't make it this time.
It's raining / about to rain...
I have an auto, motorbike, bicycle...
About the organizer
Draper Startup House Vietnam is part of a global network of spaces connected to services, education, and investment for entrepreneurs.