Description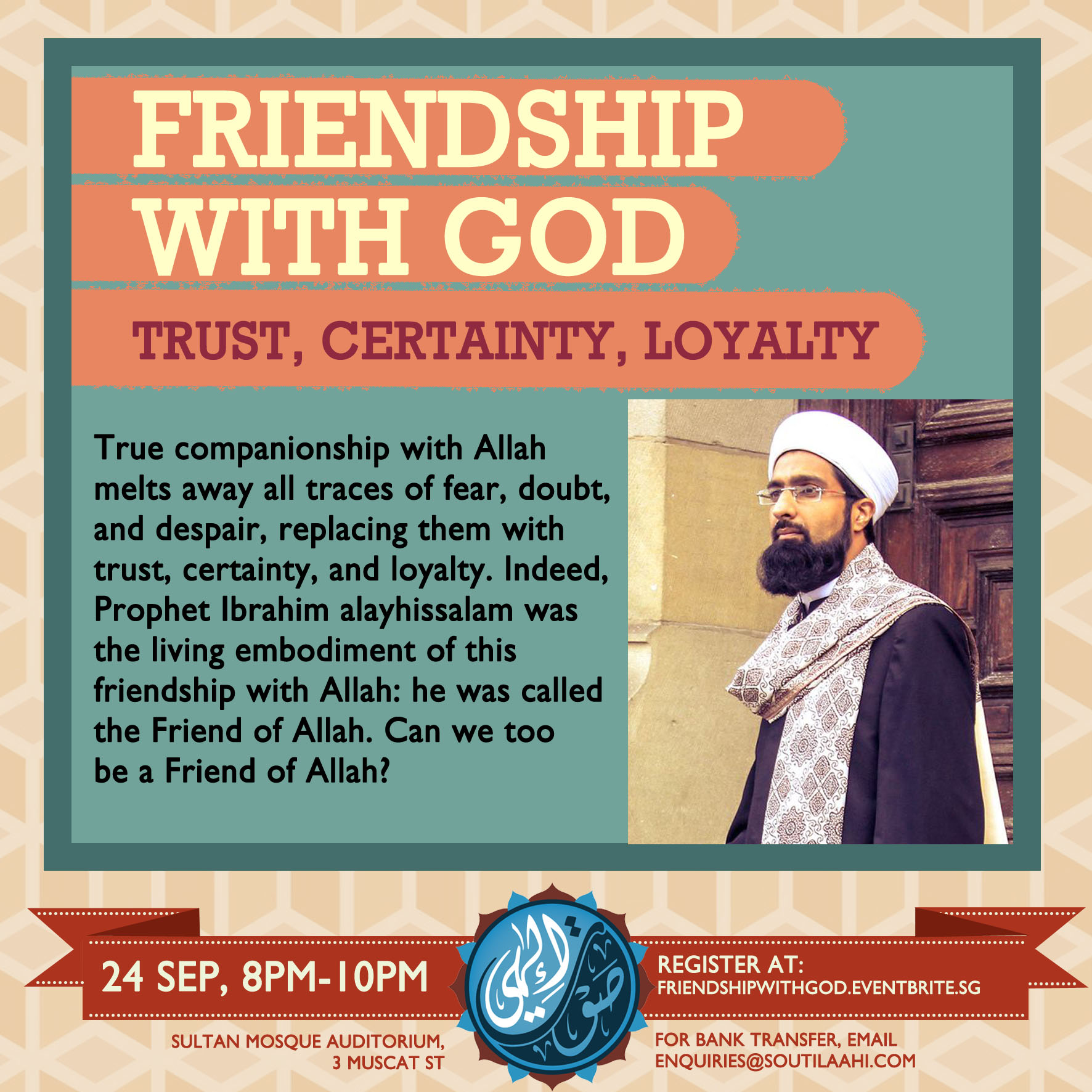 This public lecture seeks to utilize the spiritual insights from the story of Prophet Ibrahim alayhissalam to emphasize the cruciality of companionship with Allah, in order to give Muslims the tools to have trust, certainty and loyalty towards Allah.
True companionship with Allah melts away all traces of fear, doubt, and despair, replacing them with trust, certainty, and loyalty. Indeed, Prophet Ibrahim alayhissalam was the living embodiment of this friendship with Allah: he was called Khalilullah, the True Friend of Allah.
The fear of the unknown can paralyze our limbs from moving outside of our comfort zones, and make us run away from reality when faced with hardship. Likewise, he who serves his master out of fear would flee at the first chance he gets. But the loyalty borne out of Love extinguishes the fear of the unknown: Prophet Ibrahim was steadfastly loyal to the command of Allah (the Loving One) to leave his wife and son in the middle of the desert.
When the heart is gripped with overwhelming grief and despair, it feels like being trapped in an endless abyss of searing pain. But the light of hope expands the heart that has constricted with sadness: Prophet Ibrahim always remained hopeful in the physical and spiritual provision of Allah, the Provider, and obeyed Allah's command to sacrifice his son Prophet Ismail alayhissalam.
Sometimes, insecurity and self-doubt mask themselves in the form of false humility and hold us back from progressing further along in our lives because we're unsure that we would succeed. But complete reliance on Allah brings a resolute certainty in the protection of Allah, the Protective Friend. Prophet Ibrahim was unflinchingly certain in the protection of Allah, the Protective Friend, and walked into the fire that his people had made to burn him alive. He said, "I only wish that Allah be pleased with me. Sufficient for me is Allah, and He is the Best Disposer of Affairs."