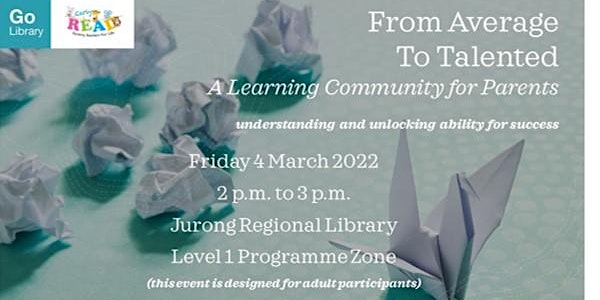 From Average to Talented : A Learning Community for Parents | Early Read
A learning community for parents to understand and unlock ability for children's success.
When and where
Location
Jurong Regional Library -Level 1 Programme Zone 21 Jurong East Central 1 Singapore 609732 Singapore, 658713 Singapore
About this event

Important Notice
This programme/event is open to members of the National Library Board, Singapore. Please ensure you have your myLibrary username on hand before proceeding with the registration. If you do not have a myLibrary username, you can create one here: https://account.nlb.gov.sg/
About the Programme
What is talent? Is talent - or lack of it - inborn? Why are some people more talented that others? Am I talented? How do I uncover my child's talent?​​​​​​​
From Average to Talented will journey 3 sessions throughout the year - The Talent Mindset, Nurturing Ability, and Growing Greatness. Each session comprises a speaker presentation, participative discussions and recommendations for learning resources. Facilitated by Yi Lin - parent to 3 children, this learning community is suitable for families with an interest in re-evaluating the talent script, examining strategies that create talent, and continuing to grow talent for life.
This event is designed for adult participants and parents to children of all ages.
About the speaker
Yi Lin is a parent to 3 children ages 6, 8 and 10 years old and creator of Parents Can Coach. 
Parents Can Coach is born out of 9 years (and counting!) of journeying through early childhood and music education with her daughters through the Suzuki method. As both a resource and community platform, Parents Can Coach is where she brings the richness gained from personal lessons and insights from her family's musical journey to parents who want to learn how to set their child up for success through creating a nurturing environment for growth.
We all want to bring forth the best in our child. Like a gardener, we first have to acquire the knowledge and skills to tend to a seedling so that it blossoms and fruits. Come along to find out more.