Description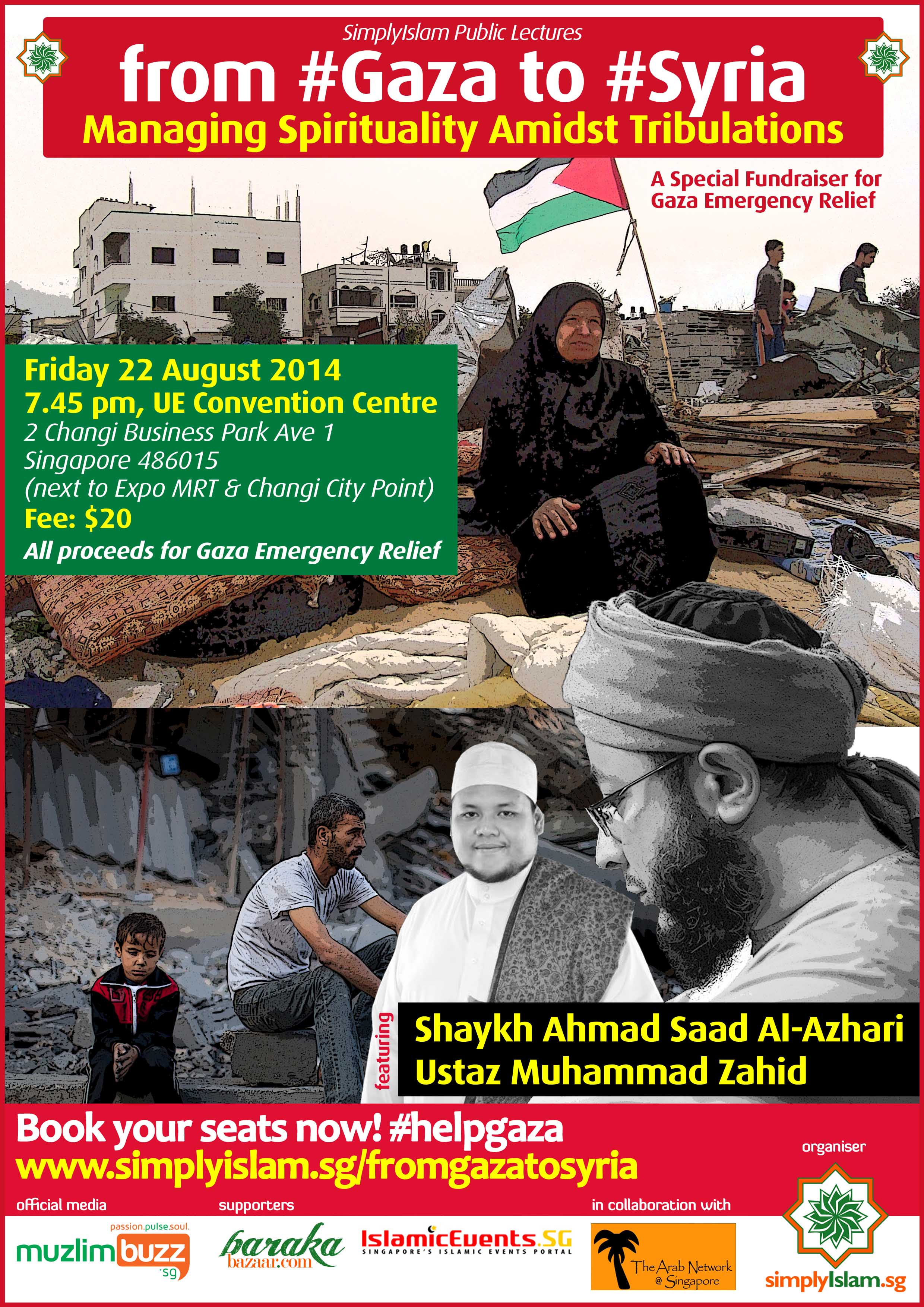 Public Lecture & Discussion
From Gaza to Syria: Managing Spirituality Amidst Tribulations
A Special Fundraiser for Gaza Emergency Relief
(1) Shaykh Ahmad Saad Al-Azhari
(2) Ustaz Muhammad Zahid Mohd Zin
Date: Friday 22 August 2014
Time: 7.45 pm
Venue: UE Convention Centre [map]
2 Changi Business Park Ave 1
(Next to Expo MRT & Changi City Point)
This lecture & discussion program aims to address the spiritual issues faced by Muslims, especially in the current tide of tribulations faced by Muslims in Gaza, Syria, and so on. The program will discuss spiritual approaches for Muslims when faced with tribulations. It aims to
address the following questions:
How can we reconcile the oppression and tribulation of the Muslim Ummah with the Divine Mercy and Divine Decree?

What can Muslims do to help the people of Gaza or Syria and other oppressed communities?

Allah instructed believers who are facing tribulations to be firm and remember Allah frequently and strengthen the internal tapestry of the community. How can we maintain this steadfastness in the midst of manifest trouble as can be seen in places like Iraq, Syria and Gaza?

How should Muslims react when faced with calls of jihad, confrontation and adversity?

How can spiritual empowerment be the way forward?
About the Speakers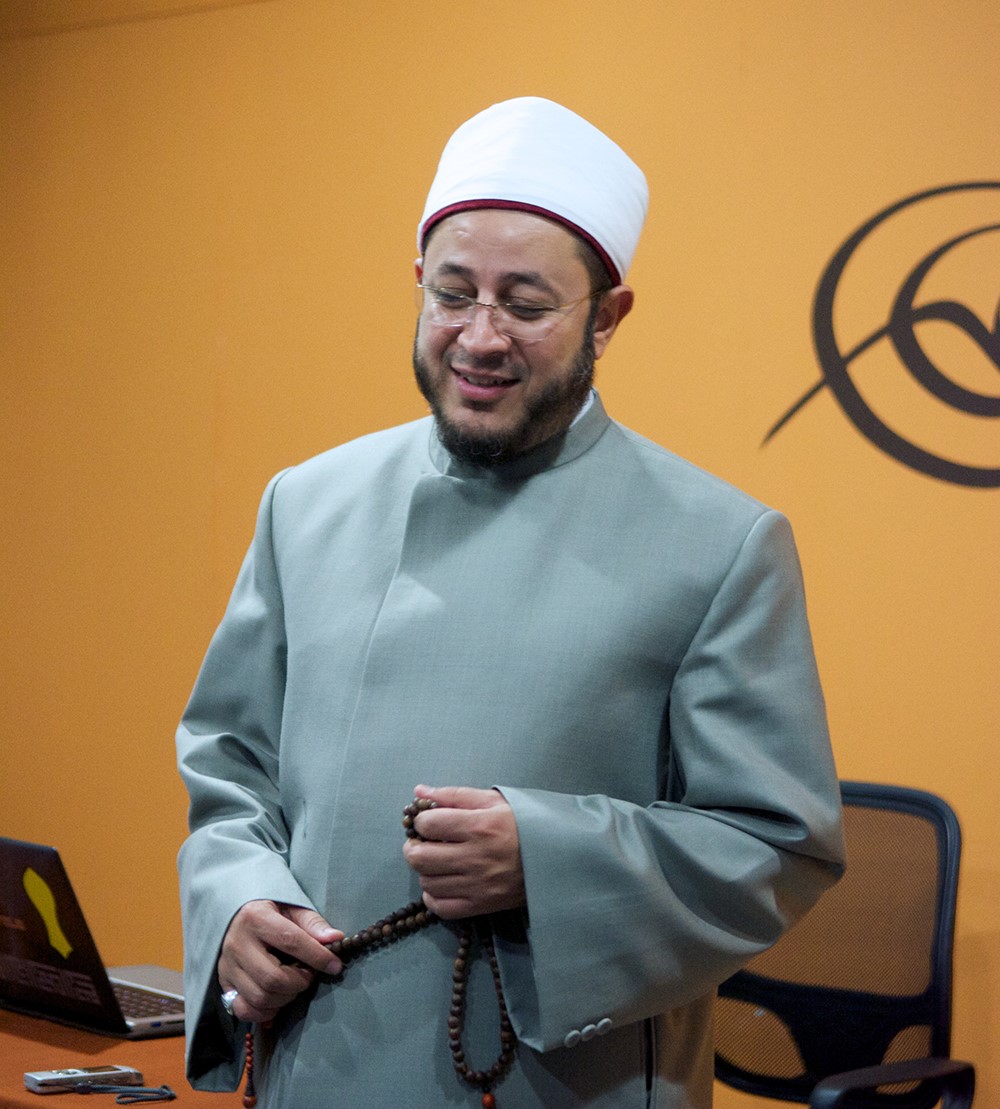 Shaykh Ahmad Muhammad Saad Ash-Shafi'ie Al-Azhari Al-Hasani was born into a family of scholars whose lineage goes back to the Prophet Muhammad (salla Allahu alayh wa sallam) in the northern Egyptian governorate of Monofiyyah. He completed the memorisation of the Holy Qur'an at the age of ten and studied basic Arabic and Islamic sciences before enrolling into Al-Azhar system of schools where he spent almost 17 years of his life graduating with a B.A. Honours in Islamic Studies in English. Alongside with his academic studies, he studied traditional Islamic sciences at the hands of senior scholars and specialists in Egypt, the most notable of whom is his late father Shaykh Muhammad Saad and the Grand Mufti of Egypt Sheikh Ali Gom'ah. He completed the memorisation of the Holy Qur'an at the age of ten, and went to memorise Riyad As-Salihin of Imam An-Nawawi at the age of 15 and Al-alfiyyah of Ibn Malik at the age of 13 and committed to memory thousands of lines of poetry and prose. He has also memorised texts on logic, tajwid, aqidah, morphology, rhetoric and many other sciences. He has toured the world as an Imam, speaker and lecturer; he visited Canada, USA, Germany, Malaysia, Singapore, Sweden and currently lives in London, United Kingdom. He is the Founder and Director of the Ihsan Institute for Arabic & Islamic Studies (UK) [website], and was the former Imam of North London Central Mosque. [more]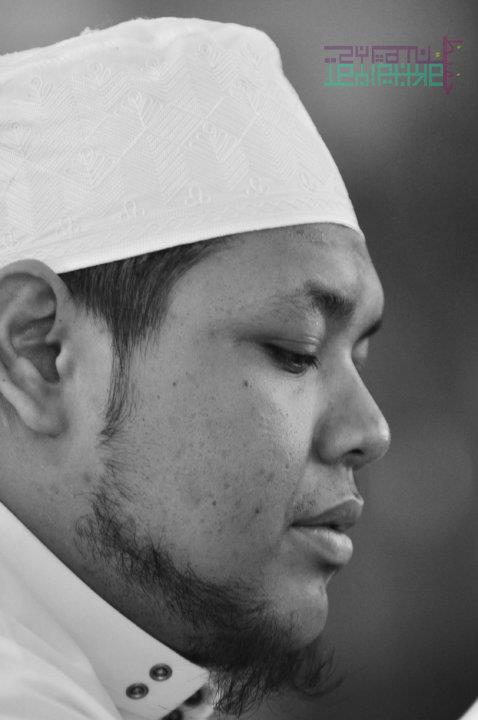 Ustaz Muhd Zahid Zin completed his early Islamic studies at Madrasah Aljunied Al-Islamiah Singapore. He then went to further his studies at the famous Abou Nour Institute in Damascus, Syria. He was the Imam Executive at Masjid Muhajirin for 2 years. He is currently the Head of Programmes For Muslim With Disabilities at Badan Agama Dan Pelajaran Radin Mas or Radin Mas Association of Religious Education (BAPA). Beyond teaching, he also serves as the Naib Kadi and an active motivational speaker, having been invited by various local Muslim organizations, including SimplyIslam, PERGAS, PPIS, Darul Arqam and Jamiyah. Ustaz Zahid is also member of a local Qasidah group, Madeehul Mustafa.
Organiser of From Gaza to Syria: Managing Spirituality Amidst Tribulations
Traditional. Progressive. Dynamic. Experience the Beauty. SimplyIslam.
The As-Siddiq Centre for Islamic Studies Pte Ltd, commonly called SimplyIslam, is a private organisation dedicated towards education, social & community development, literary services and humanitarian services to facilitate progression of society. SimplyIslam is committed to the retention of tradition, culture & esteemed values whilst integrating contemporary challenges facing humanity today.  SimplyIslam's mission reflects its fresh and innovative approaches to communicate the beauty of Islam, whilst being deeply rooted in Islamic Sunni traditions, with a progressive & dynamic approach to modern life.