About this Event
Everyone is an angel no matter whether you believe in angels. This month's fullmoon carries a very powerful warrior energy to realign your warrior and your peaceful self. It is the most unique energy ever. Everyone thinks that angels are cute and calming, but angels also do have a warrior self. It will get activated naturally when you encounter danger or face a critical situation.
November is another intensive shifting month to help clear the deeper issues of the individual, especially those which are connected to one's multidimensional self. If you have an urge to change your career or life directions recently, or suddenly feel like picking up a new skill, this is because your soul from another dimension is seeking for an upgrade or it's time to "wake you up" to walk on your life purpose.
A grand ritual will be held for this fullmoon to connect and sync your dimensional soul to help you fully merge with this super magical Golden Fullmoon energy and create the shining you!
Key takeaways:
- Retrieve the warrior self to create balance and magic in life
- Golden Fullmoon alignment with your multidimensional self
Warrior Angel Fullmoon Meditation
with Michele Chong
11 Nov 2019
7.30pm – 9pm @ SGD33
*Limited to 29 pax only, first come first serve!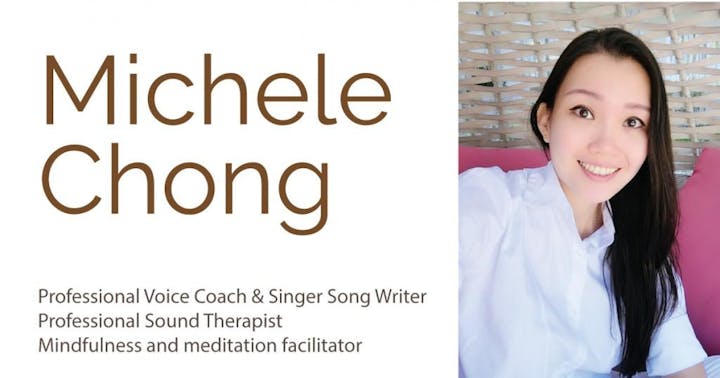 Michele is a professional sound therapist and musician. She believes that sound is the most powerful medicine as music and sound can bring the world to a better place. Michele focuses on spreading meaningful and positive messages about life through her songs and music. She has received many positive feedback from those who have heard her music. An example was a person who was planning to commit suicide and changed her mind after she listened to one of her songs. Michele is also a popular international workshop facilitator and speaker. She has been invited to many different countries to conduct sessions and give talks. She has also transformed and healed many people.
Her favourite quote in life is "Nothing is Impossible". Michele believes strongly in what she is doing and loves helping people to transform their lives.
Michele grew up in a spiritual family and she has been very intuitive since young. When she was young, her favourite activity was to gaze at the moon and stars at night. Even though she didn't know the reason, she always believed that the moon has the ability to impact the living creatures on this earth very much. After going through the "Awaken ~ the Divine You"Ò programme conducted by the International Metaphysical Spiritual Master Umesh H. Nandwani, she now has an even stronger connection to the moon and the Universe. She often channels the energy and messages during her Full Moon sessions and share them with her followers.
Learn more about Michele here.