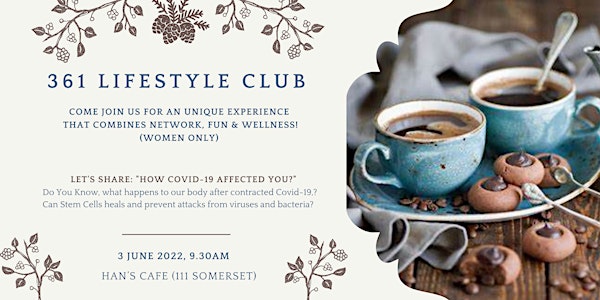 Fun, Network & Wellness (Women Only)
Network, Fun & Wellness Get-Together (Women Only)
When and where
Location
TripleOne Somerset 111 Somerset Road Singapore, 238164 Singapore
About this event
361 Lifestyle Club is a community!
During our gatherings, we make friends, have meaningful conversations and learn more about how to enjoy yourself while still fulfilling your roles and also start a business.
Women take up many roles in life: a daughter, a wife, a mother and more. You could be working, studying or a stay-at-home mom doing housework and taking care of your children. Often, we put all our effort and focus on these duties and responsibilities we have that we lose touch with ourselves. We are constantly living for others, but what about ourselves?
Come share your experiences:
How Covid-19 Affected Our Lives *💉🦠*
After contracted Covid-19, what happens to our Body? Can Stem Cells heal and prevent attacks from viruses and bacteria? 🧬🧫
Date: 3 June 22, Friday
Time: 9.30am - 11.30am
Venue: Han's Cafe (111 Somerset)