Event Information
Refund Policy
Refunds up to 7 days before event
About this Event
NOT ALL BUSINESSES USE THE SAME METHODS OR APPROACHES TO RAISE FUNDS. FUND RAISING IS DIFFERENT FOR DIFFERENT BUSINESSES BASED ON MULTIPLE FACTORS.
CONSIDER THIS CONSULATION TO RAISE FUNDS FOR YOUR STARTUP OR BUSINESS:
1. If you have a Startup or Business or if you are planning to Start a Startup or Business and looking for the Funds $$
2. If you only have an idea and you are wondering how to assimilate funds $$ before executing that idea
3. If your business is doing good and you are raising more funds in SERIES rounds
I'LL TELL YOU IN DETAIL, HOW TO GET FUNDS FOR YOUR STARTUP / BUSINESS:
1. NAIVE INVESTORS AND/OR BOOTSTRAPPING
--- Learn who comes under the purview of bootstrapping
--- Learn how to raise funds through bootstrapping with equity or convertible debt or notes
--- Get to know the methods of self-bootstrapping
2. PROFESSIONAL INVESTORS (ANGELS, VC'S, PE'S)
--- Learn what are the best ways to reach out to Professional Investors
--- What to do and what not to do when dealing with a professional investor
--- Learn what all methods you can propose to a professional investor to raise funds
--- Learn the psychology of a professional investor
--- Calculate how much money $$ is required and on what all conditions
--- Get to know the TERM SHEET
3. CROWDFUNDING
--- Learn the methods for crowdfunding
--- Get to know when to go for Crowdfunding and when to avoid it
--- Learn what is at Stake when going for Crowdfunding
4. ASSETS (TANGIBLE & INTANGIBLE)
--- Learn how to use your tangible assets to raise funds through investors or financial institutions
--- Get to know how intangible assets work and in time how it could give you a lot of money $$
5. FINANCIAL & NON-FINANCIAL INSTITUTIONS
--- Learn what all types of financial and non-financial institutions are there to fund your business
--- Learn how to play wisely with the terms of the institutions to raise funds $ for your business
6. CHARITY
--- Learn when to go for Charity Funding
--- What are the Pros & Cons of Charity Funding
7. PRESALES (MVP)
--- Learn how to sell your product, in the air, before you have even produced it
--- Get to know what not to do, when raising funds through this method
THE FOLLOWING WILL ALSO BE COVERED:
1. BOTTOM LINE
--- Why & How to keep track of the Bottom Line
--- What could affect your Bottom Line
2. GROSS MARGIN
--- How to build a predictable Gross Margin
--- What factors heavily affects the Gross Margin
3. FIXED & VARIABLE COST
--- Business expenses produce both fixed & variable costs, how to put a cap on it
--- How to keep Fixed & Variable cost under control
4. EQUITY VS DEBIT
--- Get to know which one is a good option to raise funds for your business, equity or debt
--- Get to know what you will be losing when raising funds through equity or through debit
--- Learn the hybrid model that works for almost all businesses for Equity & Debt
5. LEVERAGE
--- Calculate your business potential to Leverage
--- Learn the PSR (Point of Safe Return) when Leveraging
--- Get to know what not to do while Leveraging
6. CAPITAL EXPENDITURES
--- Understand how to spend money, quite smartly, in your business
--- Get to know what kind of CapEx will profit your Business in longer run
--- How to avoid non-profitable or how to minimize non-profitable CapEx
7. CONCENTRATION
--- Get to know the Concentration strategies for your business
--- Learn why Investors like the businesses with Low Concentration
--- Understand why keeping a high concentration could be a fatal error
-
I am Lakshman Singh (Angel Investments, Business Advisor, Business Consultant, Business Auditor, Startups Mentor, Entrepreneur, CEO & Founder)
I have over 15 years of relevent experience and help people in business through Consultations, Advices & by Auditing the Businesses. I also help businesses by investing in them, mentoring them and giving them exposure of my network.
The Duration of this Consultation will vary from 30 - 60 minutes.
Web : https://www.lakshmansingh.com/
Blog : https://www.lakshmansingh.com/blog
Linkedin : https://linkedin.com/in/iamlakshmansingh
Email : Connect@LakshmanSingh.com
FOLLOWING ARE THE BASIC & ESSENTIAL ELEMENTS THAT ARE INCORPORATED IN EVERY BUSINESS IN SOME FORM OR WAYS:
CAC, CLV, MRR, ARR, SQL'S, MQL'S, MODEL CANVAS, CUSTOMER BEHAVIOR MODELING, CUSTOMER ACQUISITION & RETENTION, ERP, CRM, KPI, KAM, MIS & EIS, BANT FRAMEWORK, SWOT ANALYSIS, ORGANIZATIONAL STRUCTURE, BUSINESS AUDIT & COMPLIANCES & MANY OTHER ESSENTIAL COMPONENTS.
#######################################
THIS ONLINE PROGRAM WILL BE DELIVERED THROUGH VIDEO CONFERENCING
#######################################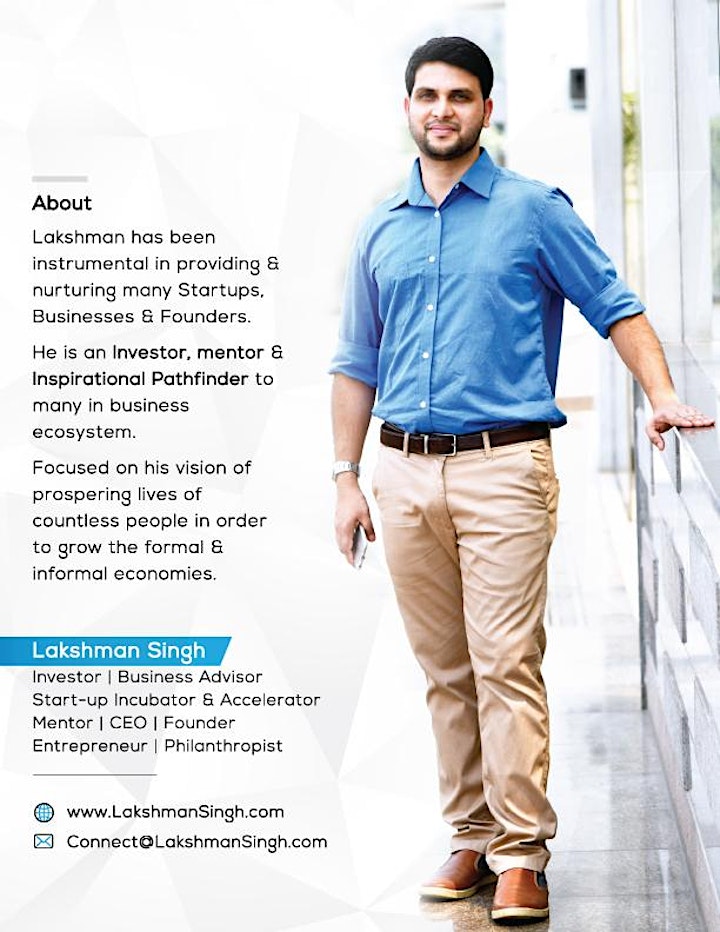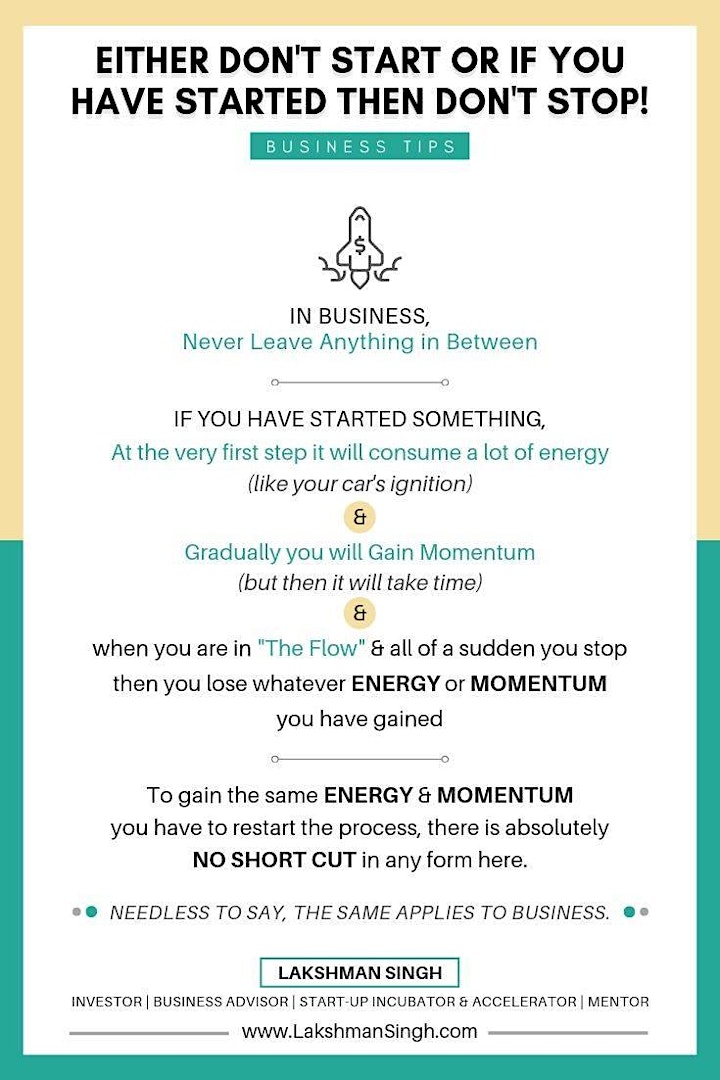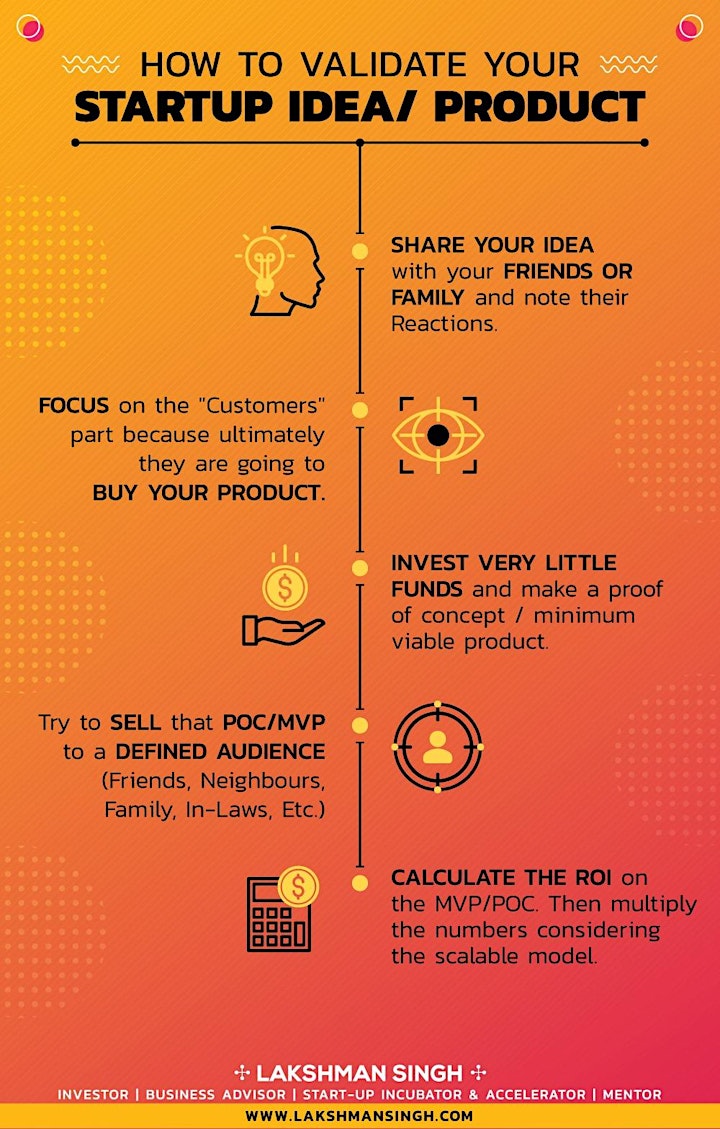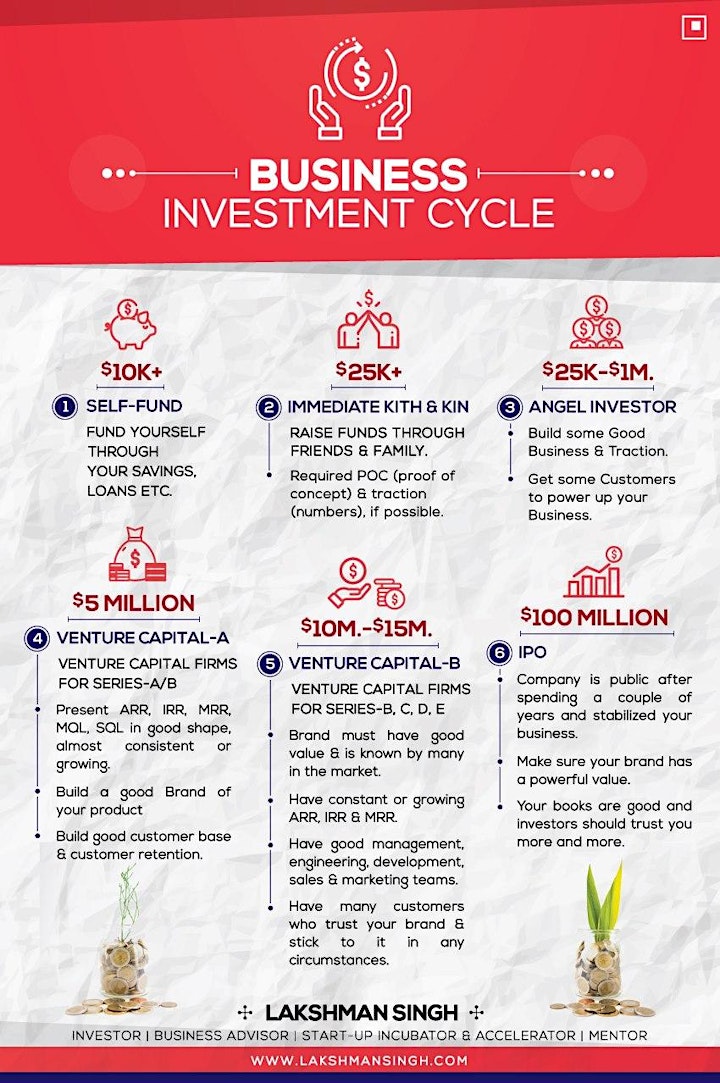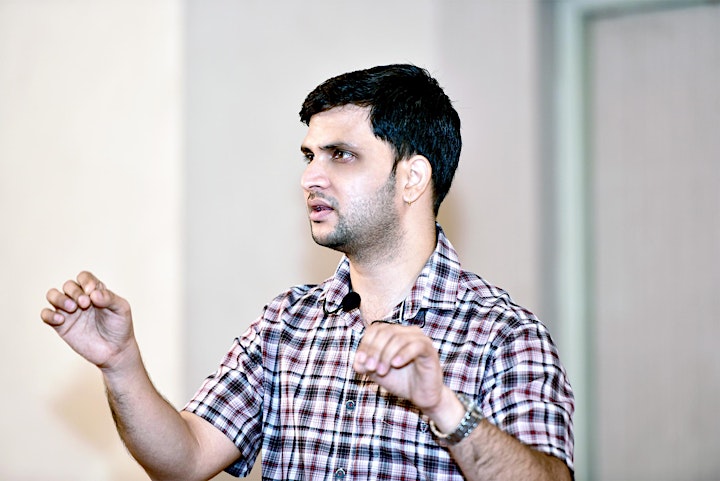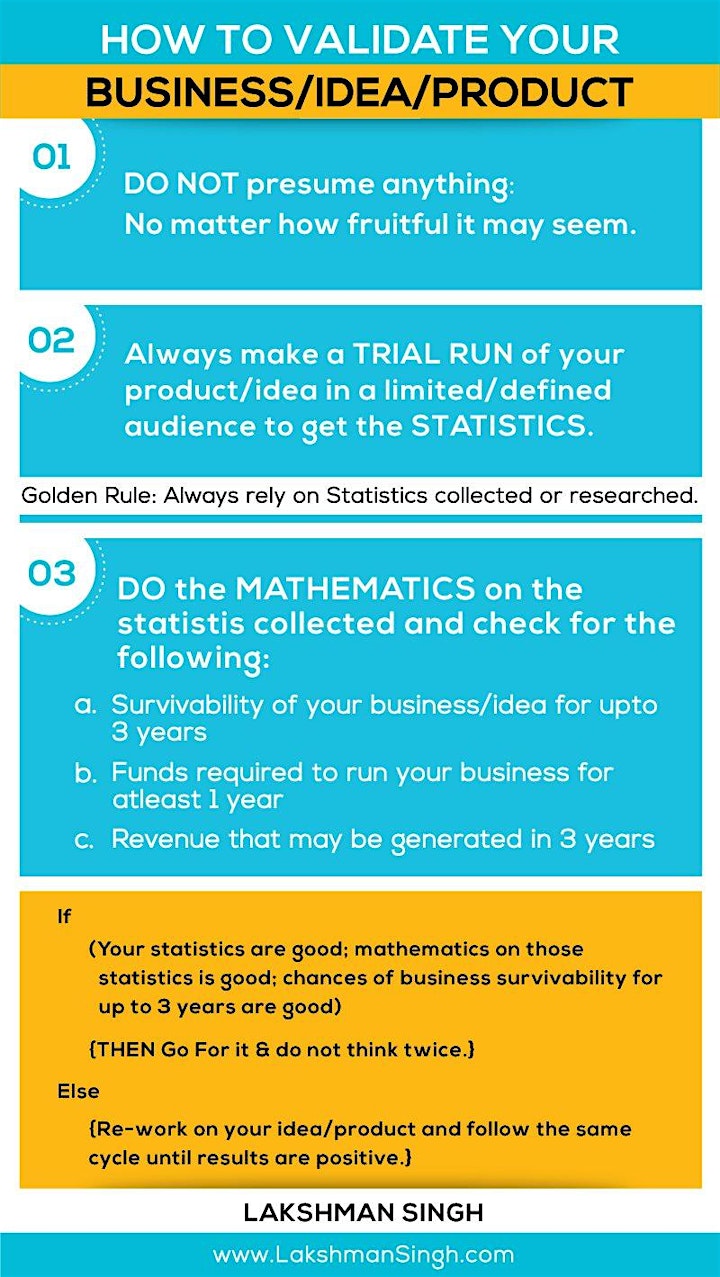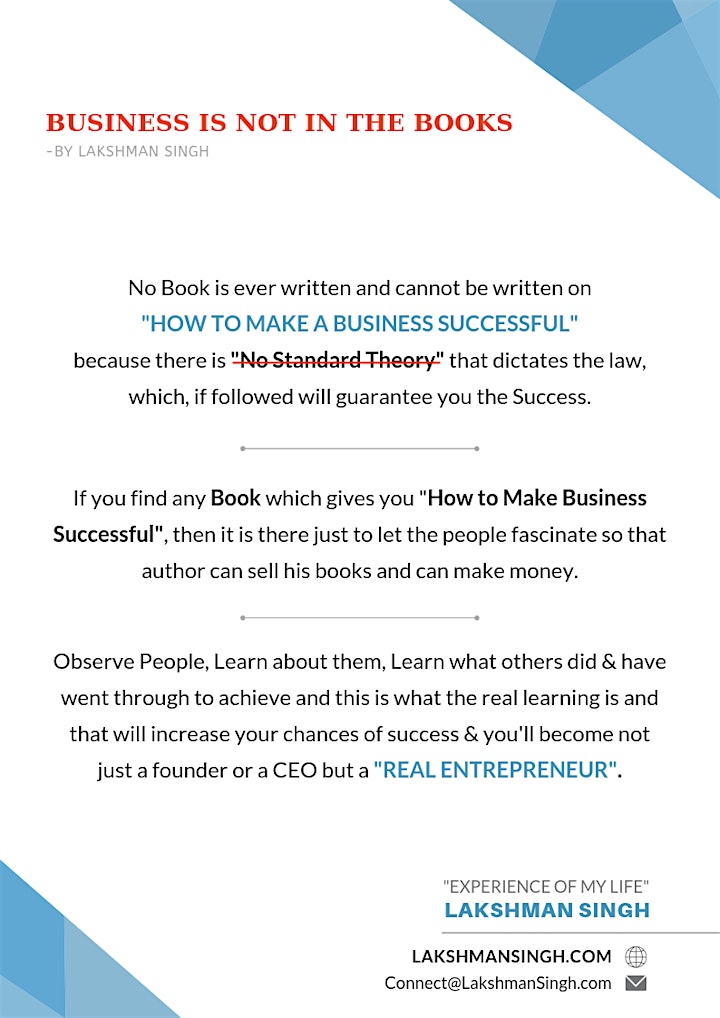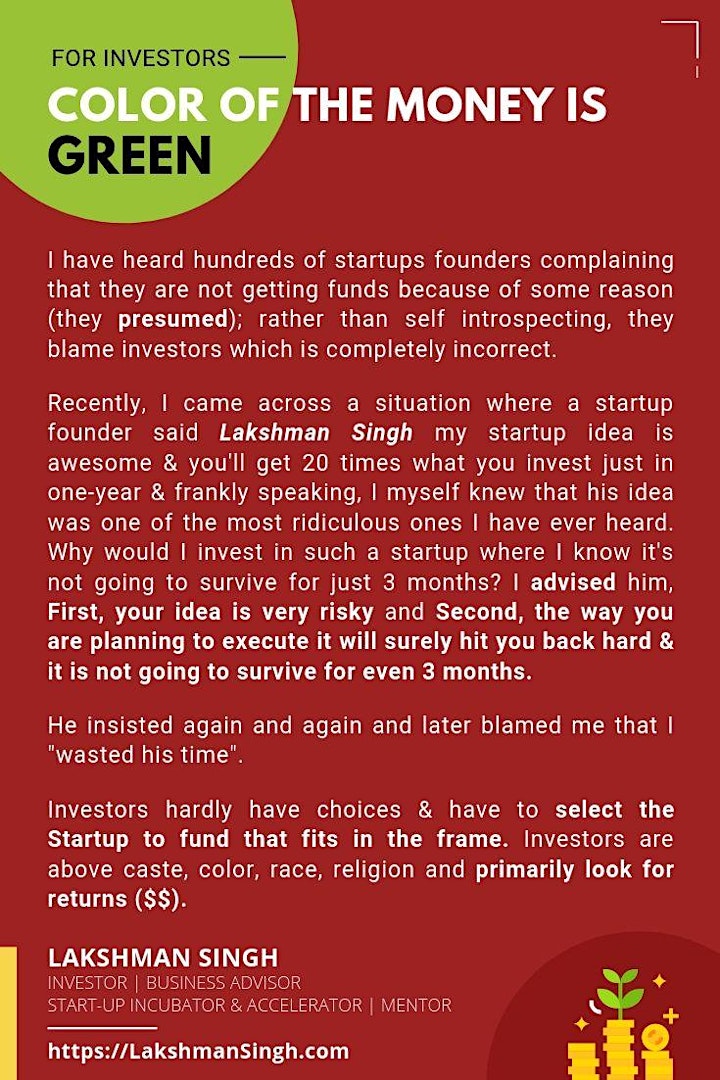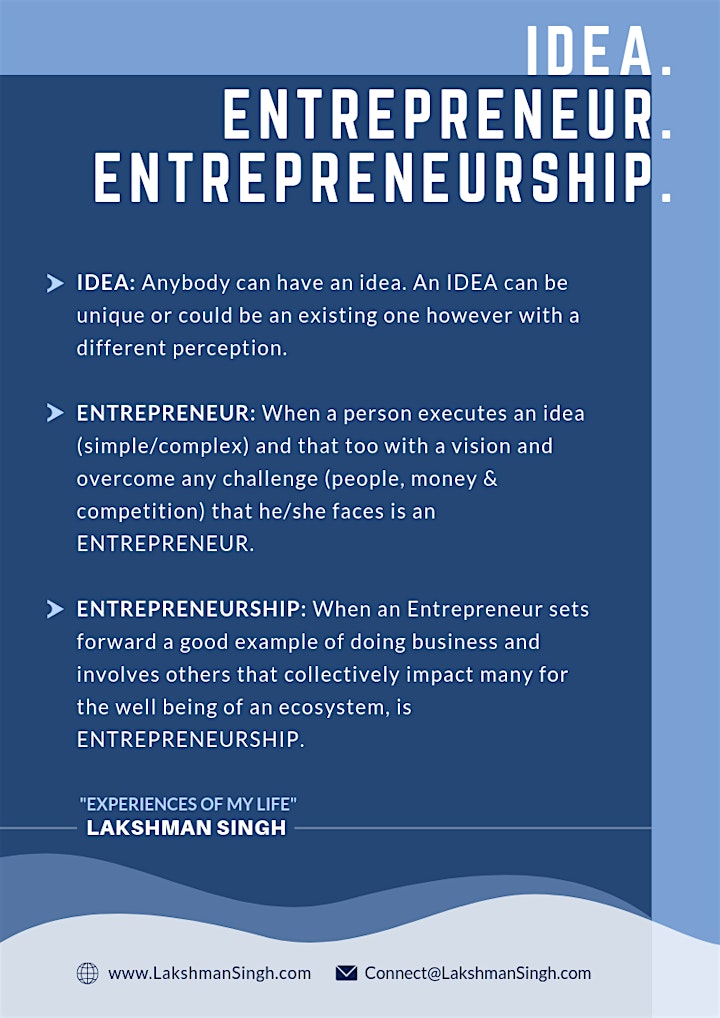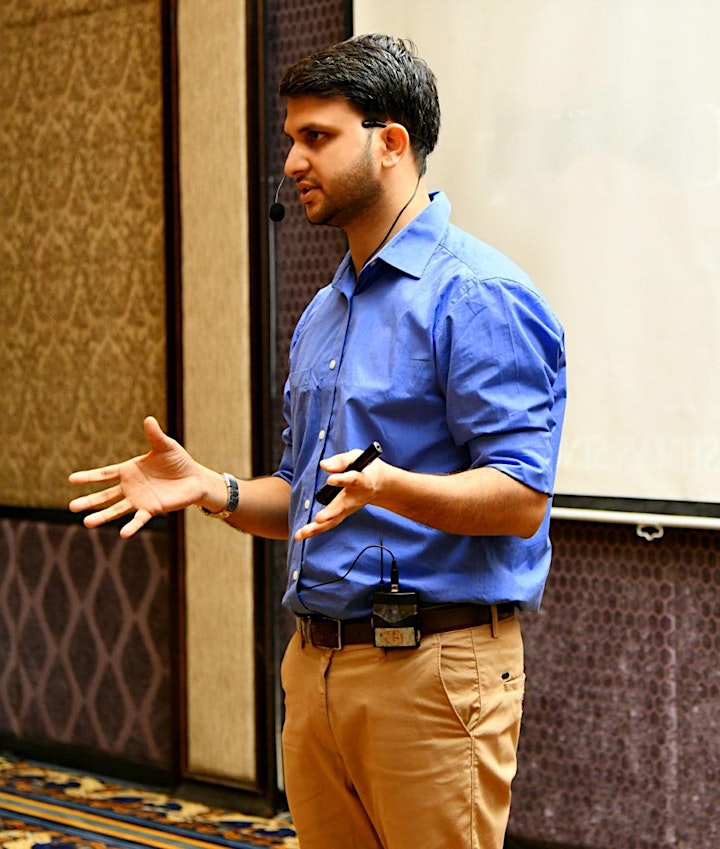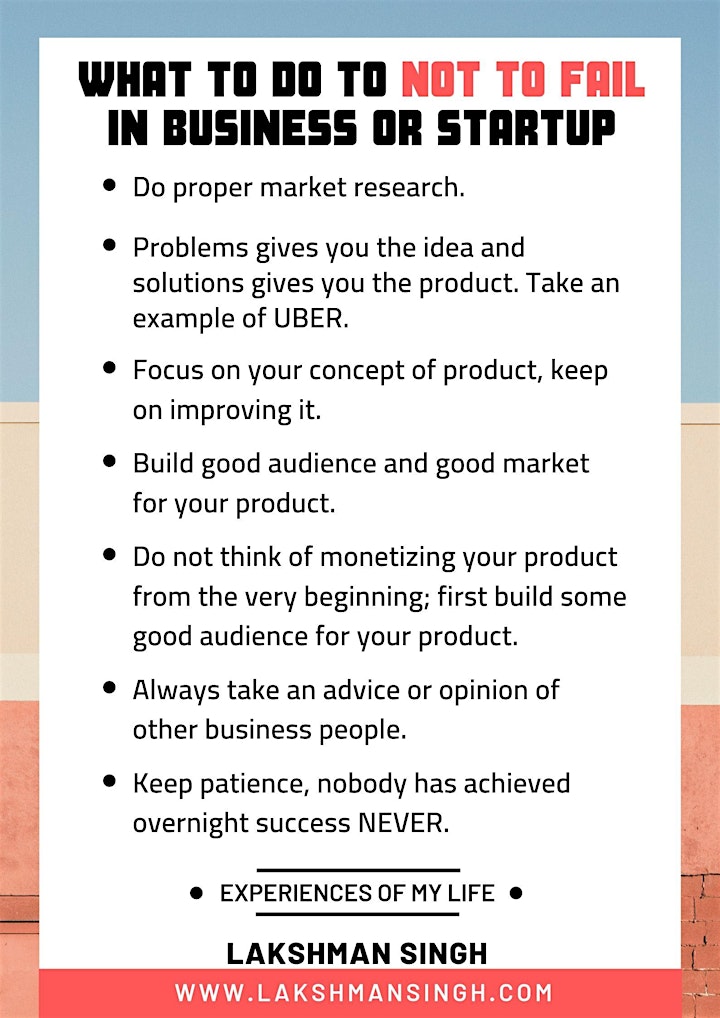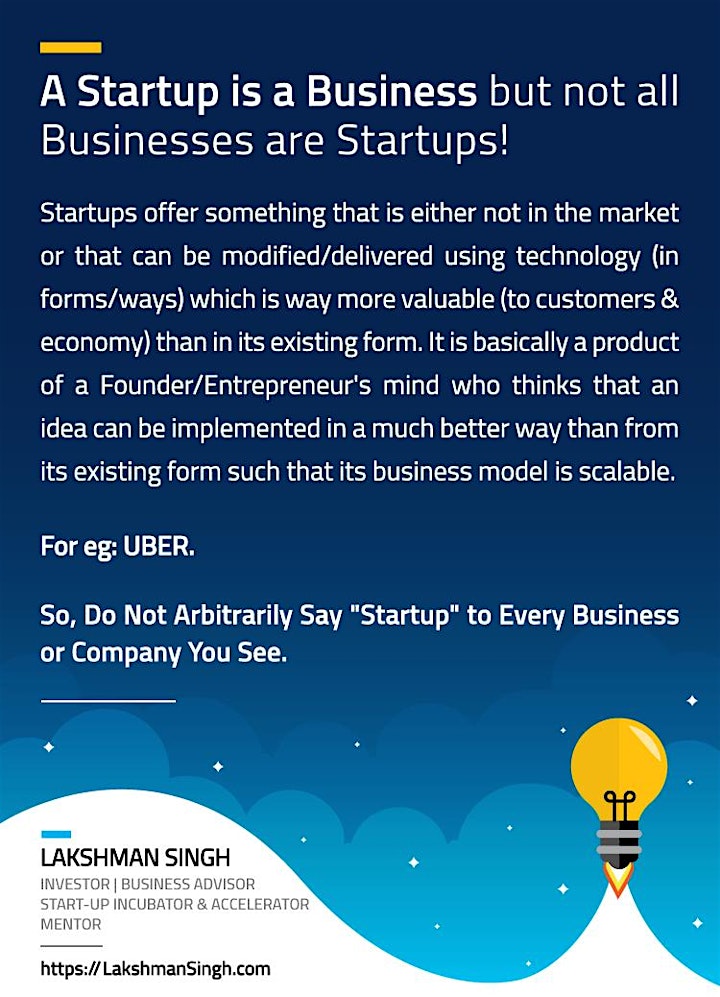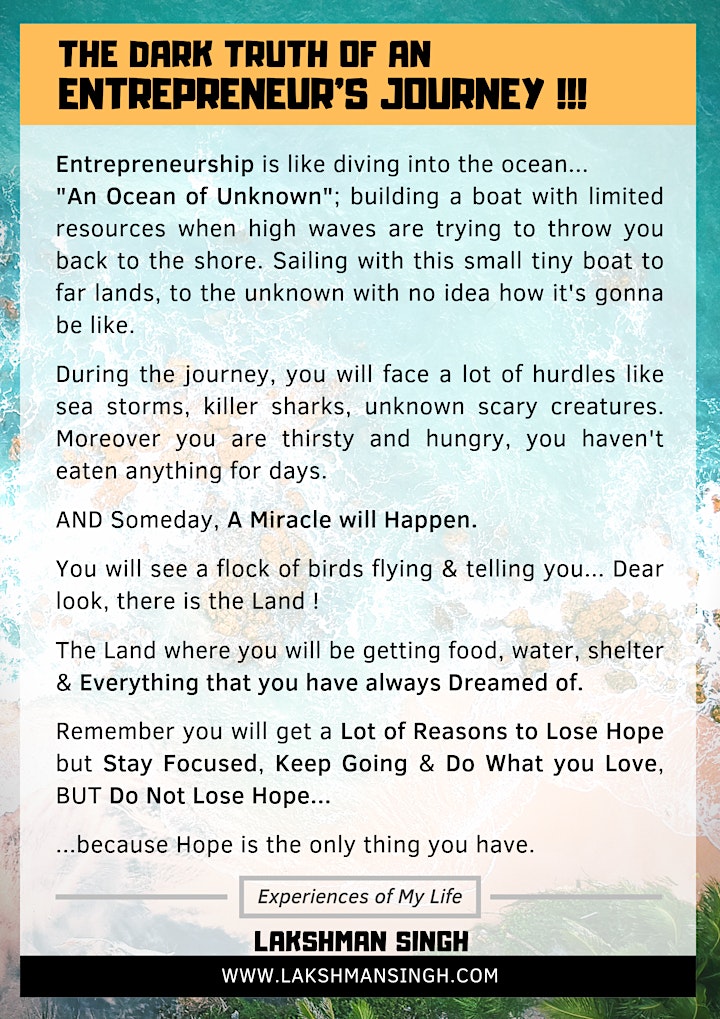 Date and Time
Location
Refund Policy
Refunds up to 7 days before event