Description
There's a saying that FA can be both a science and an art. As investors ourselves, we know how difficult it can be for investors to do fundamental analysis. The question is, how should we apply the science of fundamental analysis while also mastering it as an art, to get better investing outcomes?
Our speaker and community member, Mr. Stanley Lim (CFA) will teach you:
How To Spot The Three Types Of Value In A Company
How To Form The Story Of A Company
How to Translate That Story Into Numbers For Your Valuation
Tools to Help You In Your Valuation
Three Case Study Examples




Ask questions and engage with Stanley in open discussion during the Q&A session about your biggest questions on how to master both the art and science of fundamental analysis.
If you're a new investor looking to become a good value investor, then this workshop will help you be one step closer.
Who should attend this workshop?
This is a Beginner Level Workshop - The only requirement is the desire to learn about FA.
Why should you attend?
To get a better understanding of FA as a value investor

Networking
Mark your calendars for 21st July, Friday. Registration starts at 6.30pm. Mingle and network with other fellow users after the seminar. Do bring along your notebook and pen to take down notes. There will be a short 15 mins presentation by CIMB Securities.
No refreshments provided. Limited seats only.
---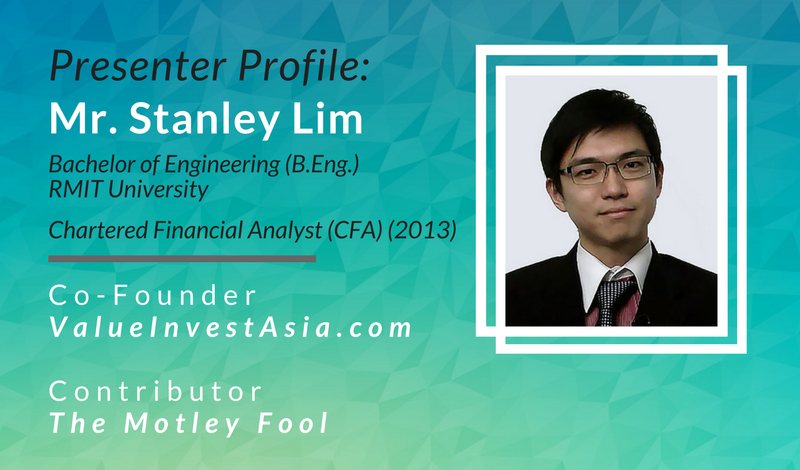 Stanley Lim has spent the last decade in the finance industry, focusing on equity research in Asian companies.
He is currently the co-founder of ValueInvestAsia.com, an independent investment publishing site that focuses on the stock markets of Singapore, Malaysia and Hong Kong.
Before co-founding ValueInvestAsia, he was with The Motley Fool as a full-time analyst for 3 years and is still a freelance contributor to their articles.
Over the course of his career, he has written close to 2,000 investment articles. He is also the co-writer for the upcoming investment book: "Value Investing In Asia; The Definitive Guide to Investing in Asia", scheduled to be published late October 2017 here: http://bit.ly/234book.

He runs his website here ValueInvestAsia.com and also contributes actively to our community as @ValueInvestAsia.