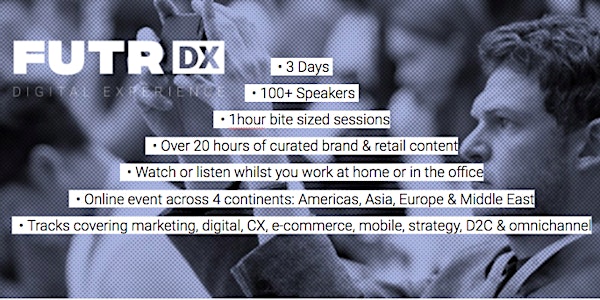 FUTR Digital Experience 2020
FUTR DX has gone LIVE. If you have already registered, login at https://live.futr.today/login to join in the conversations.
About this event

FUTR DX has gone Live. If you have already registered, login HERE
Expect to hear case studies and talks from senior leaders in marketing, digital, customer experience, e-commerce, retail, brand strategy, technology and more. The online event takes place over 3 days, spanning 4 continents and involves the entire FUTR community built over the past 5 years.
Listen, network and learn from those based in Asia, Europe, North America & the Middle East!
Sessions are purposely arranged in topical tracks & in one hour blocks for ease of watching or listening from home whilst you work. If you cannot make it, still register to receive a link to all the coverage for learnings.
Catch the full programme here or visit the website
Featured speakers include:
FRANK COOPER III, GLOBAL CHIEF MARKETING OFFICER & SENIOR MANAGING DIRECTOR, BLACKROCK
ANDREW GARRIHY, GLOBAL CHIEF BRAND OFFICER, HUAWEI
FANNY MOIZANT, CO-FOUNDER & PRESIDENT, VESTIAIRE COLLECTIVE
MILLIE GILLON, MANAGING DIRECTOR & GLOBAL HEAD OF CX, STANDARD CHARTERED BANK
LORD KARAN BILIMORIA CBE, PRESIDENT, CBI & FOUNDER & CHAIRMAN, COBRA BEER
SREE MENON, CHIEF OPERATING OFFICER, TOPHATTER
DR. WOLFGANG BAIER, GROUP CHIEF EXECUTIVE OFFICER, LUXASIA
EMILY CULP, CHIEF EXECUTIVE OFFICER, COVER FX SKINCARE
RITA CLIFTON CBE, NON-EXECUTIVE DIRECTOR, ASOS
MABEL LEUNG, DIRECTOR - ASIA PACIFIC RETAIL, EXXONMOBIL
DAVID STURDEE, CHIEF CUSTOMER OFFICER & COO - EMEA, PIZZA HUT
MARISSA PACE, CHIEF MARKETING OFFICER, WORLD RUGBY
LAURENT BUREL, GLOBAL DIGITAL MARKETING DIRECTOR, PERNOD RICARD
ANNA FARBEROV, GENERAL MANAGER - LABS & INNOVATION, PEPSICO
JACKSON JEYANAYAGAM, VICE PRESIDENT & GENERAL MANAGER OF DTC, THE CLOROX COMPANY
ANVESHA POSWALIA, DIGITAL MARKETING LEAD, L'OREAL
CONSTANTINE GAVRYKOV, GLOBAL UX/CX DIRECTOR, INTERSPORT
LAURA KANTOR, MARKETING & SUSTAINABILITY DIRECTOR, FOODPANDA
REMO GETTINI, CHIEF TECHNOLOGY & DATA OFFICER, DEPOP
CHARLIE COLE, CHIEF EXECUTIVE OFFICER, FTD
SYLVIA XIE, DIRECTOR - GLOBAL MARKETING, ANALYTICS & INSIGHTS, BENEFIT COSMETICS
VLADIMIR SALAKHUTDINOV, DIRECTOR - STRATEGY, X5 RETAIL GROUP
JOERG WIENKE, VICE PRESIDENT OF RETAIL MARKETING, SHELL
HEATHER KAMINETSKY, CHIEF BRAND OFFICER, M.GEMI
MARK NICHOLSON, HEAD OF ONLINE, O2
TJALLING SIMOONS, MARKETING DIRECTOR, BACARDI
ROB BULLOUGH, DIRECTOR OF GLOBAL BRAND MARKETING, ELECTRONIC ARTS (EA)
NOBLES CRAWFORD, E-COMMERCE MARKETING LEAD, RECKITT BENCKISER
JOHN THORNTON, HEAD OF SOCIAL MEDIA, INNOCENT DRINKS
OYA ONGOR, SENIOR VP FOR HOME CARE, PROCTER & GAMBLE