Description
In recent years, there have been considerable disruptions in brand management practices due to digitalization, real time communication, and explosion of available channels. This requires companies to reinvent their brand to survive in this dynamic environment.
Professor Anton Meyer's talk delves into transformation of brand management to enable brands to keep afloat in the current technological disruptive environment. The talk will cover aspects such as how can companies build the resilience and agility they need in the digital age to manage their brands to remain relevant, and drive profits and organic growth. His talk will focus on the power of brand, its development, and its utilization in the digital age.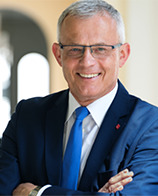 Professor Anton Meyer (University of Munich, Germany)
Univ. Prof. Dr. Anton Meyer is chair of marketing and head Munich School of Management at the Ludwig-Maximilians-University Munich. The University is ranked 38th in the world by academics (QS World University Rankings 2018). Prof. Dr. Meyer has been involved for more than 25 years in research and consulting in brand management, customer orientation, market-based management, and service marketing. This is reflected by numerous publications, speeches and projects on these topics.
Prof. Dr. Meyer is the co-initiator and former academic director of the German Customer Satisfaction Index (one of the most comprehensive and largest benchmarking surveys on customer orientation referring to the German market). Since 1999 he is Executive Director of the Center on Global Brand Leadership. His published work includes the marketing manual "Offensives Marketing: Gewinnen mit POISE, Märkte gestalten - Potenziale nutzen", which sets a new benchmark on market-oriented management and on marketing in general and impressively demonstrates how companies can exploit the full potential of marketing.
Through sabbaticals and periodical lecture tours through Europe, USA and Asia, Prof. Dr. Meyer also presented/published several important articles in refereed proceedings (International).