Description
One of the hottest trending topics today, The Future of Work is being shaped by the growing adoption of Artificial Intelligence (AI), digitisation and automation in the workplace.
In an increasingly VUCA (Volatile, Uncertain, Complex and Ambiguous) environment, how will advances in technology bring about innovation, increased productivity, economic growth and change the fundamental nature of work?
Understanding these shifts, addressing the changing nature of the Workforce and Workplaces of the Future will help Business Leaders and HR professionals plan ahead and design a digital roadmap; a roadmap that includes progressive HR practices and cutting-edge, tech-enabled strategies in our push towards being a Smart Nation in the age of the Industrial Revolution 4.0.
Organised by The Singapore Human Resources Institute, join us at this annual forum that brings together business leaders, HR decision-makers and industry thought leaders from the private and public sector as they share insights, business trends and delve into forward-thinking solutions.
Programme Outline
8:30 AM Registration and Networking Breakfast
9:00 AM Welcome Address by Ms. Low Peck Kem
President (Singapore Human Resources Institute)
9:15 AM Opening Address by Guest of Honour, Mr. Baey Yam Keng
Senior Parliamentary Secretary, Ministry of Culture, Community and Youth and Ministry of Transport
9:30 AM Dialogue with Mr. Baey Yam Keng | Navigating through The Future of Work:
Cultivating an agile workforce that drives innovation, fosters creativity and supports organisations in driving business excellence.

Moderated by Ms. Charmaine Sim, Director of Operations (CTC Global Pte Ltd)
10:00 AM Partner Presentation by SAGE | Digital 4.0 for the Future-ready Workforce:
Closing the gap! How innovative business and tech solutions help organisations to ride through the digital disruption.

Presented by Arlene Wherrett, VP & Managing Director, Asia
10:20AM Partner Presentation by Mercer | The Hybrid Workforce:
Beyond Employee Engagement. Re-defining the workforce of the future.

Presented by Puneet Swani, Partner, Talent & Rewards Business Leader, International Region
10:40AM Coffee & Tea Break
10:55AM Partner Presentation by BIPO Service | Disrupting the HR process:
Staying ahead of the competition

Presented by Adrian Wong, Senior HR Advisor
11:15AM Partner Presentation by Pulsifi | Is Artificial Intelligence the "Endgame" for HR?
The Snap: The incredible impact of AI
Avengers unite: Can HR and AI partner to achieve greater goals?
Endgame: Accepting today or rewriting the future
Presented by Jay Huang CEO & Co-Founder
11:35AM Partner Presentation by SmartUp.io | Sharing Knowledge, Building Value:
The Way Forward for Businesses in this Changing World

Presented by Frank Meehan, Co-Founder and CEO at SmartUp.io
11:55AM Partner Presentation by DBS Bank | What's your Meeting MOJO Transforming our culture:
Prioritising the employee experience for meetings

Presented by Joseph Louis Tan, AVP, PeopleTech – Future of Work DBS Transformation Group, Technology & Operation
12:10PM Partner Presentation by Up! Advisory | Caveman or Ninja – How are you navigating the new digital world?
With technology drastically reshaping the way we work, employers are struggling to find the right digital solutions and adopt 'digital' as part of their DNA.
To build the future-ready workplace, up! will show you how strategy, culture and capabilities need to align. Do you have what it takes to be a true Digital Ninja?

Presented by Johannes Eckold, Managing Consultant at Up! Advisory and

Marieke van Raaij, Director of up! Advisory
12:30PM Panel Discussion | Let's Talk Tech: Demystifying Digital HR
Moderator:

Gary Lee, Global Head of Leadership & Organizational Development (Sivantos Group)

Panellists:

Arlene Wherrett, VP & MD, Asia (Sage)

Eileen Chong,

Vice President, Head, Banking Faculty and Learning Business Partner (OCBC)

Elsie Ng, Head of Talent Solutions, Singapore (LinkedIn)

Philippa Penfold, CEO of People Collider
Scott Montgomery, CEO / Co-Founder, WellteQ
Syed Ali Abbas, Group HR Director of Global Fashion Group
1:00 PM Networking Lunch
2:00 PM End of Event
*No complimentary parking coupon will be issued
**Programme is subject to changes
Dress Code: Business Casual / Office Wear
Visit our microsite for more information: http://shri.org.sg/FutureOfWorkForum2019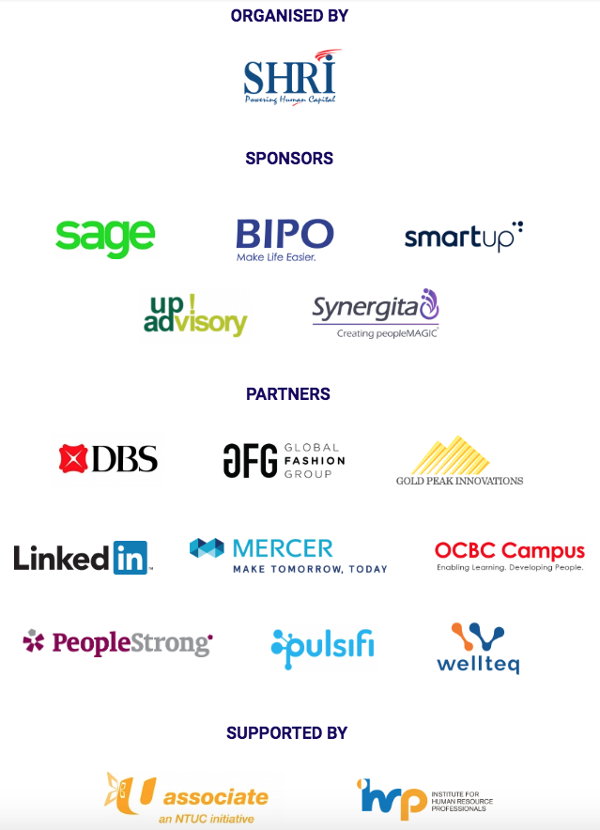 For more information, please contact us at:
Singapore Human Resources Institute
10 Eunos Road 8, Singapore Post Centre
#13-07 Singapore 408600
Contact: +65 6438 0012 | www.shri.org.sg | Email: events@shri.org.sg