FutureUP - Confidence, Clarity & Creativity for the Future Economy
Description
In light of recent COVID-19 concerns, our workshops will still continue but with additional precautions:
Temperature will be taken on-site daily by the hotel

Participants with potential symptoms will be discouraged from coming or will be turned away

Class size will be kept to maximum of 10

There will be additional spatial distancing in the training room
The World of Work & Business is undergoing seismic shifts in 2020s, never expIn light erienced in our lifetime. Seize this unique opportunity to preview and prepare for these shifts TODAY - before you get disrupted.
FutureUP is an Experiential and Hi-Impact Program to learn and apply breakthrough methodologies on your career and business to win in the hyper-disruptive 2020s and 4
th
Industrial Revolution.
You Will Shift Your Paradigm
Revolutionary Shifts & 3 Exponential Disruptions ahead of us
Future of Business in 2020s
Mindsets for the New World of Work & Business
Powerful Innovation Strategies for your Business & Career
Business, Professional & Personal Transformations to Thrive in the Future Economy
Your Will Experience These Transformational Benefits
Design and Update your Career & Business to be Fit for the Future

Enhance your Value Creation for Your Company, Clients & Career

Upgrade your Mindsets, Skillsets and Toolsets to Increase your Relevance

Innovate in your Work, Job, Career & Business

Avoid Obsolescence and Exploit Emerging Opportunities

Leapfrog from 3.0 Today to 4.0 Tomorrow


"I recently attended the FutureUp Workshop jointly facilitated by Charlie Ang and Kenny Lew. The two days were well spent as the workshop opened my eyes to what is happening to the future of work and business and challenged us to reframe our career. The facilitators generously shared their expert knowledge with us which made the two days of learning very fruitful and insightful. This is a workshop I would highly recommend.", Bernard Low, Senior Learning Specialist and AVP, Capitaland from Dec 2019 batch

Suitable for:
Corporate Managers & Executives

Functional Professionals & Specialists

Government / Public Sector Leaders & Officers

Consultants & Trainers

Entrepreneurs & Business Owners

Freelancers & Independent Experts

Marketeers & Creatives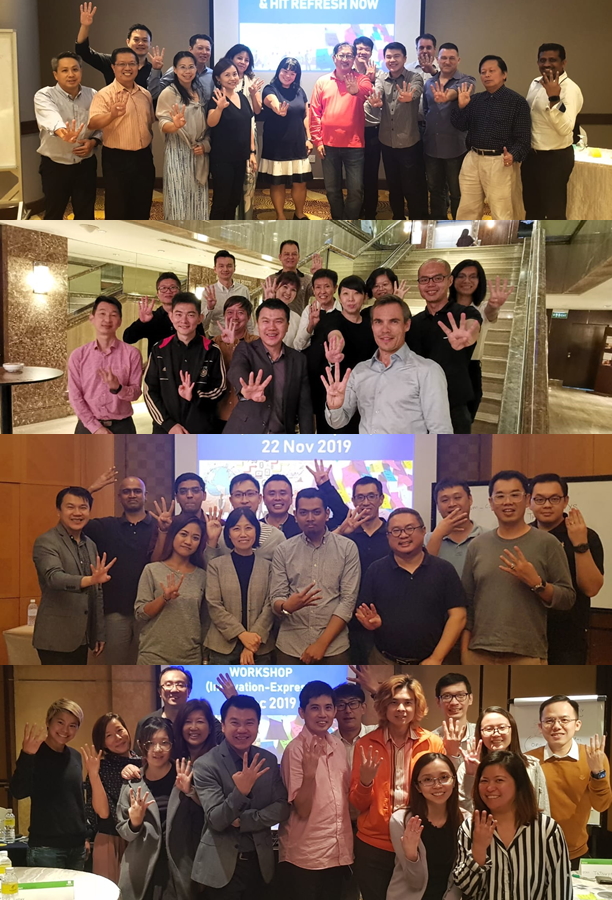 "The FutureUp programme distills practical insights for immediate application to either one's career (whether you are in transition or in employment to get you to be FutureReady) or as an entrepreneur seeking to reinvent your biz or your teams to be FutureReady to seize the megatrends in the ever changing economic VUCA landscape", Ms Christine Sim, CEO, The Entre Club Pte Ltd, ASME-Woman Entrepreneur of the Year, from September 2019 batch
WHAT YOU WILL LEARN
FUTURE OF BUSINESS AND WORK IN 2020s - Preview, Pre-empt and Prepare for Future Economy

FOUR MEGA DISRUPTIONS - The Mega Disruptions that Shape everything that we Do

INNOVATION STRATEGIES - Learn & Apply the Unified Theory of Innovation

WHAT CUSTOMERS WANT - Discover what your Customers really want with Jobs-to-be-Done framework

THINKING INNOVATIVELY - Think, Breathe and Use Innovation in whatever you do
About the Expert Trainer Charlie Ang (Co-faciliated with Entrepreneurial Career Coach Kenny Lew)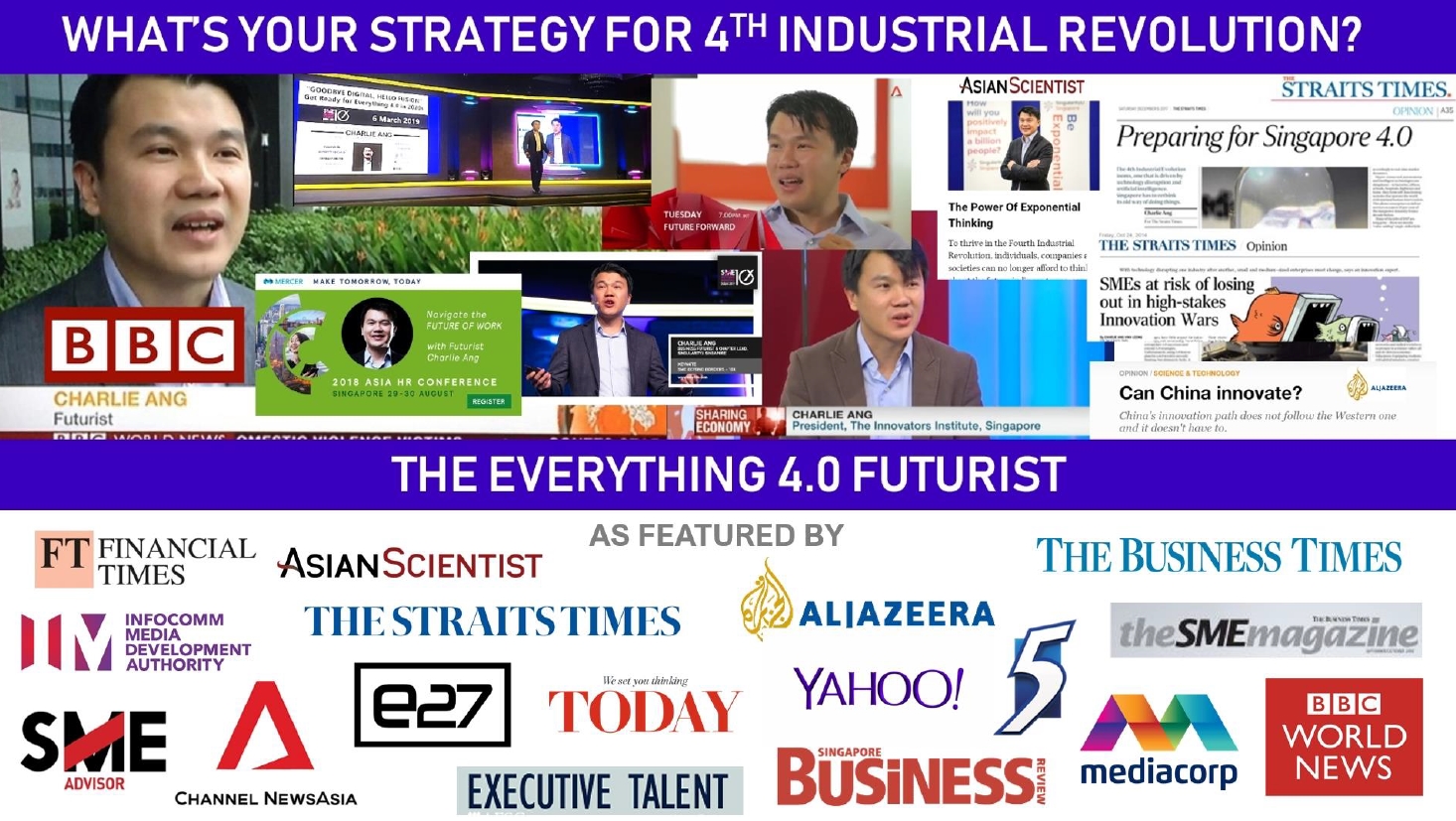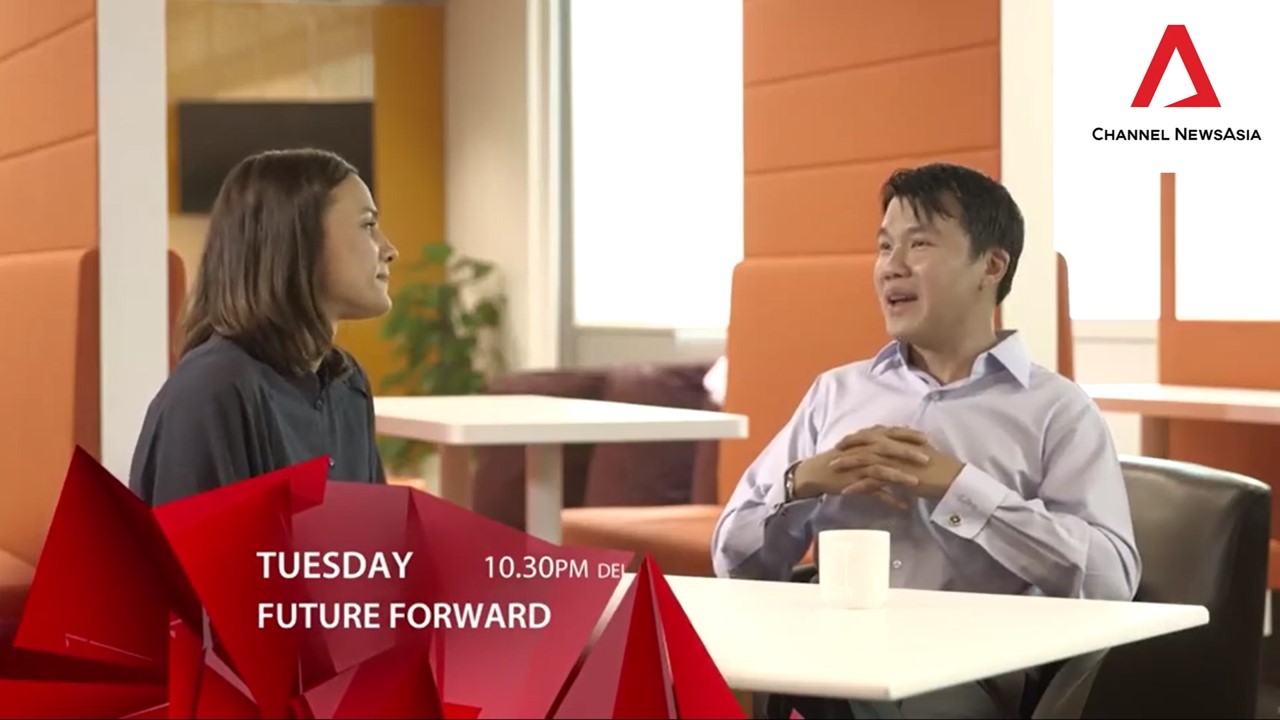 ---
Charlie Ang is a Keynote Speaker, Innovation Strategist, Business Futurist and Future of Work Expert. He helps organisations and executives to preview, pre-empt and prepare for the disruptive future. He is the Founding President of The Innovators Institute and Ambassador of SingularityU Singapore, the local chapter of Singularity University.
Human Resource, Future of Work & Career Expert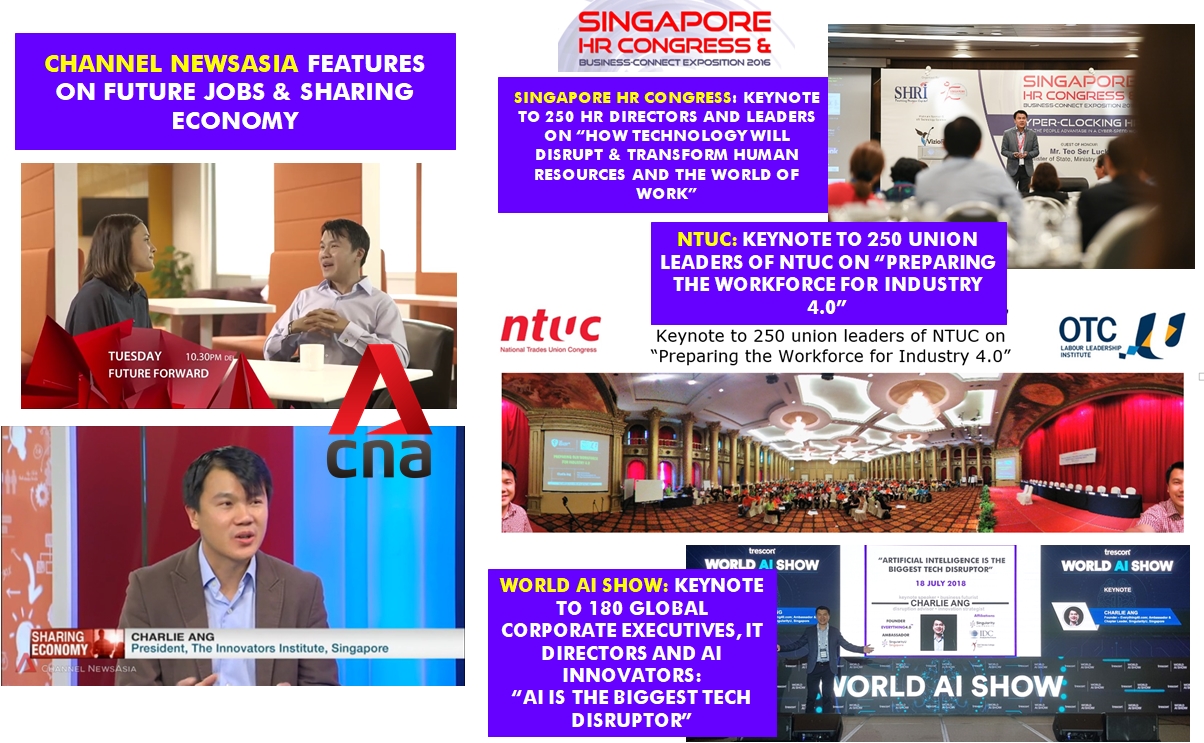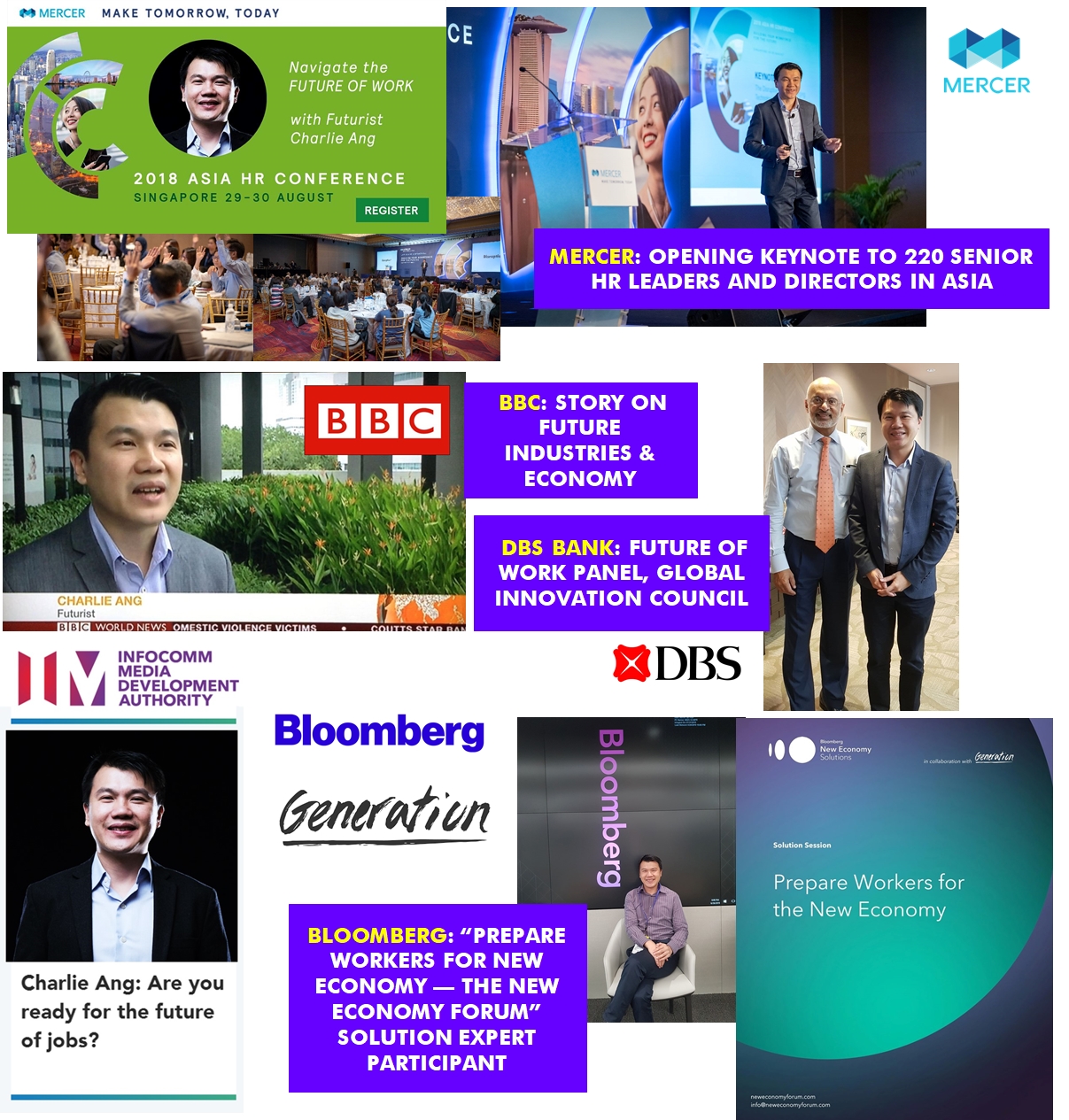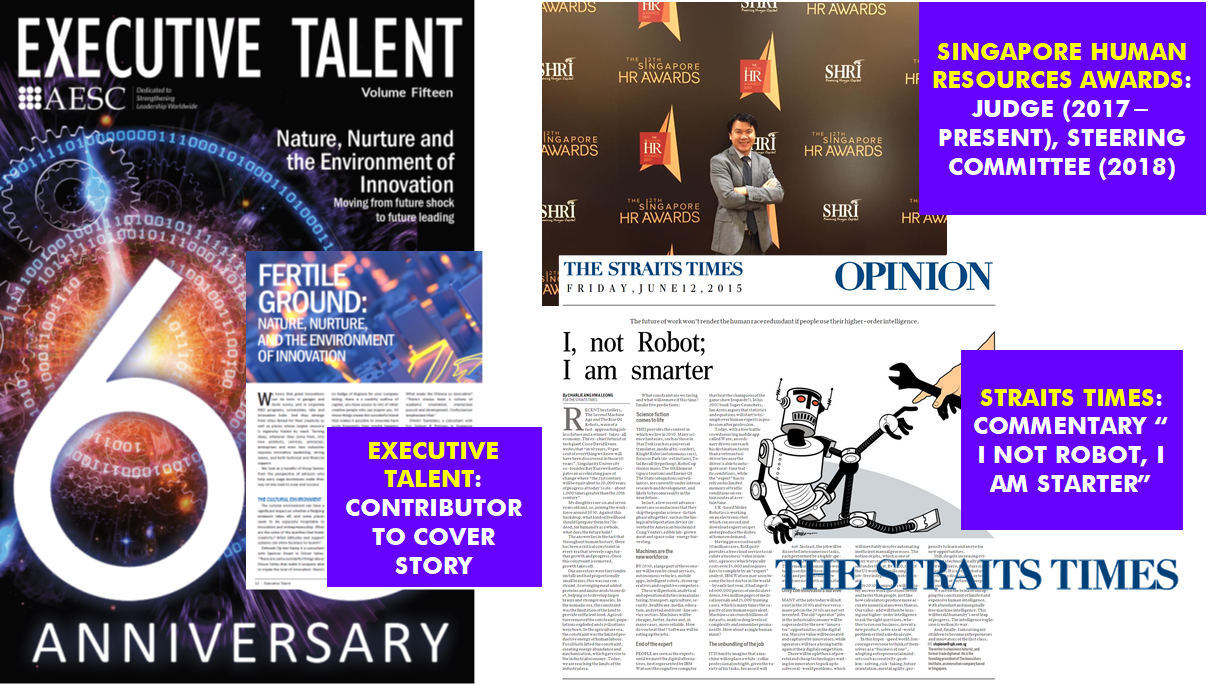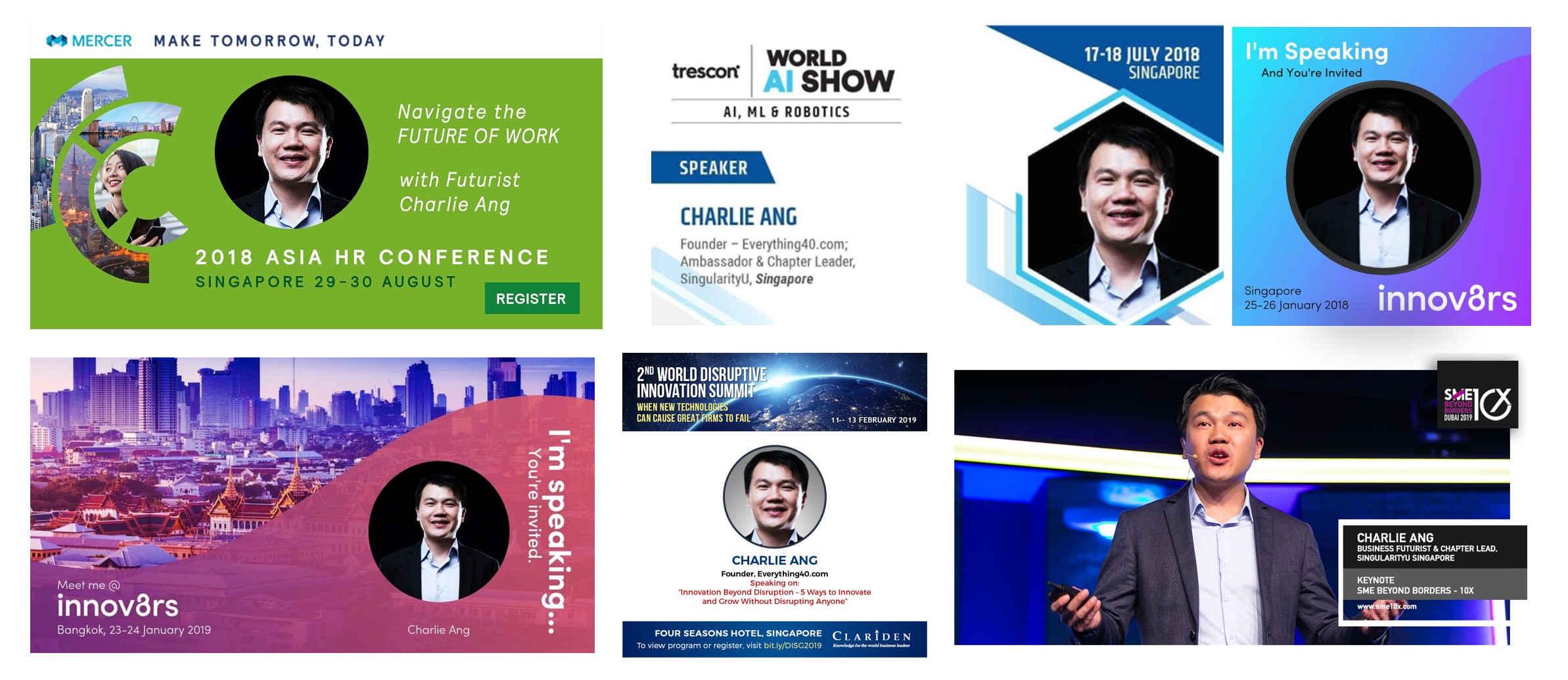 He received his MBA from the NUS Business School and BSc (First Class) Honours in Computer Science from University of Manchester, UK. He is trained in strategic futures, design and innovation at Singularity University (in Silicon Valley), Oxford University's Said Business School and Stanford University. He is also an Authorized Expert in Exponential Organizations (ExO) methodology.
He was the Regional Judge of the prestigious IDC Asia-Pacific Digital Transformation Awards and on the steering committee (2018) and judging panel of Singapore Human Resources Awards (2017-Present). He has been interviewed and featured by BBC (World News Channel), Al Jazeera, FInancial Times, Channel NewsAsia, Straits Times, Business Times, MediaCorp, Bloomberg and others.
His expert profile is available here: Link , Facebook page here: Link and Published Articles here: Link.
Note:
This is a 2 Day Course, with international buffet lunch provided

This course is Skillsfuture and NTUC UTAP funded. Scroll down to Fee & Funding section for details

No Cash Required if use SkillsFuture Credit to pay government subsidised fee of $150 for Singaporeans aged 40 and above

NTUC Members can enjoy another 50% funding, subject to $250 per year, through NTUC's UTAP scheme (i.e. Singaporeans 40 and over only $75 nett fee and Singaporeans above 21 self-pay only $460 after Skillsfuture and UTAP funding). Choose NTUC Member during registration for ticketing type.

Venue subjected to change and final confirmation

Each class will be limited to 20 participants to allow ample attention given to each participant. Registration to close after maximum is reached


Incorporating One-Day Practical Workshop and Innovation Sprint for you to:
Diagnose, Discover, Design, Develop and Deploy
Your Future-Ready Career & Business using our signature Everything 4.0 Future Accelerator Approach
Featuring Holistic 3-Part Methodology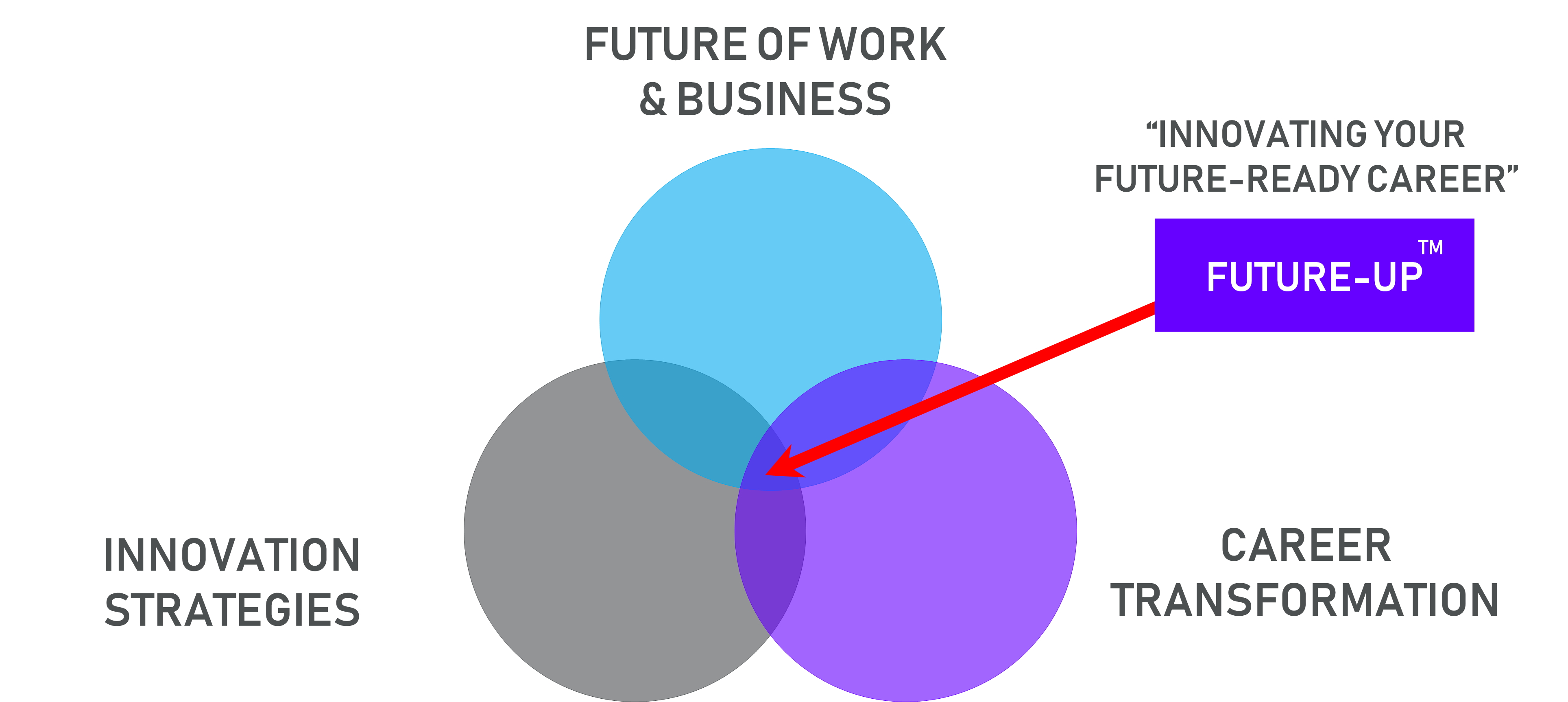 We use our unique, holistic and proprietary FutureUP Methodology that integrates 3 key components: (1) Future of Business & Work, (2) Innovation and Design Strategies and (3) Career & Business Transformation to help you design and innovate your enhanced masterplan that is fit for the future.
Fee & Funding
"This is a Skillsfuture Singapore Funded and SkillsFuture Credit Eligible Course. Course Funding. You can register either as an Individual or through your Company to benefit from the grant. The figures below are the nett fees after subsidy, depending on your eligibility: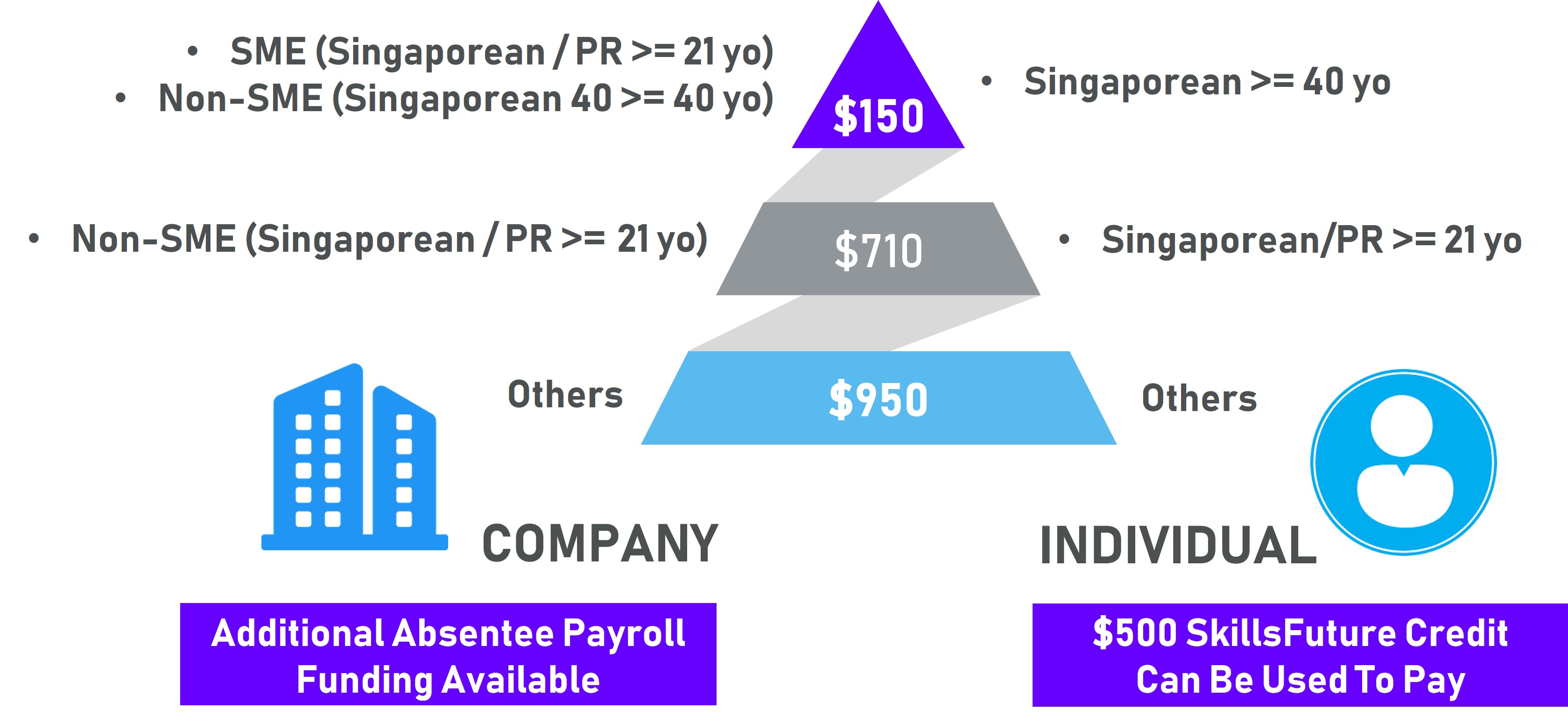 Compliments from Past Participants
: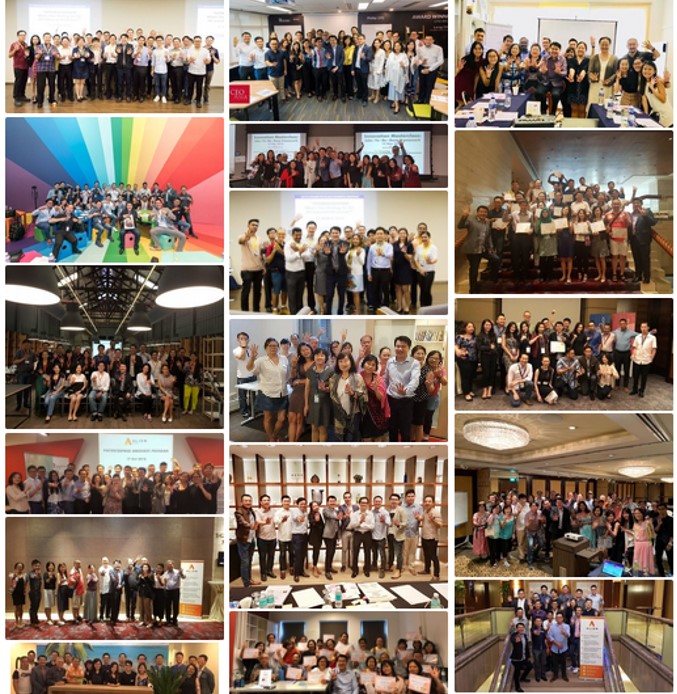 "Charlie's class is revolutionary! I had a paradigm shift and greater awareness of the urgency to unlearn, learn, embrace change, celebrate innovation and excited for the unknown smart future. He deepened my business identity to be a technology provider/owner than the receiving user. I'm happy to know that what I'm doing, empowers businesses, innovate lives and much deep learning ahead." Co-Founder of FoodZaps Technology - Rina Loh
"Charlie is an astute thinker, engaging writer and inspirational speaker on how rapidly advancing technologies will impact the economy, business and people today and in the future. I benefited both professionally and personally from his deep insights. Thank you, Charlie!" Xander Friedländer, Senior Vice President APAC, Retail Insight
"Charlie made the masterclass very lively by engaging participants in the learning process, where everyone is encouraged to speak freely and candidly in response to his thought-provoking questions on "Jobs-To-Be-Done Framework" and "Innovation". Besides very well-prepared and inviting participants' feedback throughout the session, he also uses stories to illustrate key learning points. There were several interested participants who inquired post-session on enrolling for courses taught by Charlie at Civil Service College." Soh Yong Chuan, Senior Manager cum Innovation Champion, Skillsfuture Singapore
"He is a very engaging speaker. He is able to make something complicated, simple. I thoroughly enjoyed his talk on "The End of Business As Usual". It is a complex subject, but he was able to explain clearly what the effects on the factors listed are. I walked away confirming some of my own understanding and learning new things in the process. For anyone, wanting to know what the future of business will be like, then you should not miss this." Lim Kien Hwee, Divisional Director, International Enterprise Singapore
"Charlie's talk was very insightful. It gave a strong understanding of the upcoming changes in the innovation economy and helps put one in a competitive advantage. I would recommend for anyone who wants to shape the future as opposed to entering it passively." Prakash Natarajan, Global IT Director, Unilever Asia
"This workshop was a real eye opener in linking currently developing technologies to possible future scenarios and how they could disrupt business and work as we know it now. The workshop was also a treasure trove of examples and anecdotes that made it easy to understand and follow." Mark Khng, Senior Specialist | U Future Leaders, NTUC
"Charlie's lessons on the future is highly crucial for any entrepreneurs to stay relevant of what is coming ahead that might disrupt their businesses badly." Kenji Lim, successful entrepreneur of multiple businesses
"This program is a wake up call and eye opener. It is indeed much needed to stimulate radical shift in mindset, to cope with the world that is not only constantly changing, but at an accelerating pace. Thank you Charlie for sharing practical and priceless insights in this presentation and engaging discussion." Ivan Bunarsih, 32, Research Analyst
"The full day workshop is packed but never dull. It expanded my mindset, giving more clarity to the ambiguous future. The term, exponential change, is key to waves of revolutionary changes. Preparing my mind to expect these waves allows me to reinspect my current situation, and provides unfair advantage to brace for impact, or better, to capture new opportunities. While the curriculum is great, questions, discussions or even debates from fellow classmates are added bonus. It allows us to see more perspectives, bringing us to deeper understanding. I will recommend this workshop to anyone who wish to remain relevant, and to harness new opportunities that are not visible to many others." Dean Yap, 42, formerly in banking, in career transition
"This is an amazing program! As a recent graduate, this workshop opened my eyes to the exciting yet disruptive scenarios of work in the process of playing out. It adjusted my mindset to be constantly ahead of the game by upgrading with new, and especially tech, skills and re-inventing my career strategies. Highly recommended for PMEs from all age groups.", Ong Jian Liang, 26 - an architect associate in international masterplanning company and recent NUS graduate
"The workshop is inspiring, insightful and, most importantly, impactful! It enabled me to appreciate the Future Economy and equip me with the tools to take action." Andy Sim, Director, Digital Innovation at National Volunteer & Philanthropy Centre