GAIA GAYA #11 explores how private businesses and NGOs could create a win-win partnership to make a greater positive impact on SDGs.
About this Event
GAIA GAYA #11: SDGs and ESG: A Win-Win Partnership Between Businesses and NGOs
How can private sector businesses and NGOs collaborate, instead of confronting each other, for the greater good of achieving SDGs? Can businesses and NGOs build a win-win partnership for positive impacts on SDGs, creating and resulting in a more sustainable world?
GAIA GAYA #11 with Atty. Grip Bueta, a lawyer and legal consultant specializing in environment and climate change law and policy, and sustainable development law explores these questions.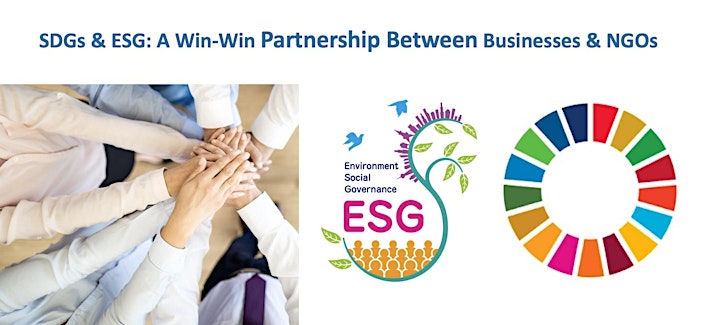 Atty. Grip has worked with large corporations such as Ayala group, international organizations such as UNDP, ADB, large international NGOs such as WWF and Greenpeace, government agencies such as the Supreme Court and the Office of the Executive Secretary.  He has also worked and engaged with people in the marginalized sectors and community organizations across Asia and the Pacific.  
GAIA GAYA is excited to have a dialogue with Atty. Grip who can share with us the observations and insights he gained through his exposure to the very diverse perspectives of different stakeholders on environmental preservation, the climate crisis, and how we can all achieve a sustainable future.
Join GAIA GAYA #11 on November 28, 2020 3pm to 4:40pm on Zoom. Learn about the possibilities of a win-win partnership between businesses and NGOs.

Are you involved in, curious about, or eager to contribute to the Sustainable Development Goals (SDGs)? Join GAIA GAYA, a platform of making SDGs everybody's business. You can choose to join GAIA GAYA sessions for free or paid, on Zoom Meeting.
GAIA GAYA is a space for generative dialogue among attendees, guest speaker(s), and the GAIA GAYA team. Everyone will be encouraged to join the dialogue and bring your voice to our forum.
GAIA GAYA Provides a Space for:
Learning with people who have started their sustainability initiatives.
Connecting initiatives and building community for collaboration and co-creation of a sustainable future.
Cultivating our sustainability awareness.
Activating intention and action both individually and collectively.
What to Expect?
Listen to inspiring real stories of sustainability initiatives
Engage in conversation and dialogue with people with a common interest in creating a sustainable future.
Sense and see the system we collectively enact.
Reimagine the sustainable future of our planet.
Be inspired to start your own action.
Be inspired to sustain your sustainability journey.
Please have a pen/pencil and paper/pad handy with you for journaling practice.
GAIA GAYA will take place on Zoom online meeting platform. The Zoom meeting room link will be sent to registered participants 24 hours before the start of the event.
Anybody is welcome to join GAIA GAYA for free! If you wish to support GAIA GAYA making SDGs everybody's business, you may choose to pay too. GAIA GAYA brings the power of professional facilitation expertise and experience in business, education and public sectors in the Philippines for the service of creating a more sustainable world. We appreciate your support!
The 11th GAIA GAYA session is Session #6 of GAIA GAYA Season 2, following a successful and highly insightful Season 1 with 5 amazing sustainability leaders: Mr. Arcie Mallari from Silid Aralan, Mr. Raf Dionisio from MAD Travel, Ms. Sarah Queblatin from Green Releaf Initiatives, Ms. Chi-Chi Sangil from CYBER GUARDIANS.PH and Ms. Elyse Go from Hand & Heart. In Season 2 we had Ms. Abbie Abion and Mr. Martin Semilla from GAIA GAYA Core team, Mr. Vincent Mendoza from Farmvocacy, Ms. Joji Pantoja from Coffee for Peace, Atty. Tanya Lat, and Mr. Mark Napao from SOLAR Hope.
See you all at GAIA GAYA Session #11 on Saturday, November 28. 2020 on Zoom meeting from 15:00 to 16:30 Philippine time (GMT +8)!
GAIA GAYA Core Team of Learning Nation Foundation, Inc.
Dada, Chenny, Martin and Abbie