Description
The words 'productivity' and 'innovation' conjure up countless images of hard-working people, processes, products and services being developed, innovation and achievement. For SMEs to improve productivity and achieve innovation, it is important to look at the current practices and processes practiced by the company, and tapping on the available technologies and expertise of solutions providers available in the market. Companies can later translate that knowledge into potential solutions leading to improved productivity and innovation.
Covering various topics essential for Directors, HR, Marketing and Operations Managers from small & medium enterprises (SMEs) within the Furniture and Furnishings Industry, companies can tap on the expertise of the keynote speakers and their company's products and solution offerings. Topics include HR Practices, HR Technology and Outsourcing; Digital Marketing Strategies; 3D Printing Technology for Manufacturers; and various Government Assistance Schemes available to SMEs. This seminar aims to inspire and instil knowledge, providing participants with ideas and solutions that may potentially streamline existing processes leading to manpower savings and overall business growth.
Towards the end of the seminar, there will be 1-to-1 sessions available to participants who are interested to find out more about the product and solutions offered by SFIC Institute, partners and also various government assistance schemes including but not limited to Lean Enterprise Development (LED) Scheme, Workpro and Inclusive Growth Programme (IGP). This complimentary event is proudly supported by NTUC's Employment and Employability Institute (e2i) and Workforce Singapore (WSG).
As seats are limited, we advise that you cancel any pre-ordered ticket at least one week prior to the event date if you are unable to make it for the event. This will allow other participants to register, attend and benefit from the event.
---
Programme Details: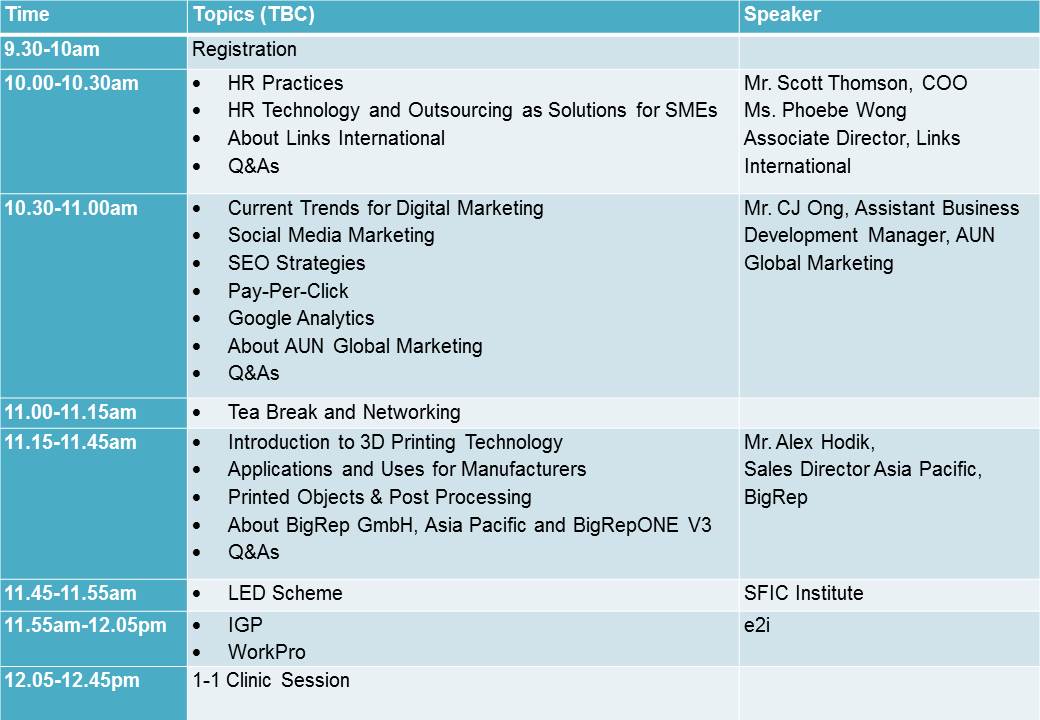 ---