Learn how Singapore and Canada is doing in their recovery post COVID-19 and how they are building resilience for future challenges.
About this event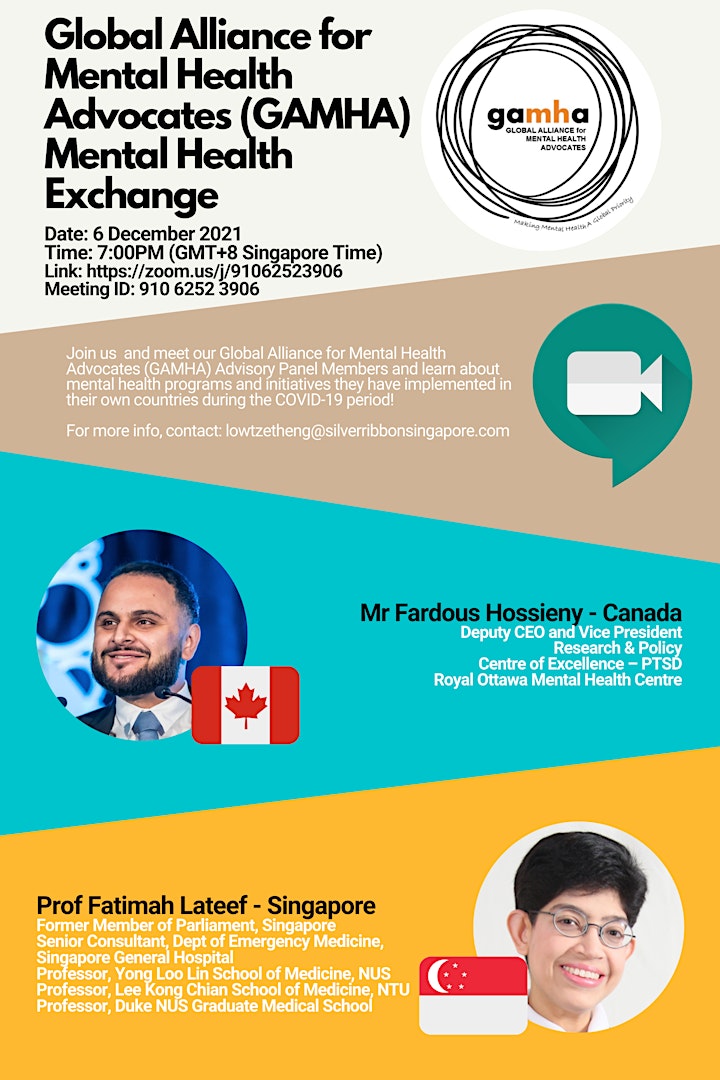 The Global Alliance for Mental Health Advocates (GAMHA) was launched by Mdm Halimah Yacob, President of Republic of Singapore, at the 1st Global Summit for Mental Health Advocates on 4 Oct 2018 in Singapore.
It is a special global mental health project initiated by Silver Ribbon (Singapore) and Lundbeck and hopes to serve as a platform to connect all stakeholders across the world to discuss, learn, network, share best practices, ideas, knowledge & resources on mental health promotion and advocacy, promoting an inclusive and gracious society.
GAMHA is organizing the 2nd series of their "Mental Health Exchange" that aims to provide a platform for everyone to learn from GAMHA Advisory Panel Members on the programmes and initiatives from various countries during the pandemic to address mental health challenges in the community.
This year's theme is: New Norms, New Mindsets: Moving On Together, where the focus is on recovery post COVID-19 and building resilience for future challenges in their own countries! There will also be a Q&A segment towards the end of the session where participants can interact with the speakers.
The last GAMHA Mental Health Exchange of 2021 will be held on 6 Dec 2021, 7pm SGT. The speakers for this event are:
• Mr Fardous Hossieny from Canada, Deputy CEO and Vice President, Research & Policy, Centre of Excellence - PTSD, Royal Ottawa Mental Health Centre
• Prof Fatimah Lateef from Singapore, Former Member of Parliament, Senior Consultant, Dept of Emergency Medicine, Singapore General Hospital
The event will be moderated by Mr Phay Yan Deng, Senior Clinical Executive of Silver Ribbon (Singapore).
Come join us and meet our GAMHA Advisory Panel Members!