Sales Have Ended
Ticket sales have ended
We will email you for payment 3 weeks prior course commencement date to confirm your seat. If you do not receive our email, you can contact us at courses@gamificationsolutions.asia.
Sales Have Ended
Ticket sales have ended
We will email you for payment 3 weeks prior course commencement date to confirm your seat. If you do not receive our email, you can contact us at courses@gamificationsolutions.asia.
Description
Course Title:
Gamification Solution For Your Class: A Quick Guide for Educators and Trainers to Transform Your Teaching into Exciting Game*
Course Code: LC01

(SkillsFuture Course Code: CRS-N-0041227)
Duration: 8 hours
__________________________________________________________
What the Graduates Say About this Course:
Ahmad Ramli, Lecturer, Malaysia - "Understanding the principles of gamification helps me plan my lesson better."
Ms. Chew, Instructional Designer, Malaysia - "Anm inspired me to produce quality EduGamification to level up participants' learning experience."
Ms. Azita, Learning Designer, Malaysia - "A very interesting session that enforces participants to create simple card game for learning. Inspiring presentation by Anm."
Trishnu Kaur, Teacher and Curriculum Developer, Scholars Inc., Singapore - "Interesting and engaging. Thank you so much, Anm and Meow Ling."
Shaun Low, Educational Therapist, Swords & Stationery, Singapore - "Great course! Had a lot of fun!"
__________________________________________________________
Fee: S$297 inclusive of Course Material and Complimentary 1 user account of our Gamification App and 1 copy of Gamification Book
* Non-WSQ course funded by the SkillsFuture Singapore Agency
* This course is approved for SkillsFuture Credit Claims (Only for Singaporeans, of 25 years old and above)
We welcome participants from other countries (beside Singapore) as well
Register free with us now and pay at the later date. - Note: We will follow-up with an email for ticket fee payment of S$297 (per pax) when a minimum number of participants have registered. After payment, you will receive a confirmation email and details of the course from us.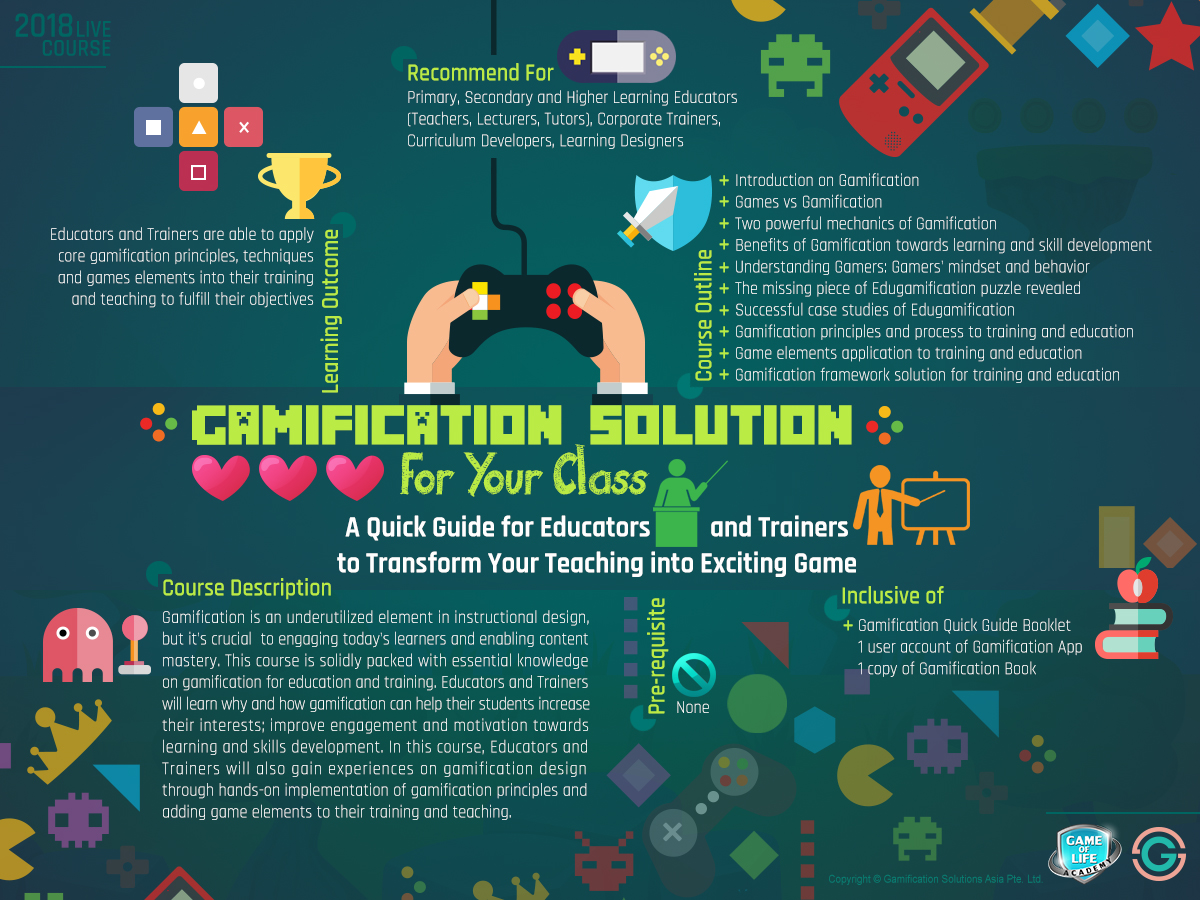 Click on the above course infographic image to download
Description:
Gamification is an underutilized element in the instructional design, but it's crucial to engaging today's learners and enabling content mastery. This course is solidly packed with essential knowledge on gamification for education and training. Educators and Trainers will learn why and how gamification can help their students increase their interests; improve engagement and motivation towards learning and skills development. In this course, Educators and Trainers will also gain experiences on gamification design through hands-on implementation of gamification principles and add game elements to their training and teaching.
Learning Outcomes:
Educators and Trainers are able to apply core gamification principles, techniques and games elements into their training and teaching to fulfill their objectives.
Course Outline:
Introduction on Gamification
Games vs Gamification
Two powerful mechanics of Gamification
Benefits of Gamification towards learning and skill development
Understanding Gamers: Gamers' mindset and behavior
The missing piece of Edugamification puzzle revealed
Successful case studies of Edugamification
Gamification principles and process to training and education
Game elements application to training and education
Gamification framework solution for training and education
Recommend For:
Primary, Secondary and Higher Learning Educators (Teachers, Lecturers, Tutors), Corporate Trainers, Curriculum Developers, Learning Designers
Participants:
We have participants from Singapore and Malaysia Universities, Government Agency, Military Academy, and, Private Schools.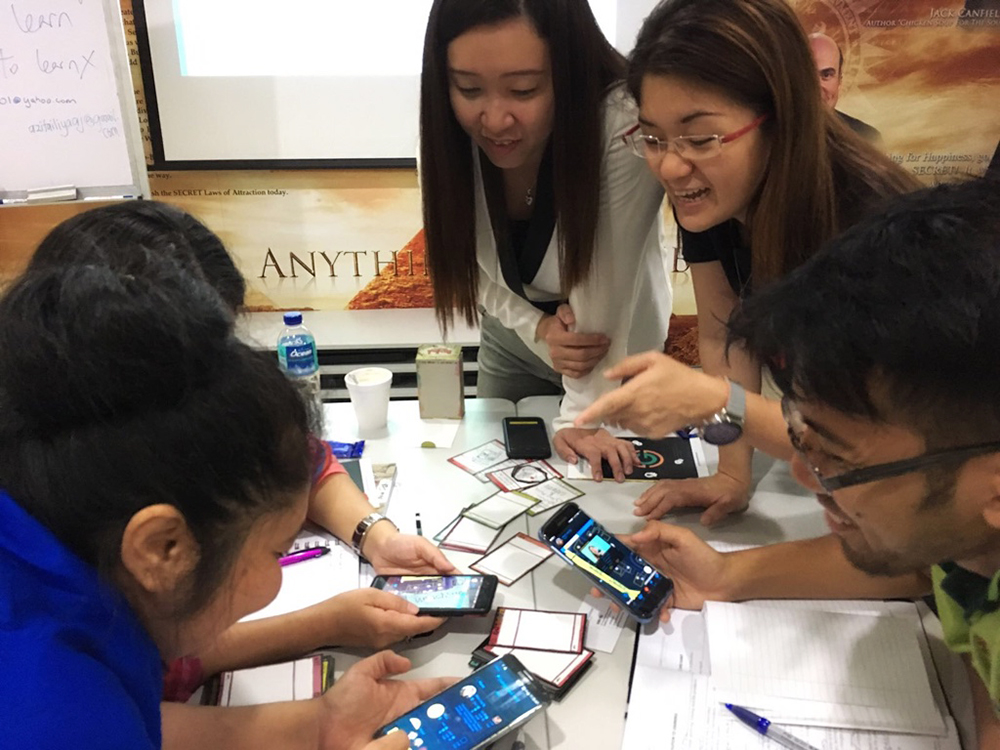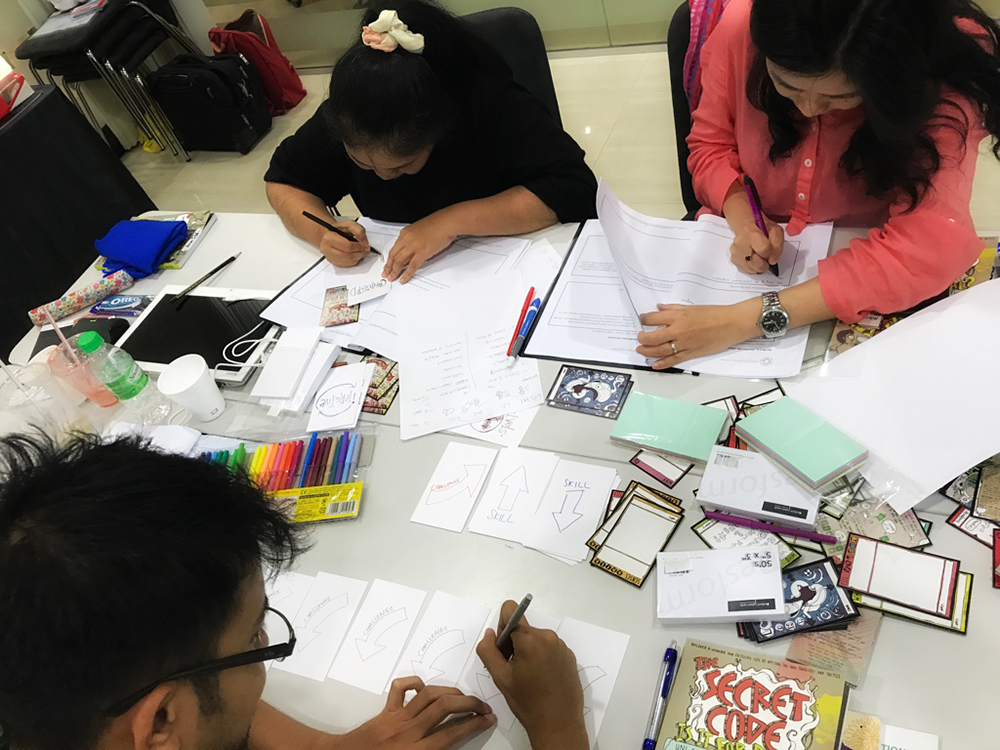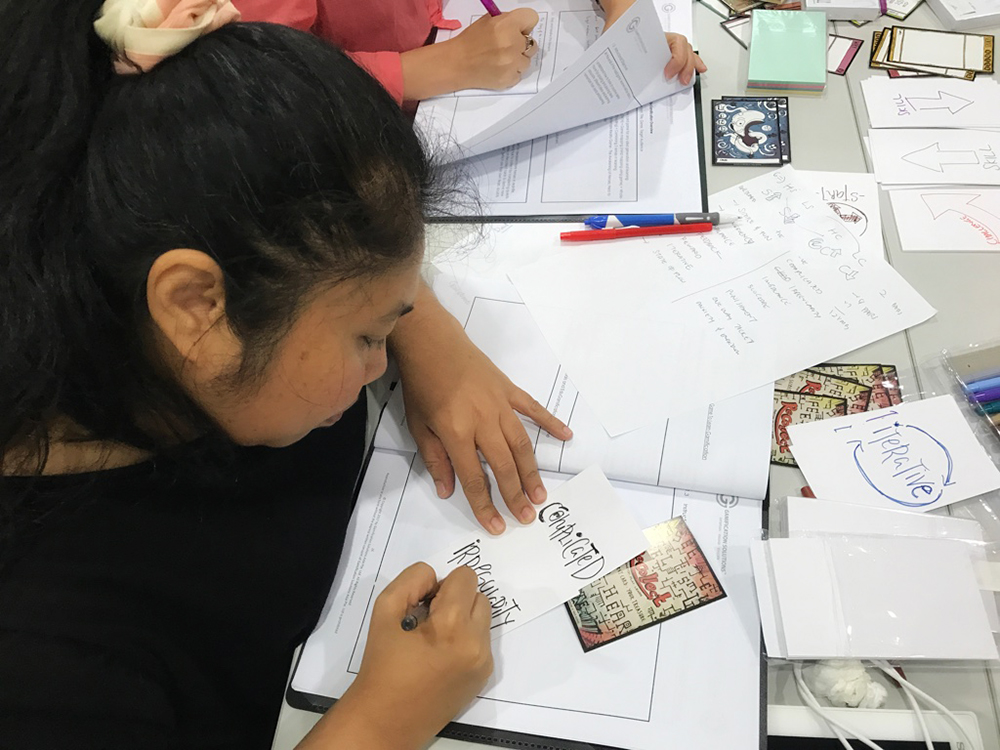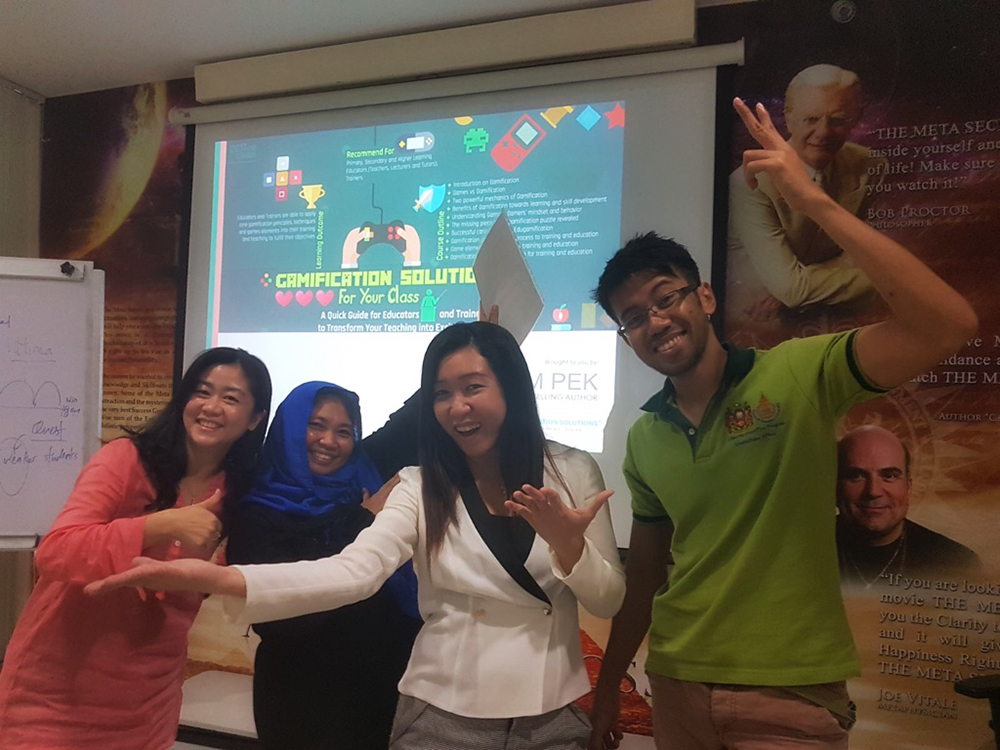 taken on 10 Aug 2017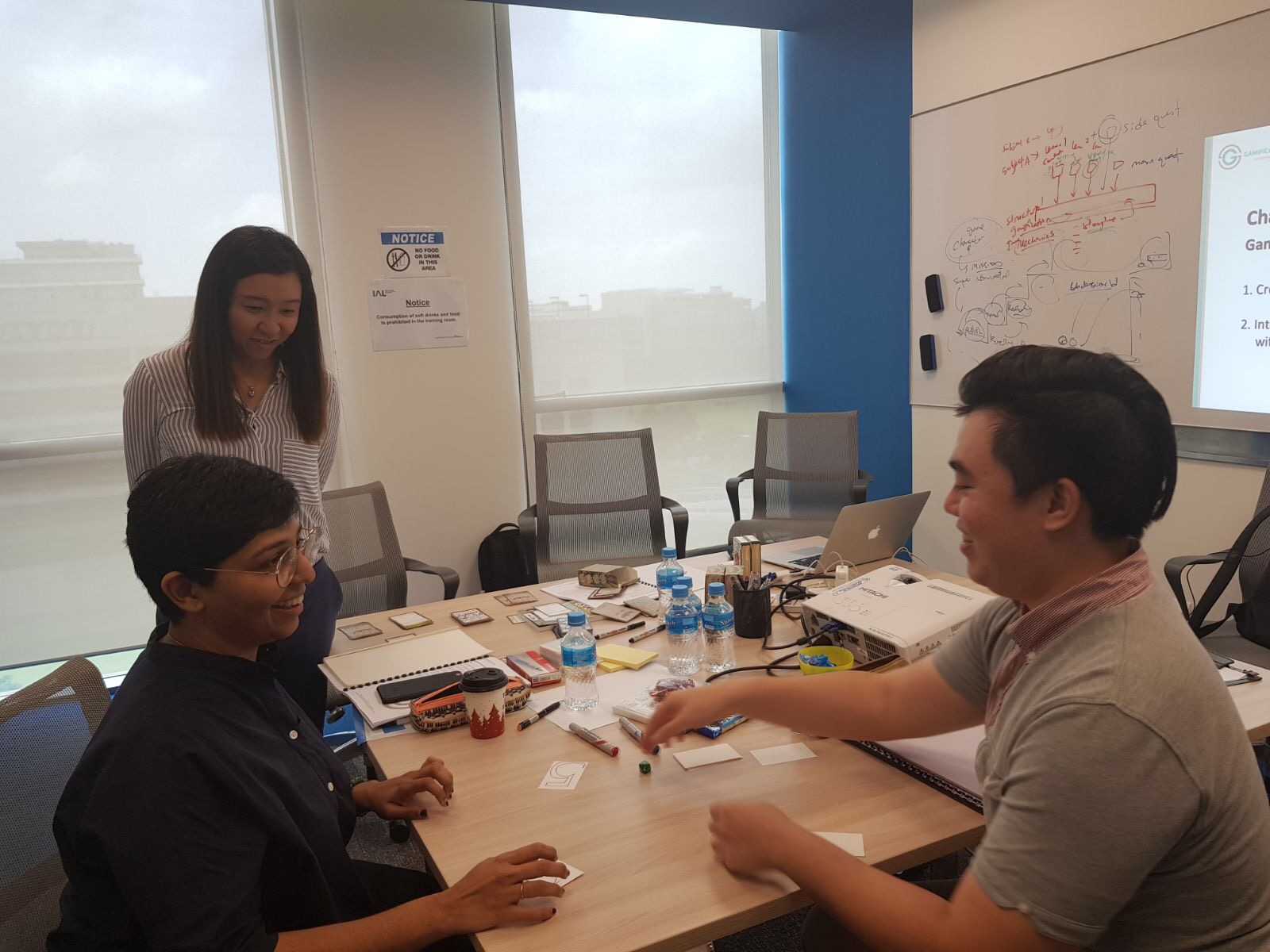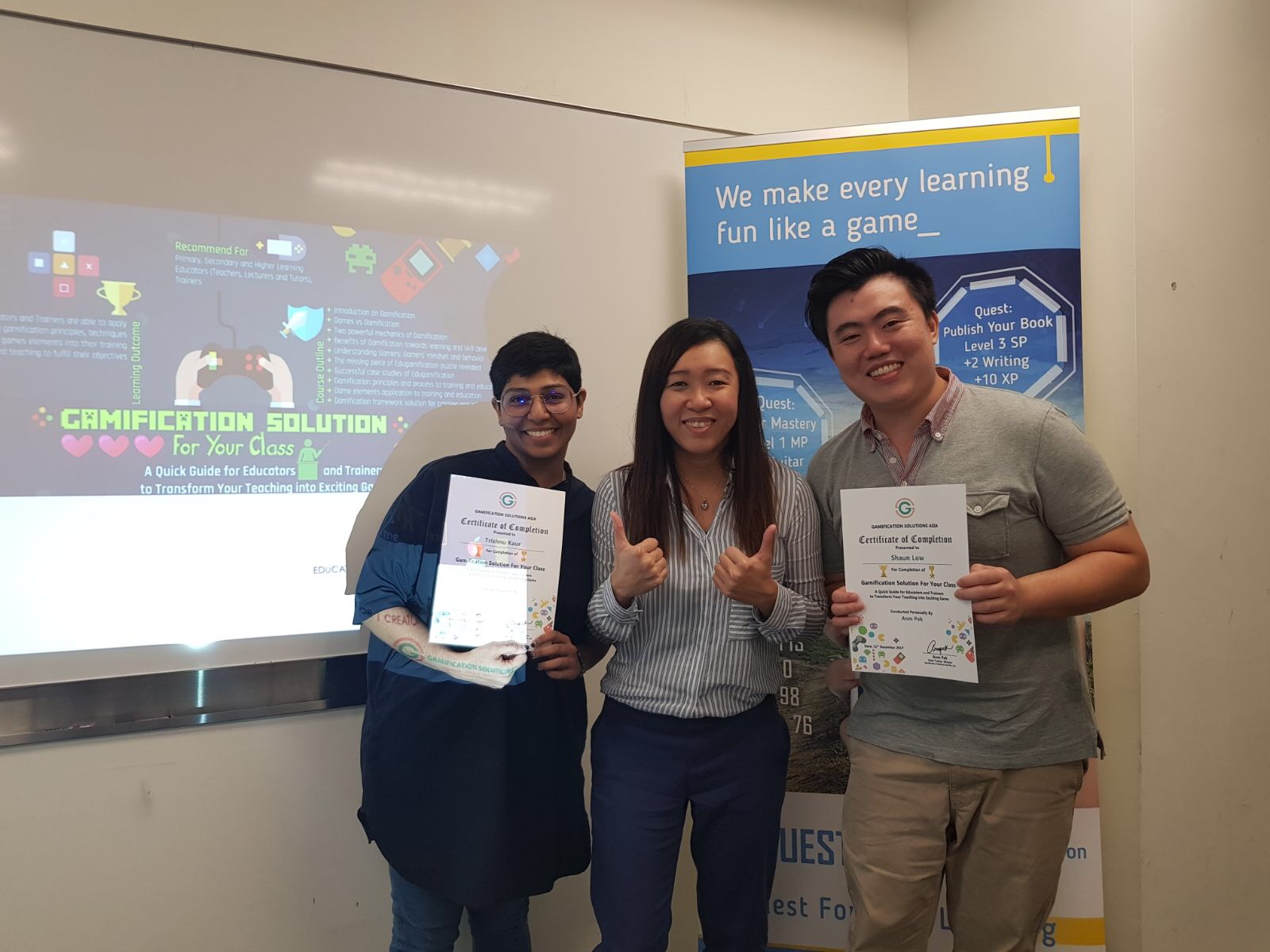 taken on 11 Dec 2017
Materials Provided: Gamification Quick Guide Booklet, Complimentary 1 user account of our Gamification App and 1 copy of Gamification Book
Note: We reserve the rights to alter the course content, class schedule and fee structure without prior notice.
Please write to us at courses@gamificationsolutions.asia if you would like to be on the mailing list for further enrollment updates.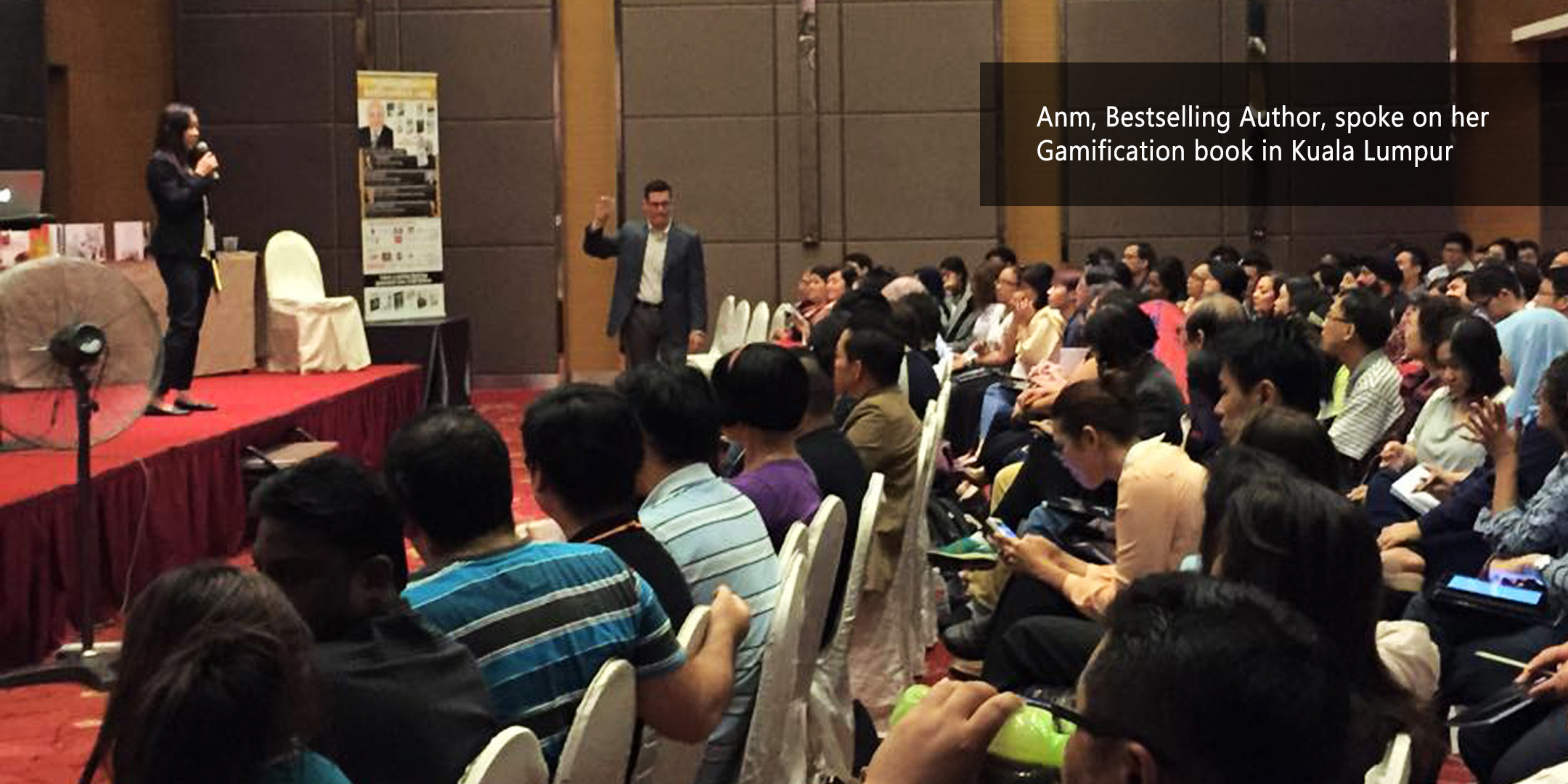 Trainer:
Anm Pek
is the Director and Chief Trainer at Gamification Solutions Asia, VP of Strategic Business Development at QuestLife. She is devoted to providing gamification solutions to solve problems and create results in learning and empowerment. Anm has been in the game design field for over 15 years.
Anm is the gamification and design advisor for QuestLife. She created Human Intelligence for QuestLife - the gamified Profiling and Learning into one! Anm believes that individuals can empower themselves and achieve their goals faster and easier than they ever imagined through the gamified characters that she has designed and developed for QuestLife. Anm also created Flashback and Recollect, collaborative learning card games to develop association skill, enhance creativity, memory, and Socratic questioning. Anm is a bestselling Author. She has written two books on gamification titled Success Today which hits 2 Amazon bestseller lists, and, The Secret Code: Is It for Real? with forewords by Asia's Top Success Coach, Adam Khoo and Social Entrepreneur, Elim Chew. Anm received her Best Seller Quilly Award on Best Seller's Summit & Golden Gala Awards by National Academy of Bestselling Authors on 25 September 2015 in Hollywood, California. It is one of the most influential, compelling events for Best Selling Authors who are committed to recognizing their success as a stepping stone on the path to further ambitions. The Best Seller Quilly Award is to honor Bestselling Authors around the world for their contribution to education, enlightenment and the advancement of business.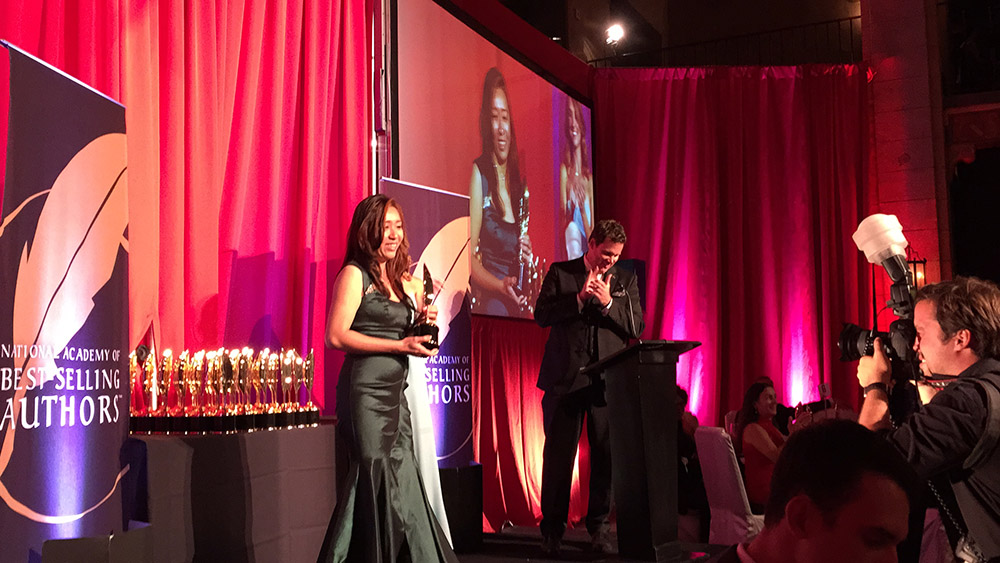 Anm appears on Dean's list for her Bachelor of Science in Multimedia Technology and Design and received numerous distinctions and merit awards throughout her studies. In July 2014, she graduated with a Master of Science in Digital Media Technology (Nanyang Technological University, Singapore). Her research paper titled, Design and Development Beyond Fun: Serious Games with Social Impact has built her a strong foundation in the areas of gamification for empowering and learning. She is also an Educator since the year 2008, currently holding a position of associate lecturer at Nanyang Academy of Fine Arts, Singapore.
Free Registration, Pay Later:
Click on SELECT A DATE button now to secure your seat. Take a small first step to begin your new engaging teaching and training method that both your students or participants and you will benefit.
For any inquiry on this course, feel free to email us at courses@gamificationsolutions.asia.
Gamification Course brought to you by:
Gamification Solutions Asia, https://gamificationsolutions.asia