Description
Course Title:
Gamify and Conquer: Using Card Games to Teach and Level Up Students' Creativity, Critical Thinking, and Concentration*
Course Code: LC02

(SkillsFuture Course Code: CRS-N-0041228)
Duration: 8 hours
Fee: S$327 inclusive of course material
* Non-WSQ course funded by the SkillsFuture Singapore Agency
* This course is approved for SkillsFuture Credit Claims (Only for Singaporeans, of 25 years old and above)
We welcome participants from other countries (beside Singapore) as well
Register free with us now and pay at the later date. - Note: We will follow-up with an email for ticket fee payment of S$327 (per pax) when a minimum number of participants have registered. After payment, you will receive a confirmation email and details of the course from us.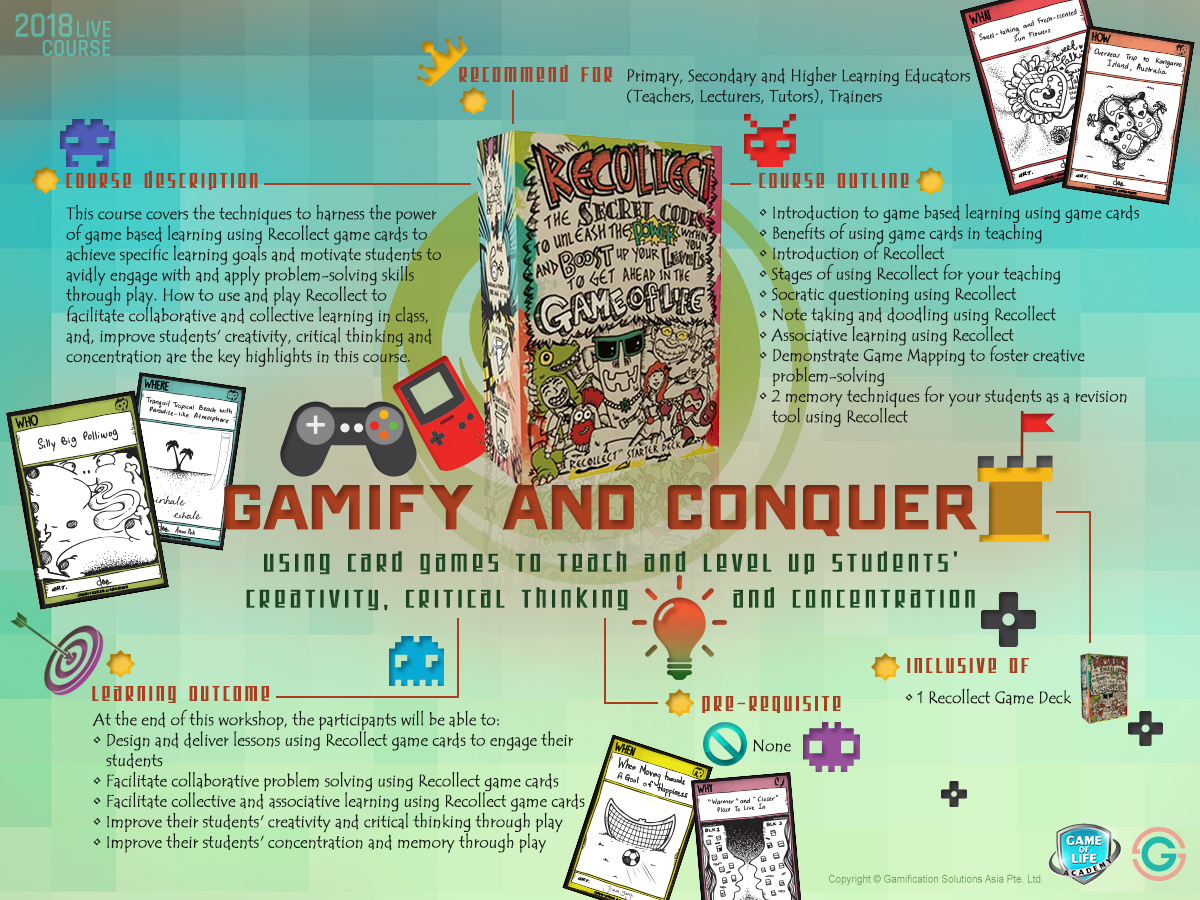 Click on the above course infographic image to download
Description:
This course covers the techniques to harness the power of game-based learning using Recollect game cards to achieve specific learning goals and motivate students to avidly engage with and apply problem-solving skills through play. How to use and play Recollect to facilitate collaborative and collective learning in class, and, improve students' creativity, critical thinking and concentration are the key highlights in this course.
Learning Outcomes:
At the end of this workshop, the participants will be able to:
Design and deliver lessons using Recollect game cards to engage their students

Facilitate collaborative problem solving using Recollect game cards

Facilitate collective and associative learning using Recollect game cards

Improve their students' creativity and critical thinking through play

Improve their students' concentration and memory through play
Course Outline:
Introduction to game-based learning using game cards

Benefits of using game cards in teaching

Introduction of Recollect

Stages of using Recollect for your teaching

Socratic questioning using Recollect

Note taking and doodling using Recollect

Associative learning using Recollect

Demonstrate Game Mapping to foster creative problem-solving

2 memory techniques for your students as a revision tool using Recollect
Recommend For:
Teachers, Tutors, Instructors, Trainers, Lecturers, Educators, Learning Designers, Curriculum Developers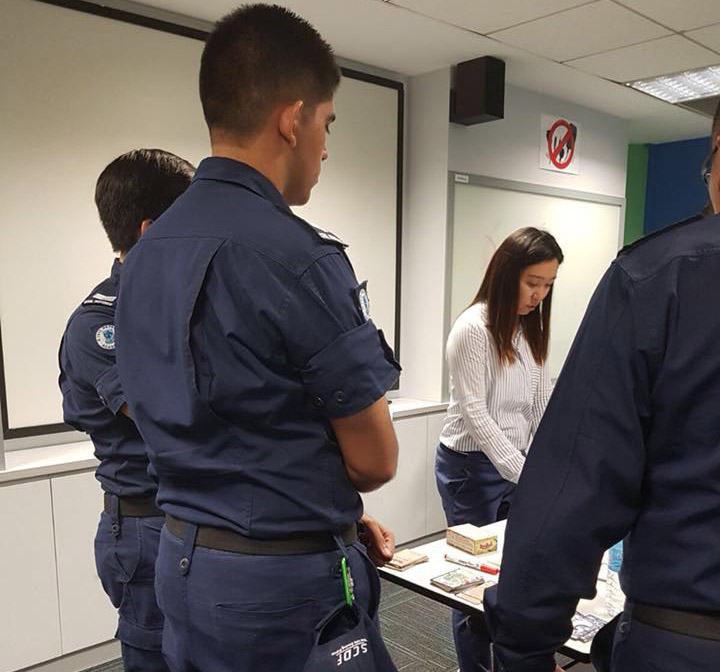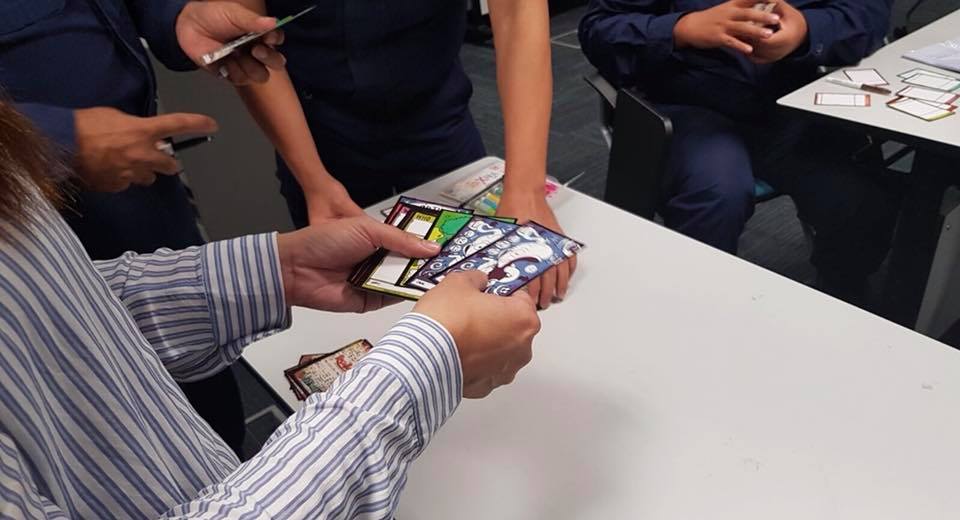 Recollect Training for SCDF, Nov 2017
Material Provided: 1 Recollect Game Deck
Note: We reserve the rights to alter the course content, class schedule and fee structure without prior notice.
Please write to us at courses@gamificationsolutions.asia if you would like to be on the mailing list for further enrolment updates.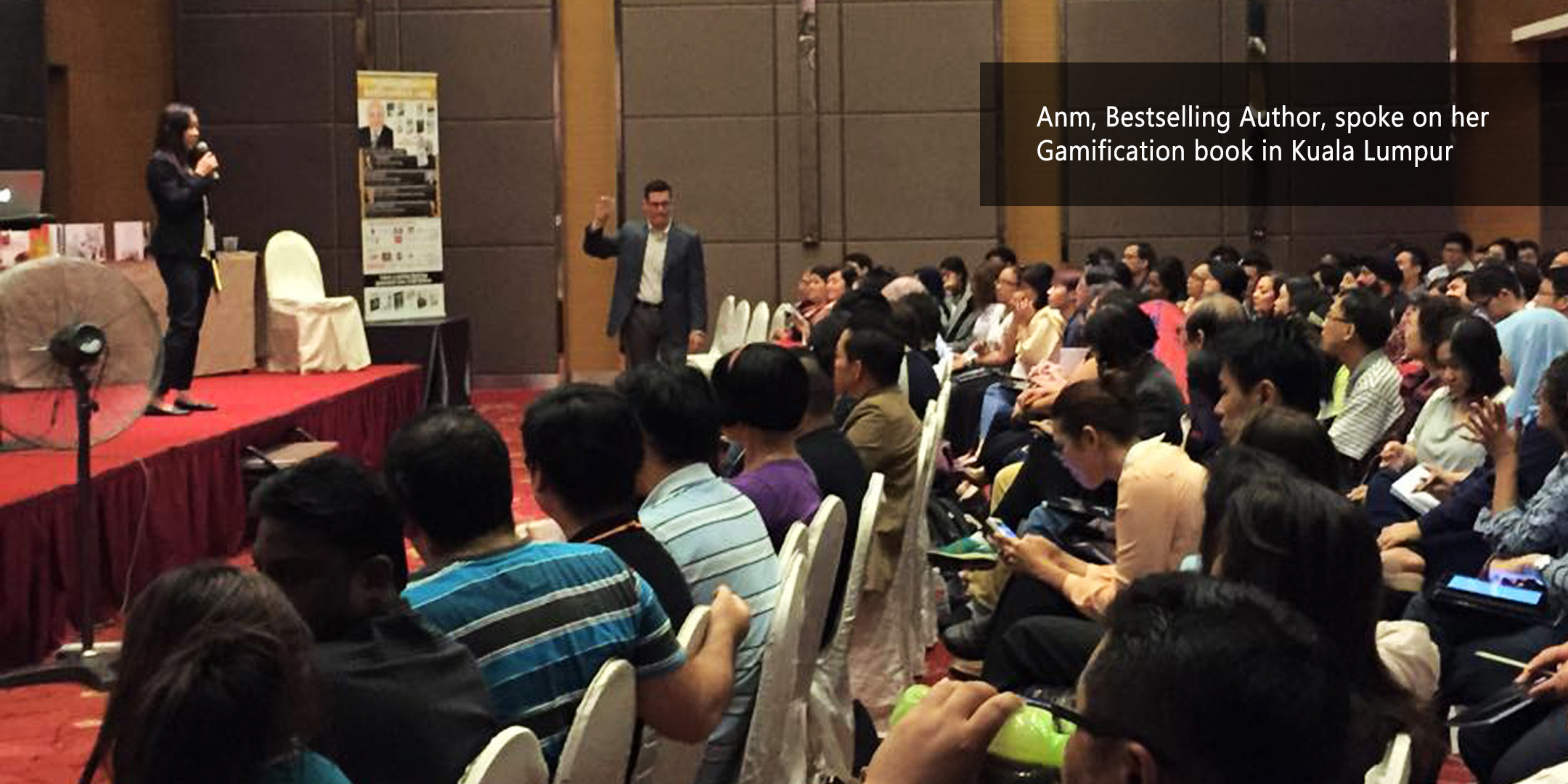 Trainer:
Anm Pek
is the Director and Chief Trainer at Gamification Solutions Asia, VP of Strategic Business Development at QuestLife, devoted to providing gamification solutions to solve problems and create results in learning and empowerment. Anm has been in the game design field for over 15 years.
Anm is the creator of Game of Life: The Awakening of Heroes, the pioneer of gamified online course that she and her trainers have developed over the years, to train individuals to empower themselves and achieve their goals faster and easier than they ever imagined. In the gamified course, she is the Quest Master, playing as "Metaphysics Cleric". She developed a Metaphysics Profiling system to identify people's game avatar and innate power. Anm also created Flashback and Recollect, collaborative learning card games to develop association skill, enhance creativity, memory, and Socratic questioning. Anm is a bestselling Author. She has written two books on gamification titled Success Today which hits 2 Amazon bestseller lists, and, The Secret Code: Is It for Real? with forewords by Asia's Top Success Coach, Adam Khoo and Social Entrepreneur, Elim Chew. Anm received her Best Seller Quilly Award on Best Seller's Summit & Golden Gala Awards by National Academy of Bestselling Authors on 25 September 2015 in Hollywood, California. It is one of the most influential, compelling events for Best Selling Authors who are committed to recognizing their success as a stepping stone on the path to further ambitions. The Best Seller Quilly Award is to honor Bestselling Authors around the world for their contribution to education, enlightenment and the advancement of business.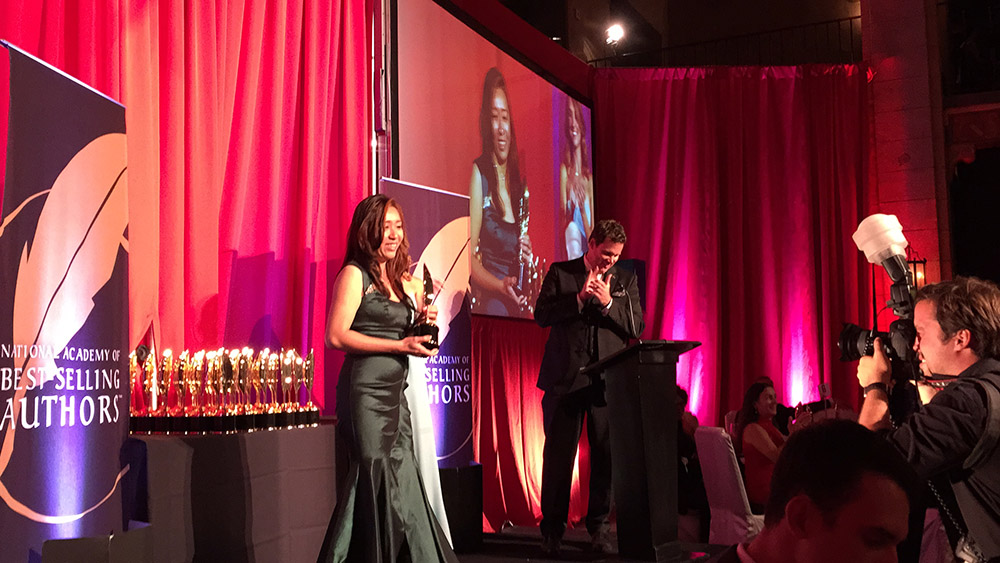 Anm appears on Dean's list for her Bachelor of Science in Multimedia Technology and Design and received numerous distinctions and merit awards throughout her studies. In July 2014, she graduated with a Master of Science in Digital Media Technology (Nanyang Technological University, Singapore). Her research paper titled, Design and Development Beyond Fun: Serious Games with Social Impact has built her a strong foundation in the areas of gamification for empowering and learning. She is also an Educator since the year 2008, currently holding a position of associate lecturer at Nanyang Academy of Fine Arts, Singapore.
Free Registration, Pay Later:
Click on SELECT A DATE button now to secure your seat. Take a small first step to begin your new engaging teaching and training method that both your students or participants and you will benefit.
For any inquiry on this course, feel free to email us at courses@gamificationsolutions.asia.