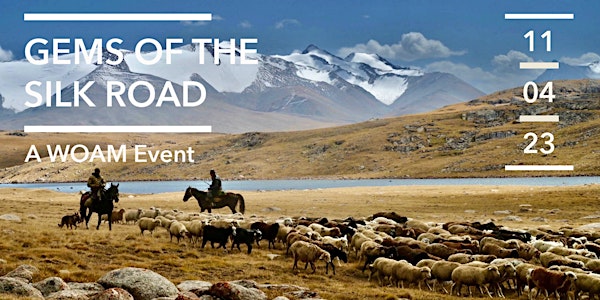 Gems of the Silk Road - a Women on a Mission Event
Join us in a Charity Cocktail Reception and Photo Exhibit to celebrate our expedition to Kyrgyzstan in support of women survivors of war.
Date and time
Tue, 11 Apr 2023 18:00 - 20:30 +08
Location
EHL Campus (Singapore) 3 Lady Hill Road Singapore, 258672 Singapore
About this event
2 hours 30 minutes

Mobile eTicket
Our Women On A Mission (WOAM) team of 12 recently returned from a breathtaking expedition to Kyrgyzstan – a landlocked country in Central Asia, which has been at the crossroads of several great civilisations as part of the Silk Road. During our journey there, we covered 156km in 7 days, trekking in and around the stunning snow peaked mountains of the Tian Shan range, close to the border of China and Kazakhstan at an altitude of 3,000 to 4,000 metres.
In the process we succeeded in raising close to 60,000 USD (so far) for some of the most marginalised women in the world - women survivors of war in Ukraine, Afghanistan and Syria, via one of our charity partners, Women for Women International.
Our objective with this event is to raise another 40,000 USD to reach our original target of 100,000 USD.
The agenda for the event is as follows:
· Event starts at 6pm
· Enjoy a welcome drink and explore the main gallery for the photo exhibit, which will include breathtaking pictures from Kyrgyzstan and some from past 10 WOAM expeditions.
· WOAM Teammates will be ready to take orders for the prints .
· Welcome speech at 6:45pm
· Short Film Screening
· Special Auction
· Event finishes at 8:30pm
About Women On A Mission (WOAM)
WOAM is a non-profit organisation headquartered in Singapore, that combines challenging, self-funded, expeditions to remote and majestic locations around the world as a way to raise awareness and funds for women survivors of war and to support and empower women who have been subjected to violence and abuse. We work with well-established non-profit institutions that already have programmes and structures in place dedicated to serving the underprivileged with a particular focus on women's issues. In addition to women survivors of war, which we support via Women for Women International, we also fight human trafficking in collaboration with International Justice Mission, and support the following Singapore-based charities: AWARE - Singapore's leading gender equality advocacy group; United Women Singapore; Aidha - a Singapore NGO empowering domestic workers; and Pertapis Home for Women and Girls. The past eleven WOAM expeditions have been to regions of the Himalayas, the Middle East, Africa, Central and Southeast Asia and the Arctic Circle.
About Women for Women International (WfWI) - A WOAM Partner Charity
Women for Women International invests where inequality is greatest by helping women who are forgotten — the women survivors of war and conflict. Since 1993, their global community has invested in the power of over 530,000 women across 14 conflict-affected countries, to create a ripple effect that makes the world more equal, peaceful, and prosperous. Through Women for Women International's Stronger Women, Stronger Nations Programme, women learn the skills they need to rebuild their families and communities. In Afghanistan, Bosnia and Herzegovina, the Democratic Republic of the Congo, Iraq, Kosovo, Nigeria, Rwanda, and South Sudan, women who join the programme connect with each other to form support networks, are equipped with the skills to earn an income and save, and gain knowledge and resources to care for their families, and defend their rights. Women use their power together, passing it on to neighbours and their children for lasting change.
WOAM & WfWI
WOAM has been supporting WFWI since our very first campaign in 2012. We have raised over US$ 550,000 for their work with women survivors of war in Afghanistan, Syria, Rwanda and Ukraine. Our fundraising has allowed over 500 women in war-torn countries participate in the Women for Women International yearlong training programs. Our contribution has impacted 1000s more women in their community.
About the organiser
WOAM is a non-profit organisation headquartered in Singapore, which combines challenging, self-funded, expeditions and treks to remote and majestic locations around the world, with inspirational fundraising events and workshops in Singapore and abroad, to raise awareness and funds for women survivors of war and to support and empower women who have been subjected to violence and abuse.  WOAM's strategy is to organise and promote yearly campaigns and challenging expeditions – that are self-funded by each participant - to increase visibility, and to raise money for specific charities. WOAM partners with existing established non-profit institutions that already have well run programmes and structures in place dedicated to serving the underprivileged with a particular focus on women's issues. http://www.womenmission.com