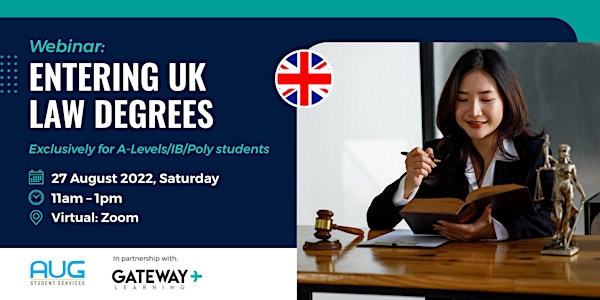 Get into a UK Law Degree (Webinar)
This Law Webinar free for students in SINGAPORE
About this event
Students interested in studying Law should attend this workshop
If you're keen to pursue a career in Law, but are intimidated by the complicated application process, this workshop will walk you through the following:
1. Entry requirements
2. Application Timeline
3. Components:
Personal Brand
Academic Portfolio
School Selection
Personal Statement
Interview
Did you know?
Your degree must be approved by the Singapore Law Council?
You can learn about these courses during the webinar
When applying for law degree in the UK, you need to take the LNAT test. Do you know how?
Other information:
The webinar will run from 11 am to 1 pm
Featuring UK Universities
This event is held in partnership with Gateway+ Learning
Look no further! Register now to secure your slots today!
About Gateway+ Learning
Gateway+ is a content streaming platform for all your higher education needs. Its extensive content and proven pedagogy help students make informed decisions as they prepare for higher education. The platform is friendly on all devices and provides quality content that students can access anytime, anywhere.