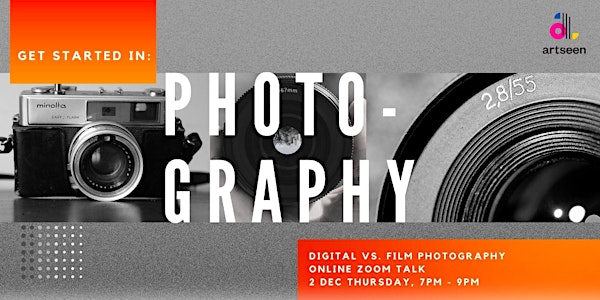 Get Started In: Photography | Digital vs. Film Photography
Get insights about the similarities and differences between digital and film photography through this 2-hour talk.
About this event

Important Notice
This programme/event is open to members of the National Library Board, Singapore. Please ensure you have your myLibrary username on hand before proceeding with the registration. If you do not have a myLibrary username, you can create one here: https://account.nlb.gov.sg/
About the Programme/Event
Anyone starting out in photography in this time and age would take it for granted that the image becomes visible upon the press of a button. Yet for over a century, the process was never this instantaneous. Digital photography revolutionised photography in the late twentieth century and rules the current industry. However, film photography has had a resurgence in the past few years and has become an expressive movement in the photography world.
In this talk, the instructor will introduce the two processes of digital photography and film photography and discuss the shift in the world of photography toward digital photography in the current age. The instructor will also attempt to tackle the question on everyone's mind – which art form is better?
About Phocus
Phocus Academy has been organising and conducting hands on workshops for people from all walks of life for over a decade. Cell phone cameras, DSLR cameras or film cameras, it has never been about the gear but only about the creation of images and the enjoyment from doing so. The workshops range from very basic level workshops to genre-based workshops focused on intermediate level Photographers. Before COVID, Phocus was also conducting overseas travel workshops to Indonesia and India where small groups of Photographers would travel with our Instructors to shoot exotic landscapes and cultures.
About the instructor
Always on the move, Nanda has captured countless landscapes and portraits since 2003. An avid traveller and photographer, Nanda's interest in travel photography has brought him to no less than 50 cities in 9 countries.
A traditionalist by training and practice, Nanda has actively promoted photography by serving as the president and darkroom chairman of the NTU Photo-Videographic society for three years. He had organised and contributed to several exhibitions within and outside NTU.
He has managed to blend his passion for travel with his job as a photography instructor by conducting travel workshops to Indonesia and India. He believes that travel photography is just as much about the travel as it is about the photography. In keeping with that he aims to provide experiential travel photography trips where people can soak in the culture of the places instead of just chasing a bucket list of photos. 
Instagram: Instagram.com/grumpy_oldman_
About artseen
This programme is organized by artseen, an NLB initiative that seeks to foster libraries as vibrant arts literacy spaces, where artists and the community connect and engage in authentic art experiences. Find us on Facebook (@artseenSG) and write to arts@nlb.gov.sg to be on the mailing list for more arts events and activities!
artseen is supported by the National Arts Council. Woodlands, Jurong and Tampines Regional Libraries are part of the National Arts Council's Arts and Culture Nodes Network.
About the series
Get Started In: Photography is a series of beginner-friendly programmes that introduces the basics of photography. Come join us for this series of talks and hands-on workshops to equip yourself with the fundamentals to get you started in photography!

Organiser of Get Started In: Photography | Digital vs. Film Photography
The National Library Board (NLB) manages a network of 27 public libraries, the National Library and the National Archives of Singapore. NLB promotes reading, learning and information literacy by providing a trusted, accessible and globally-connected library and information service through the National Library and a comprehensive network of Public Libraries.