Description
Attend the World's Best Life Mastery Course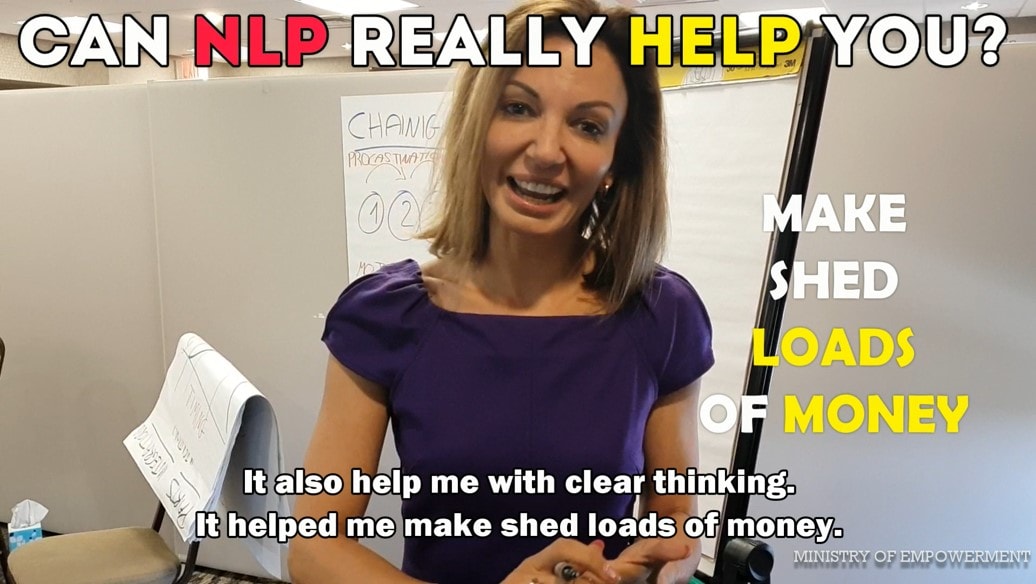 Oprah Winfrey:
"Oprah Winfrey says of NLP 'NLP helps me to manage audiences and motivate them, It is amazing."
Pharrell Williams: "
Pharrell Williams talks about his use of and love of NLP in this Psychology Today article. 'I am a huge NLP person. I love NLP."

Cheryl Fernandez-Versini (Cole): "Anthony (Tony) Robbins says of NLP 'I built my sales career from zero to become to worlds best motivator using NLP".
It is well known that many top politicians including Bill Clinton, Tony Blair, Barack Obama are trained in NLP. Celebrities that are known to use these skills are Oprah Winfrey, Sophie Dahl, Lily Allen, Gerri Halliwell and Jimmy Carr. Heston Blumenthal 'is a devotee'. It is said that Robbie Williams use a very simple NLP technique before going stage. All of these people use the skills of NLP to help them succeed in their profession.
We ALL need NLP in our lives. It is the best form of strength you can build in you to help and love yourself and others around you!
---
NLP is about Mastery of Human Behaviours and we all yearn to discover patterns to understand, change and empower humans around us. It is a compelling course that has been taken by people all over the world! Will you like to be part of this exciting journey?
Do enrol with Ministry Of Empowerment Pte Ltd's NLP Practitioner Certification and get certified as a NLP Practitioner under the American Board of NLP in Singapore. and start your coaching professionally whether it is with children, your organization, client. The skills are so universal that this course is for everyone and anyone.
WHO SHOULD ATTEND?
People in Leadership role, Managers, HR, Counsellors, Coaches, Parents, Sales and Business Representatives and people who want to accelerate your growth and development and learn the art of influencing people.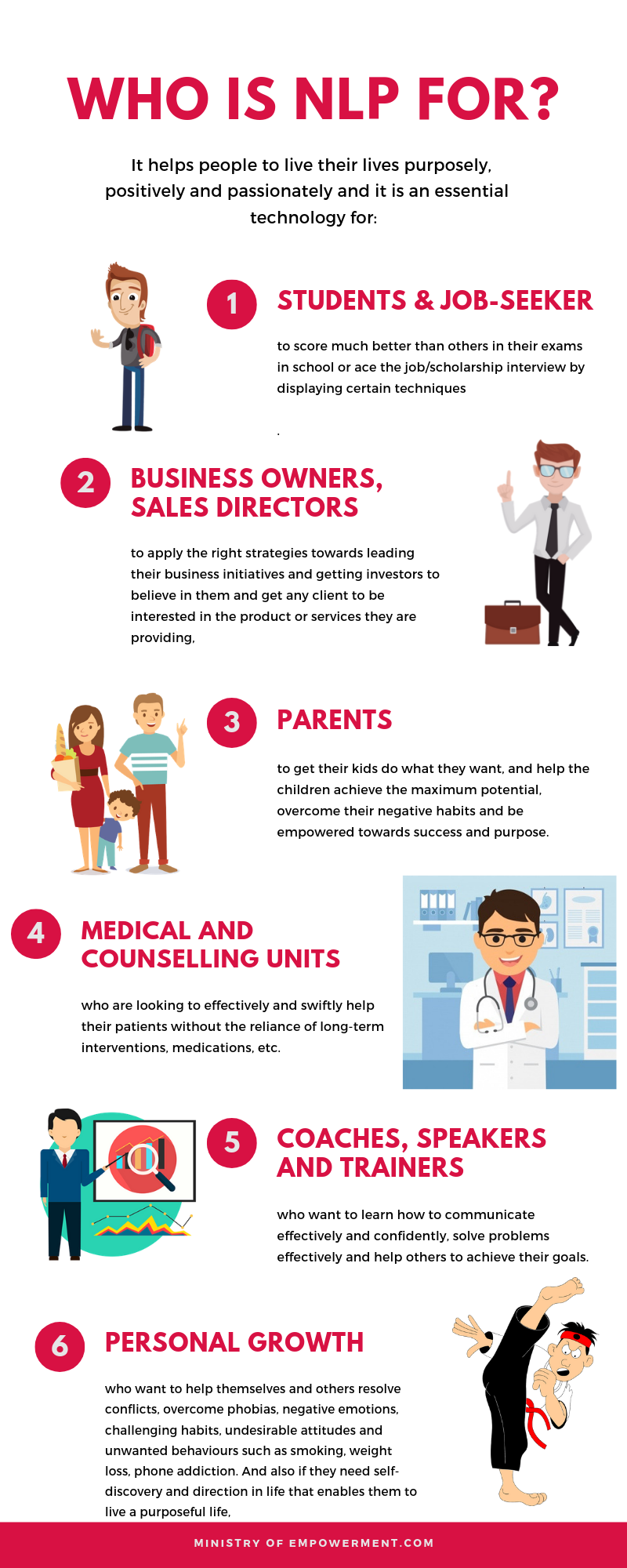 SIGN UP FOR OUR UPCOMING COURSE IN SINGAPORE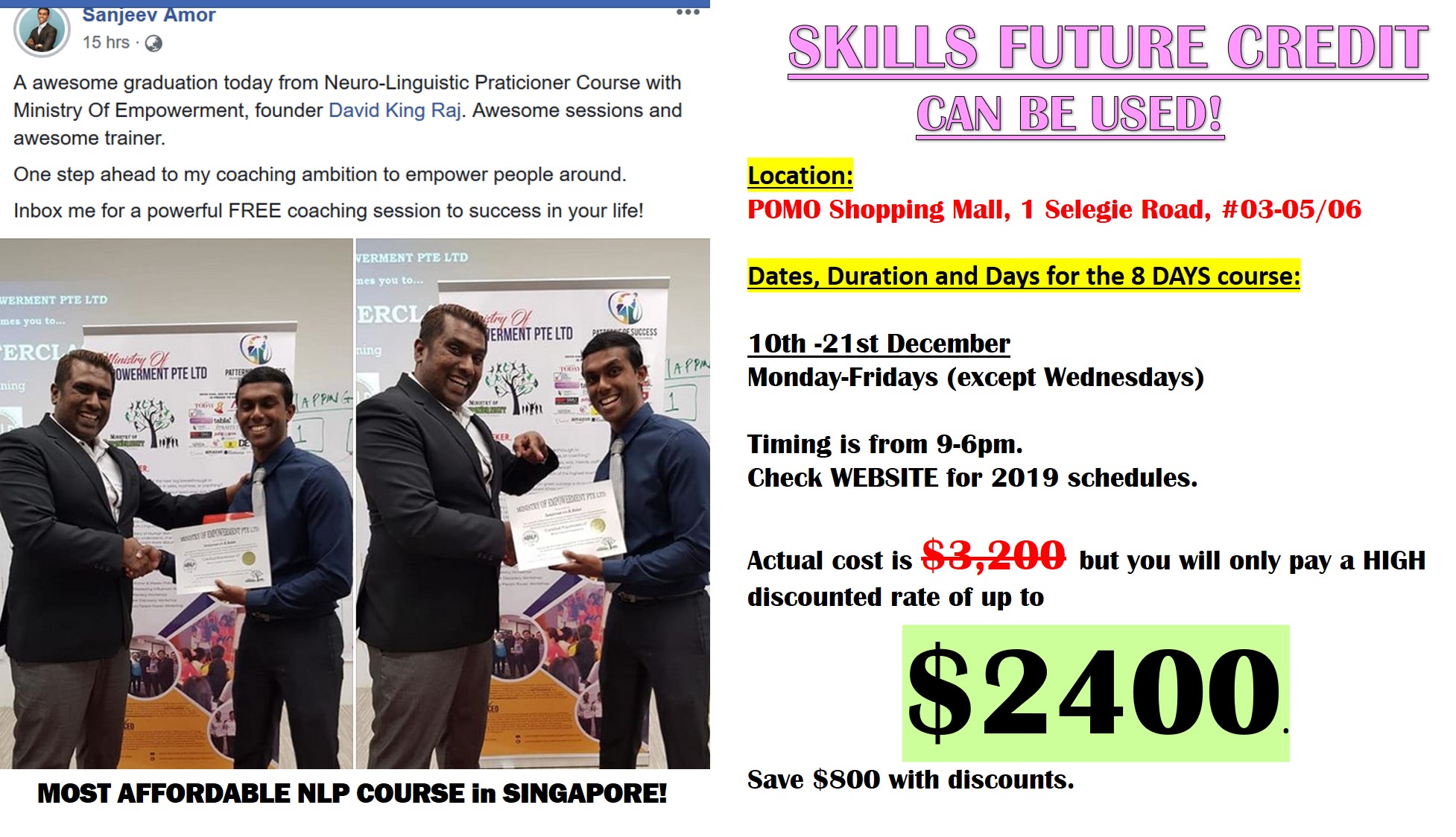 UP TO $800 savings.
SKILLS FUTURE CREDIT CAN BE USED!

MOST AFFORDABLE NLP COURSE in SINGAPORE!
*Signups in EVENTBRITE must be registered with

original mobile number

to be validated in the course.
---


Installment Plan can be arranged with 0% Interest. You can bring a friend and get a further discount of $100 off for the course.
There is a huge incentive for those who pay the full payment before the end of class. Email Ria at admin@ministryofempowerment.com or contact us at 91711994 now to know more details. Looking forward to empowering you to success.


BOOK YOUR SEATS NOW by emailing

admin@ministryofempowerment.com

or call / whatsapp 91711994 now!
See www.ministryofempowerment.com for more details.
This program is supported by American Board of NLP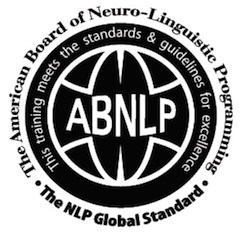 ---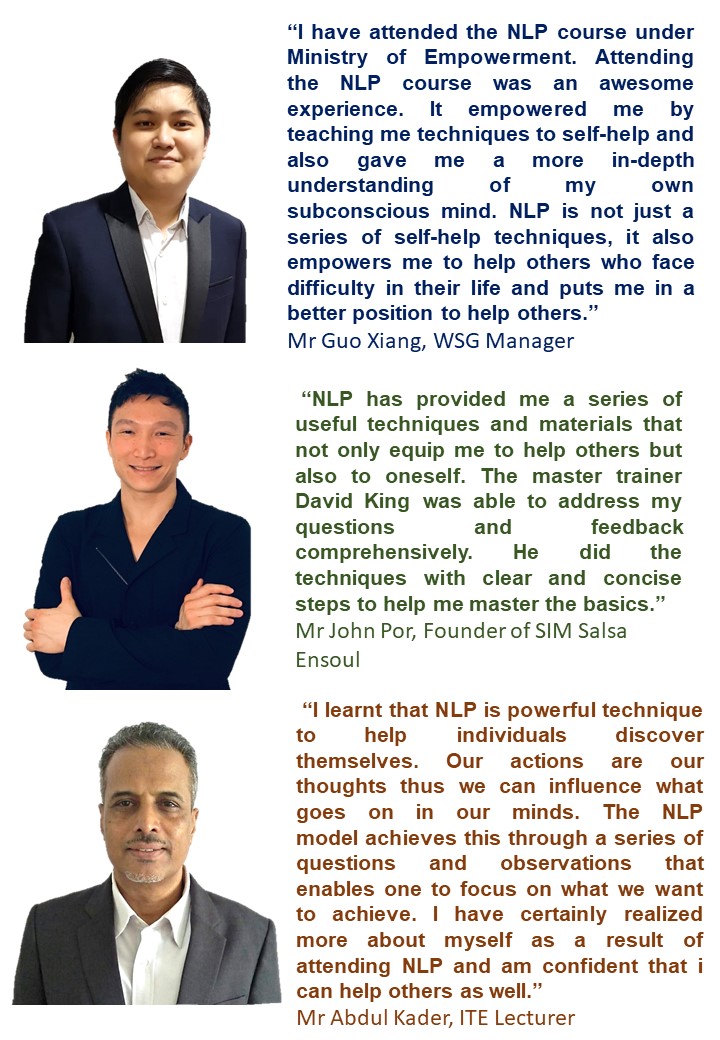 What happens in the 8-Day Program?


NLP is widely recognised as one of the *most powerful toolbox of techniques* available to help individuals make life changing personal transformations. So, what will you get from our course in just 8 days?

DAY 1
• Get truly convinced the magnificence of the power of NLP.
• Understand the importance of NLP and what the technology entails.
• Get to network with students and bond.
• Discover the History of NLP, the 4 Principles of NLP, Steps of Learning, Principles of Success, Prime Directives, NLP Model of Communication and NLP Presuppositions.



DAY 2


• Discover how to make your everyday purposeful and possess powerful emotions daily.
• Get what you want and learn how to motivate yourself by effectively managing your internal mindset and influencing others to happily work with you to achieve your dreams.
• Learn the skills of how to look at others acutely to know what they are feeling and thinking.
• Decode what goes on in people's heads and use it to influence successful outcomes.
• Gain skills in getting people to like you and be influenced by you.
• Learn how to use stories in coaching.



DAY 3


• Become a persuasive communicator and use language with greater precision and elegance so that you and others can get what you want using techniques such as META Model and MILTON Model.
• Learn to identify and direct someone in communicating in the way you want.
• Writing fantastic, moving speeches, letters and adverts through hypnotic language.



DAY 4


• Master your subconscious mind so that you can learn more quickly than traditional teaching methods could ever allow.
• Change limiting beliefs into empowering ones.
• Organise your personal values and set and achieve your goals using NLP Goal-Setting.
• Get rid of unwanted habits and behaviours.



DAY 5


• Recovering from past hurts, disappointments and traumas.
• Cure phobias and fears using Phobia Model.
• Swish away your negative states and behaviours completely.
• Repair troubled relationships effectively.
• Learn the tools of visualization to master the mind.



DAY 6


• To curb procrastination or 'stuck states' and convert that energy into motivation.
• Access resources within yourself and others for motivation and healing.
• Create positive states to achieve success in success
• Gain personal power and magnetism to influence others.
• Improve *people skills* including in sales, negotiation, conflict resolution, and presentation skills and make people like you or respond to you through patterns such as 5 Steps Sales Process and other methods.



DAY 7


• Overcome the hurdles which prevent you from taking your business or career to the next level using Strategy Elicitation.
• Absorb all processes and techniques and be future-ready.
• Resolve conflict within yourself and replace your negative habits using Parts Integration.
• Learn how to develop a successful Coaching business.



DAY 8


• Assessment, Affirmation and Appreciation

Sign up with us now!
---
WATCH MORE YOUTUBE VIDEOS TO BE CONVINCED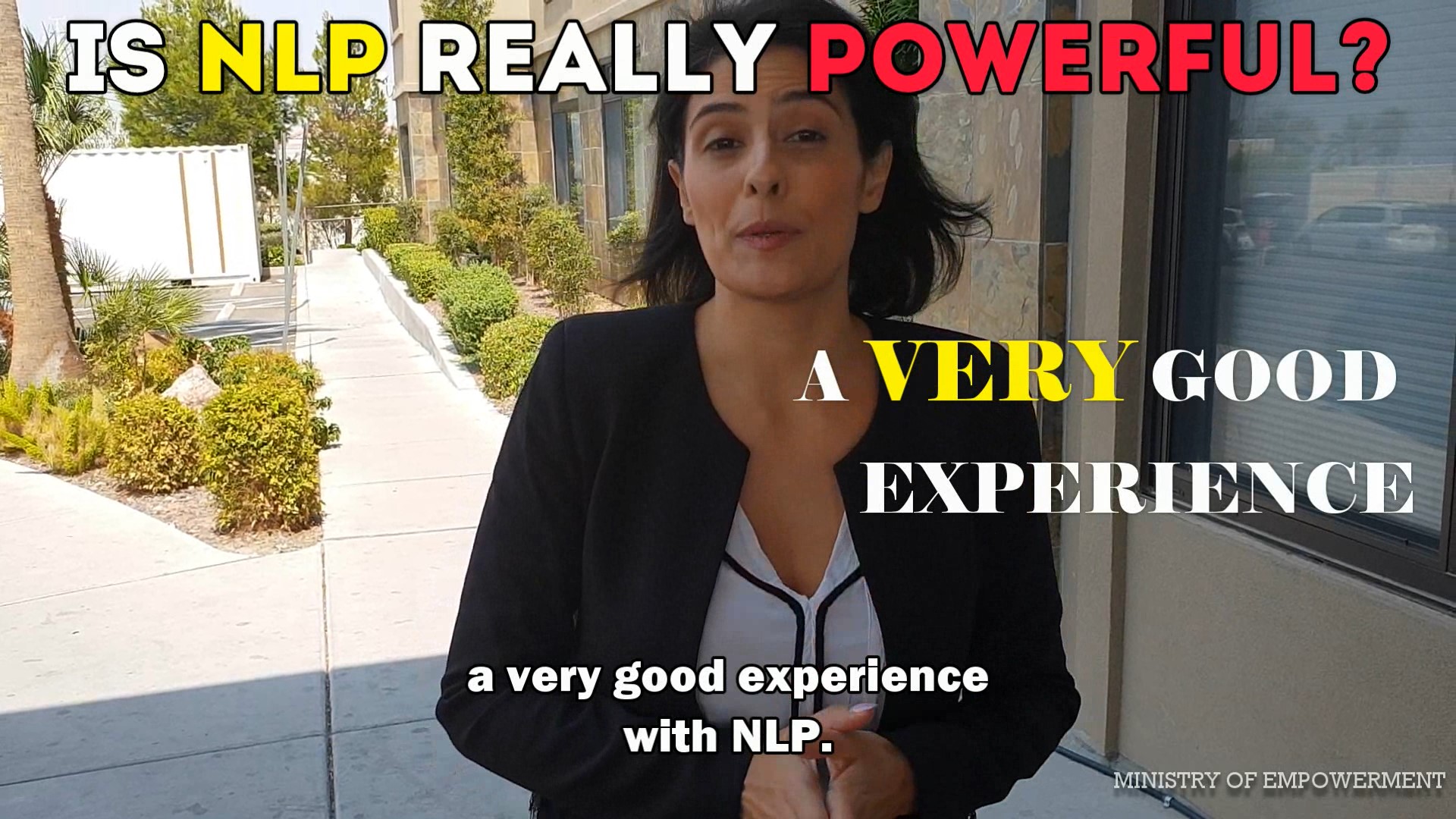 Is NLP really powerful?
https://www.youtube.com/watch?v=zpX-5oNiEGA
Benefits Of NLP
https://www.youtube.com/watch?v=rvocELF_7M4
Why learn NLP from David King?
https://www.youtube.com/watch?v=OxjOIU7LGTo
---
About the Trainer
David King Thorairajan, CEO of MINISTRY OF EMPOWERMENT PTE LTD was honored with two international awards in 2013 for his life excellence, mastery and service to the community through his company known as Ten Outstanding Young Person Award (US) & Duke of Edinburg (UK). He also bagged national award, Stars Of Shine (Singapore) in 2010 for his notable achievements in society despite facing adversities in life and NYAA Bronze & Silver in 2006-2007 on top of several other awards.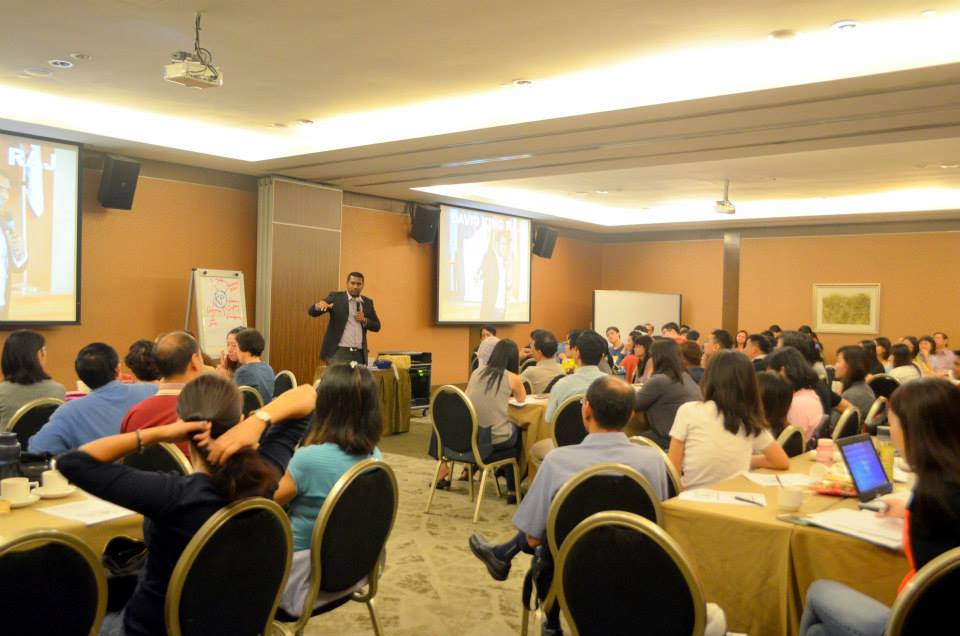 David King is a renowned Motivational Speaker, Author, Entrepreneur, NLP Master Practitioner and Trainer (American Board of NLP), Life Coach, Certified Trainer (ACTA), Profiling Specialist (DISC, MBTI, Strong Interest Inventory, Career Keys and Learning Keys). His willpower, wisdom and strategies to overcome the adversities in life has inspired the world. And his story of excellence has been featured in the mainstream media continuously for 8 years! (2008-2015). He was commended by Singapore Prime Minister Lee Hsien Loong on July 2012, in Istana, for his societal achievements.
David King has worked with more than countless individuals, parents, teachers, church and corporate organizations as a trainer, coach, mentor and speaker, specializing mainly in Motivational, Life-Skills, Study-Skills, Service-Learning, Profiling, Time-Out (Youths-At-Risk), etc for the past nine years. He has been invited to speak in TEDx SMU in Singapore. He also does personal coaching with students and parents who want the help in a deeper level. Having established a powerful company Ministry Of Empowerment, they have enabled over 50 staff who have worked with him in his company. His vision is to coach the whole Asia into success.
One of his big rewards in life is his first book which become a Best Seller - "From Adversity To University" He worked hard to graduate from Singapore Management University, majoring in Psychology and Organizational Behavior & Human Resources and has been awarded with a Masters in Business Administration (MBA) in 2017 from University of Chester (UK). Some of his company's clients include Ministry Of Education (Primary & Secondary Schools), Ministry Of Finance (Vital), Singapore Police Force & Ministry of Social and Family Development. He is also proud to be on the PYD board with SINDA as their advisor for their youths for years.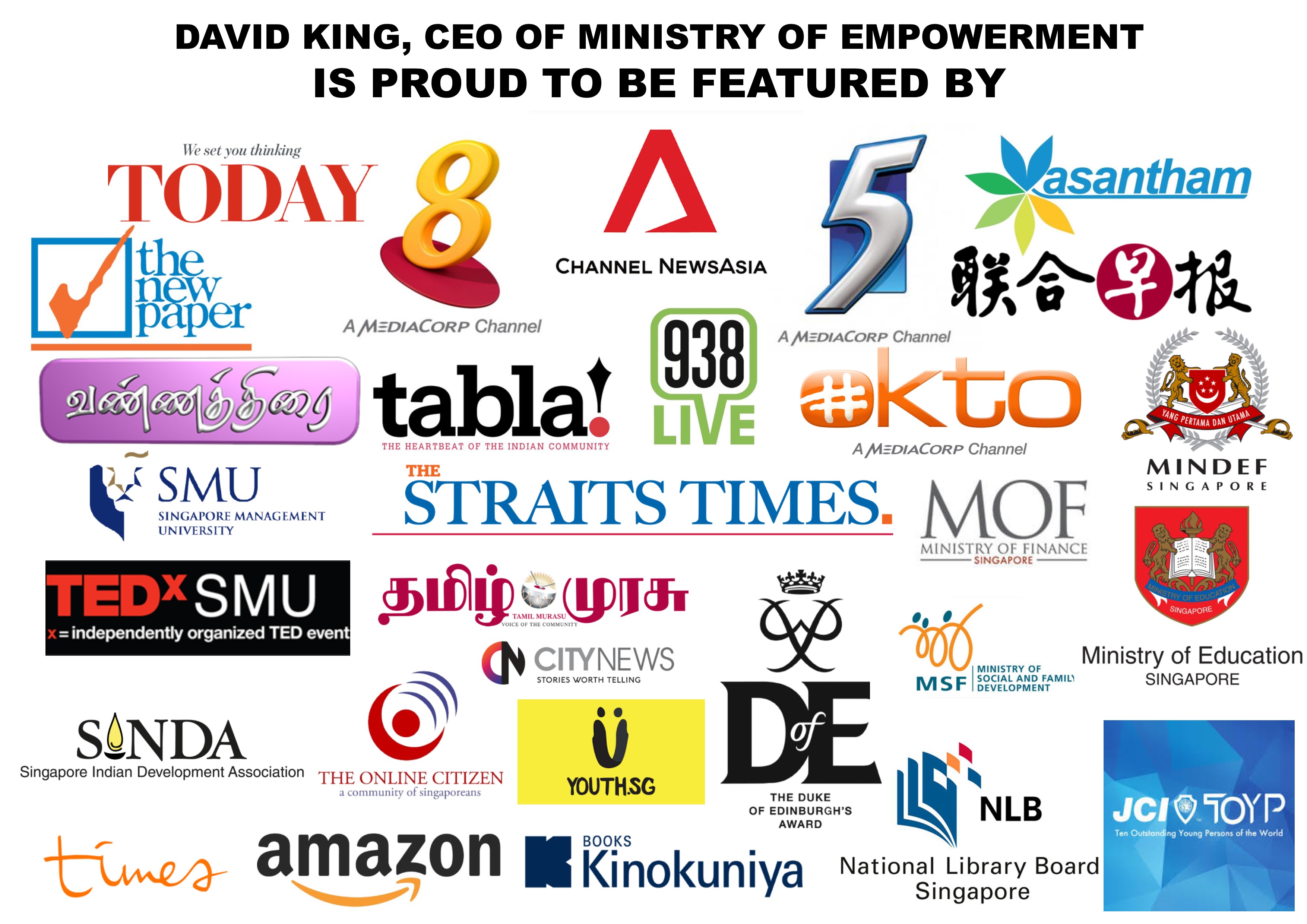 Refund Policy
Full refund with zero processing fee for cancellations made 14 days or more before the event. There will be a 50% refund for cancellations made & 7 days or more and no refund for less than 7 days before the event. Substitutions may be permitted. Notice of cancellation must be made via e-mail to admin@ministryofempowerment.com. A cancellation acknowledgement will be sent within 3 working days and fees refunded within 10 working days, subject to this Refund Policy.
As a customer you are responsible for understanding this refund policy upon purchasing any product or services at our web site. However, we realize that exceptional circumstance can take place with regard to the character of the product or services we provide.
We do honour refund requests when:
Non-delivery of the full workshop
Partial Delivery of the Workshop
We do NOT honour any refund requests:
For any dissatisfied customer from the workshop
For not delivering any module or component as stated in any marketing material, workshop workbook or program outline.