Description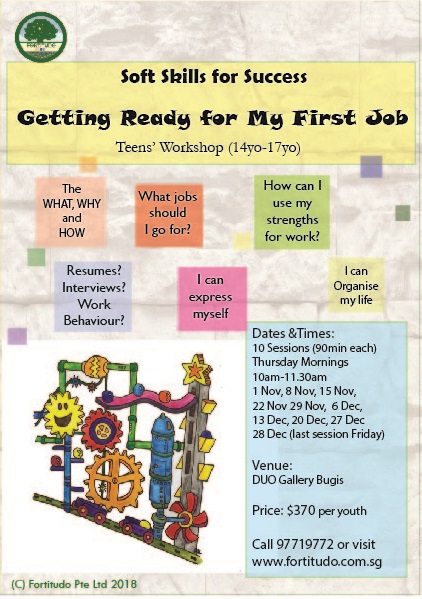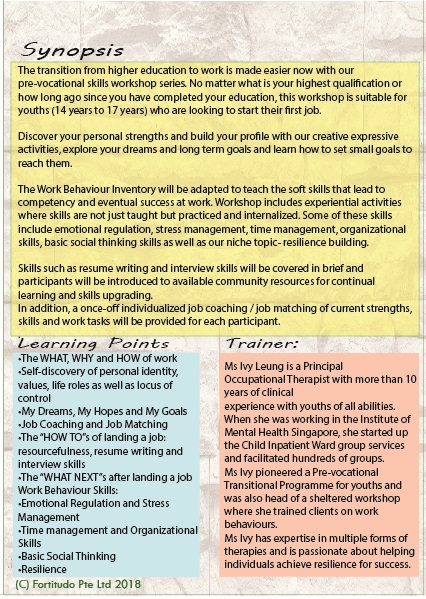 The transition from higher education to work is made easier now with our pre-vocational skills workshop series. No matter what is your highest qualification or how long ago since you have completed your education, this workshop is suitable for youths (14 years to 17 years) who are looking to start their first job.
Discover your personal strengths and build your own profile with our creative expressive activities, explore your dreams and long term goals and learn how to set small goals to reach them.
The Work Behaviour Inventory will be adapted to teach the soft skills that lead to competency and eventual success at work. Workshop includes experiential activities where skills are not just taught but practiced and internalized. Some of these skills include emotional regulation, stress management, time management, organizational skills, basic social thinking skills as well as our niche topic- resilience building.
Skills such as resume writing and interview skills will be covered in brief and participants will be introduced to available community resources for continual learning and skills upgrading.
In addition, a once-off individualized job coaching / job matching of current strengths, skills and work tasks will be provided for each participant
Learning points:
• The WHAT, WHY and HOW of work
• Self-discovery of personal identity, values, life roles as well as locus of control
• My Dreams, My Hopes and My Goals
• Job Coaching and Job Matching
• The "HOW TO"s of landing a job- resourcefulness, resume writing and interview skills
• The "WHAT NEXT"s after landing a job- Work Behaviour Skills
• Work Behaviour Skills- Emotional Regulation and Stress Management
• Work Behaviour Skills- Time management and organizational skills
• Work Behaviour Skills – Basic Social Thinking
• Resilience
10 sessions of 90 minute each
*please note that for this series the last session will be on 28 Dec 18 (Friday)