About this Event
If you are young or young at heart, and want to make a difference with practical climate actions as we go into the post-pandemic new era. Please join our webinar on September 25, to get inspired by experienced sustainability practitioners.
Who should attend?
Youth or those who are young at heart, students, business executives, professionals, teachers, entrepreneurs, startups, designers, investors, and social entrepreneurs.
Why should you attend?
We will help you to figure out the 'why' that brings impact not only to our economy but social and the environment. You will be inspired to develop a purposeful and impactful career for yourself.
What can you expect?
This webinar is jointly organised by GGEF and Tsinghua x-lab. The event aims to share practical insight & innovative sustainable solutions and its correlation with entrepreneurship and business. The event comprises special remarks, plenary sessions, and Q&A.
Let's examine and discuss the topic with academia, entrepreneurs, thought leaders, and investors to explore where the opportunities related to climate actions are and how they can be correlated to youth's personal and career developments.
REGISTER TODAY TO JOIN US!
For more information on the event, please visit ggef.com or contact Jo at info@ggef.com.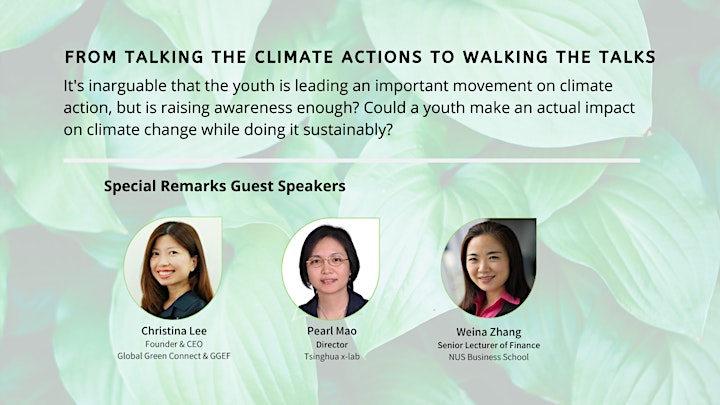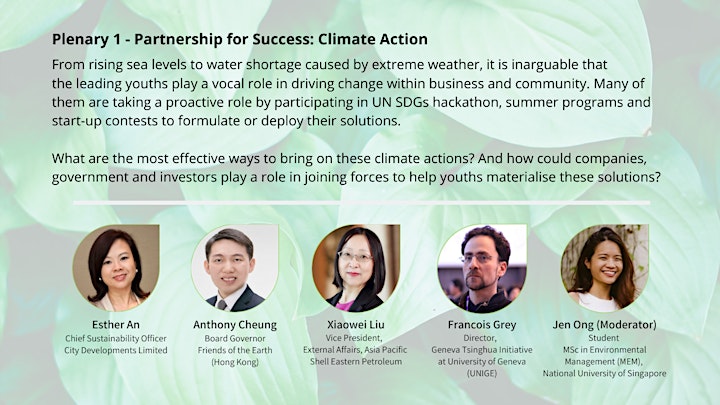 Schedule
3:00pm // Welcome Remarks by Christina Lee
3:10pm // Special Remarks by Pearl Mao
3:25pm // Plenary 1 - Partnership for Success: Climate Action
4:25pm // Special Remarks by Weina Zhang
4:40pm // Plenary 2 - The Sustainable Business Model in Post-Pandemic Era
5:30pm // Closing Remarks