Description
What's the plan ?
1 short weekend Glamping in a tropical pristine forest resort : total immersion in Nature & some adventures in its waterfall nearby. For those who love outdoor Yoga with natural setting, this is the perfect place. Before checking in we will trek up KL Gunung Saga and play at its little Apeh waterfall. We then head for KL local cusine before driving to our Glamping resort for another waterfall (Lata Tampit) OR yoga with nature.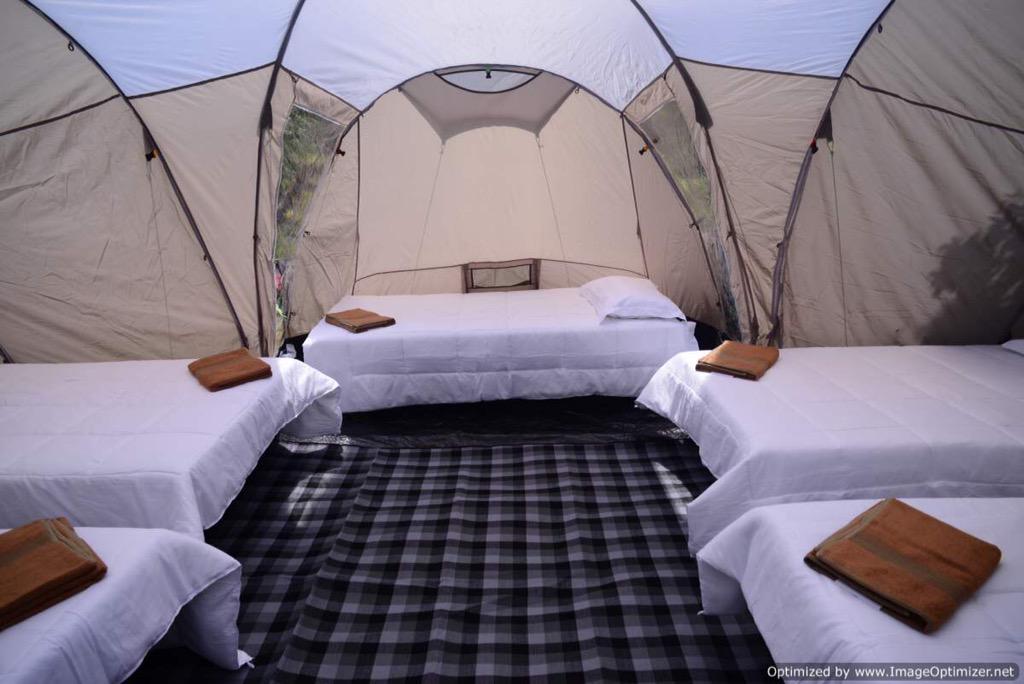 Let's be real - not everyone is made for camping. Some of us freak out about getting dirty, being exposed to the elements, creepy crawlies and the lack of access to your own toilet. Instead, experience the finer side by glamping. There's no tent to pitch or sleeping bag to unroll or leaking tent when it rains heavily.
OUR RESORT - is the attraction !

Set 600 m above sea level along the Titiwangsa Mountain Range, Sailor's Rest offers an escape from the city with accommodation set in the middle of a tropical jungle. Due to its elevation; this place is always cool and fresh. The whole place is designed to provide complete relaxation. Once here; one never cease to marvel at the rich flora and fauna while enjoying the natural sound and the refreshing scent of the jungle in the beautiful landscape of the place. This is where we take frequent refuge from the hustle and bustle of city life. It is indeed a place where one can live in a virtual world created only by the richness of one's own imagination.
Bukit Saga, Twin Waterfall - Saga & Apek Hill

Click here for our last video climb there
[Common climb for both groups before checking into our Glamping site]
The Bukit Saga trail is part of the Hulu Langat Forest Reserve that also encompasses another trail called the Apek Hill trail. Saga's hilltop has no view but the trek down to its waterfall is a nice reward & training after reaching its hilltop. The distance up & down is short vis the easier route. A hiking stick will help a lot with the descent – especially if you have problematic knees.
Read here if you're beginners to have better ideas - if Bukit Timah hill is getting boring for you. Not enough ? Read this blog & this blog.
Difficulty Rating - Bukit Saga Hill

Using the easier route up to Bukit Saga - BOTH ascend & descend are the same.
-> Those who want more challenge - after reaching the summit (easy part) can follow me to trek further to visit its waterfall (more challenging but fun) which take a round trip of 1 hour.
-> Those beginner hikes can take a lesisure hike up - as the ascend & descend is the same route. Once you reach the summit - you can take a good rest there & wait for us to return from the waterfall. Bukit Saga summit is interesting; as it has a little playground (swings & See-saw) with some weight lifting equipment. On weekend; the hill is dotted with many local hikers, you can ask for help if needed.
After Checking in & Settled down in our Glamping Tents
You have 2 options of planned activity to chose from.
(Option 1) GROUP A - Guided Waterfall trek to Lata Tampit
Trek to Lata Tampit waterfall passes thru private property that's why guides & permit are needed. Round trek is 2-3 hours with rest. Sungei Tampit is a small forest river that is located by the side of Genting Highlands. There are about 8 waterfalls along the stretch but most of them are very small, about 1 to 2 meters high although there are two larger ones that go up to 4 storeys high. It takes about an hour and a half to visit all the 8 waterfalls. There are no leeches for this trek although there are mosquitoes along the forest trail.
(Option 2) GROUP B : Yoga with Nature [min. 10 pax to start]

[Vegetarians BBQ & Breakfast can be arranged upon request when you sign up]
This cool glamping site been used successfully for outdoor yoga. Yoga instructor will be enaged to conduct 3 sessions of yoga with details below.
About the Yoga Instructor (fm KL, M'sia) : Dolores is encouraging and nurturing. Her classes focuses on connecting to the breath and building strength through each pose. Teaching Yoga is Dolores' way of spreading her deep love for the Yoga. She co-founded D'Yoga Hub, a cozy Yoga studio with beautiful sky view, exclusive classes, and a safe environment for practitioners of all levels to share their passion for yoga.
1. Sunset Yoga
A gentle flow synchronising the yoga movement with the breath, flowing from one pose to another with each inhalation and exhalation. The breath and body movement are well interacted throughout the class, leaving you with a feel of lightness, ease and happiness.
2. Yoga Under Stars
A deeply relaxing Yoga session focusing on deep tissue and muscle relaxation. Each restorative seated and supine pose will be held for 5 minutes, whilst taking long deep inhalation and exhalation to relax the mind and the body. This class will calm the mind and relax the body as you recess into the day.
3. Sunrise Yoga
A power vinyasa flow synchornising dynamic and upbeat poses with the breath, leaving you feeling fully energized, awaken and fresh to start the day strong!
Durians Hunt :
Usually Jun - Aug is the season. For Durians lovers - Our plan to buy at roadside storez(if any) & share the cost & enjoy them in our resort ! [but due to climate change, the season is sometimes unpredictable - so this plan may not be a sure thing]
--------> Are U firm ? If YES ! Here is HOW TO SECURE YOUR SLOT <---------------
Cost To pay & Bank transfer details : CLICK HERE !
Cost To pay & Includes :
(Option 1) GROUP A - Waterfall trek to Lata Tampit ------> SGD 160
(Option 2) GROUP B : Yoga with Nature [min. 10 pax] --> SGD 170

-> 2-ways transport SIN - Resort - SIN via 44-seater coach
-> 1 Nights' Accommodation in Glamping tent (4-8 pax sharing)
-> 2 meals (BBQ buffet Dinner and 2nd day Breakfast)
-> GROUP A : Guided jungle trekking to Lata Tampit waterfall
-> GROUP B : 3 x One-Hour Yoga sessions (Suitbable for beginners)
-> Transport & Entrance fees both Waterfalls
-> Tonnes of fun & chillax in nature !

Excludes

> Personal Travel Insurance (highly recommended)
> Any other items not mentioned in *includes* list.

========== Suggested Itinerary:

---> Day 0

Meet & greet & depart for CIQ
Overnight drive to Venue
---> Day 1
Arrive KL for Breakfast (own expense)
Proceed to Start point of Gunung Saga climb
Ascend to summit & Apeh waterfall [if time permit] Descend
After lunch (own expense) - Drive to resort check in
GROUP A : Prepare for Lata Tampit waterfall trek
GROUP B : Prepare for Yoga session : Sunset Yoga
Dinner (BBQ Buffet)
GROUP A : Chillax & Enjoy the night with sound from rivers & Creatures of the night
GROUP B : Yoga Under Stars
Chillax & sing-a-long & drink to party !

---> Day 2
GROUP B : Sunrise Yoga
Breakfast @ Resort
Chillax with a cool forest morning / play at rivers by the site
Check out & Go lunch (BYO)
Drive home with dinner enroute (BYO)
Home sweet home - latest 2300 hrs
Date and Time
Refund Policy