About this Event
Global Islamic Economy Series is a sequence of networking event which will enable all types of people and communities come together for various synergies. We have created #GIESeries from the ground up as an attempt for global sharing sessions and bringing online-to-offline (O2O) and offline-to-online community collaboration to help audience get to know the humans behind the Islamic Economy in real life, and help the world understand GIE in authentic ways.
Who are the speakers?
A panel discussion moderated by Emmy Alim, Editor of the most popular Islamic Economy Portal Salaam Gateway by Refinitive (former Financial & Risk business of Thomson Reuters). Prominent panellists included Fazal Bahardeen, the CEO of CrescentRating and Halal Trip, Fateh Ali, Co-founder & CEO of CollabDeen, a social technology platform for Muslim communities, and Aziz Zainuddin, Founder, Master the Crypto are among the speakers for the first series focused on Innovation in Global Islamic Economy.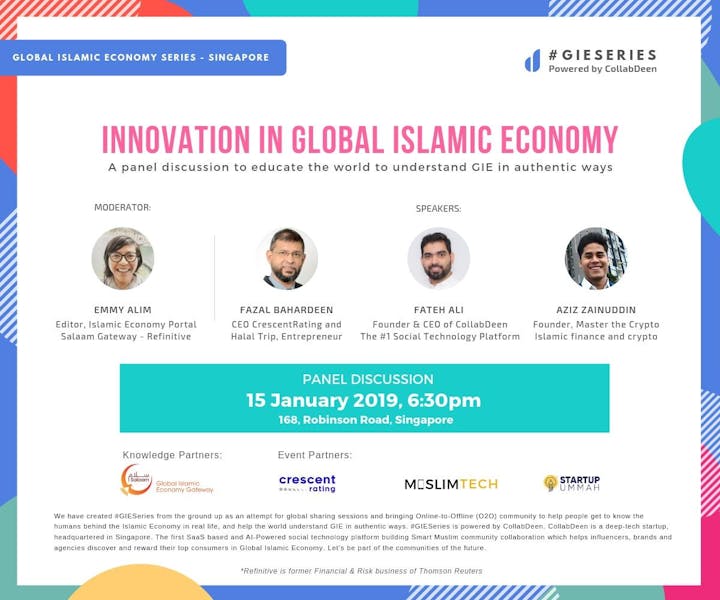 Who is this for?
Globallly, Muslims spent $2.6 trillion across the food, beverage and lifestyle sectors in 2018, and forecasts spending to reach $3.2 trillion by 2023, the state of the Global Islamic Economy Report 2018/19 estimates. This event is for all those individuals and businesses catering to this niche economy.
Idea and the event host?
#GIESeries is powered by CollabDeen. CollabDeen is a deep-tech startup, headquartered in Singapore. The first SaaS based and AI-Powered social technology platform building Smart Muslim community collaboration which helps communities of various types on one hand and on the other influencers, brands and agencies discover and reward their top consumers in Global Islamic Economy. Let's be part of the communities of the future.
Special thanks to Ibrahim Fergo, Emmy Alim and all the volunteers who showed interest to be part and support this non-profit initiative.
Come along and be connected!
See you soon.
On behalf of the GIESeries Team & Volunteers
#GIESeries #CollabDeen #GlobalIslamicEconomy