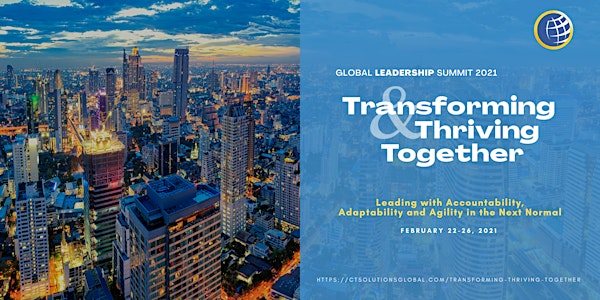 Global Leadership Summit: Transforming and Thriving Together
Leading with Accountability, Adaptability and Agility in the Next Normal
Refund Policy
Contact the organiser to request a refund.
About this event
THIS EVENT IS PERFECT FOR:
LEADERS & BUSINESS OWNERS - Who want to build resilience to be stronger despite the ongoing pandemic, transform leaders in their organization to thrive in their business and for those who want to know the way to do business in the next normal.
Includes: CEO, COO, CFO, CIO, CTO, CHRO, CPO, Executive Directors, Directors, Department Heads, Senior Managers, VP, AVP, Owners, Managing Director, President and Founders
MANAGERS & INDIVIDUALS - For managers who want to impart valuable knowledge to their teams to increase agility, develop sustainable action plans and learn from the community  on best practices and techniques they can adapt in their organization. For individuals who are unsure in this uncertain times and want to have specific stratezgies to increase opportunities through insights from leaders globally.
Includes: Managers, Supervisors, Leads, Coaches, Trainers, Freelancers, Consultants, Advisors and other individuals who would like to invest in themselves.
OVERVIEW:
The CTS Leaders' Summit is the event uniting decision makers and thought leaders from various industries around the world to talk about experiences of organizations' in their journey to thrive in these ever-challenging times. The Summit will feature an ambitious agenda that organizers hope to be helpful in illuminating key factors that leaders need to think about to continue to lead thriving business and organization.
The summit aims…
To develop sustainable action plans that participating organizations can adapt and apply in their organizations.
To create an online community where we can continue sharing our stories about challenges, opportunities and best of all, stories celebrating our successes.
Five days of research-based conversations, discussions and exploration of achievable strategies. Together, we will explore the big and small issues shaping our journey to be accountable, adaptable and agile leaders whose collective purpose is to transform businesses and organizations for the better.
Leading with accountability, adaptability and agility in the next normal for all industries. Leaders from multinational companies, conglomerates, SME's, start-ups, and world class experts will come together to discuss best practices, ideas, strategies and opportunities to work together. As COVID-19 continues to play out over the globe, leaders require to offer hope, a credible vision of our lives for the future and guidance on how it can be achieved.
Together with over 1000 participants, CTS creates boundless opportunities for professional development and networking among our members. We want to enable our members to develop and exchange knowledge and ideas through training, workshops, masterclass, masterminds, coaching and round table discussions.
This year's summit theme is "Transforming and Thriving Together". The summit, with approximately 1000+ attendees from the Business, Public and Private sectors, will be held from 22 to 26 February 2021 (Monday to Friday) from 2:00 PM to 6:00PM, SGT in a Virtual Setting.
Checkout our website for more details and updates!
https://www.ctsolutionsglobal.com/transforming-thriving-together
Notes:
* Please register individually for data and notification purposes
* Contact us at marylen@ctsolutionsglobal.com for group registrations
* Only VIP & Premium Ticket holders will get the chance to win prices
* Please take note that speakers and topics are still tentative
* Sponsorship package is available, please contact us at enquiries@ctsolutionsglobal.com for more information