Join us for a high-energy dance workout – all online and complimentary!
About this event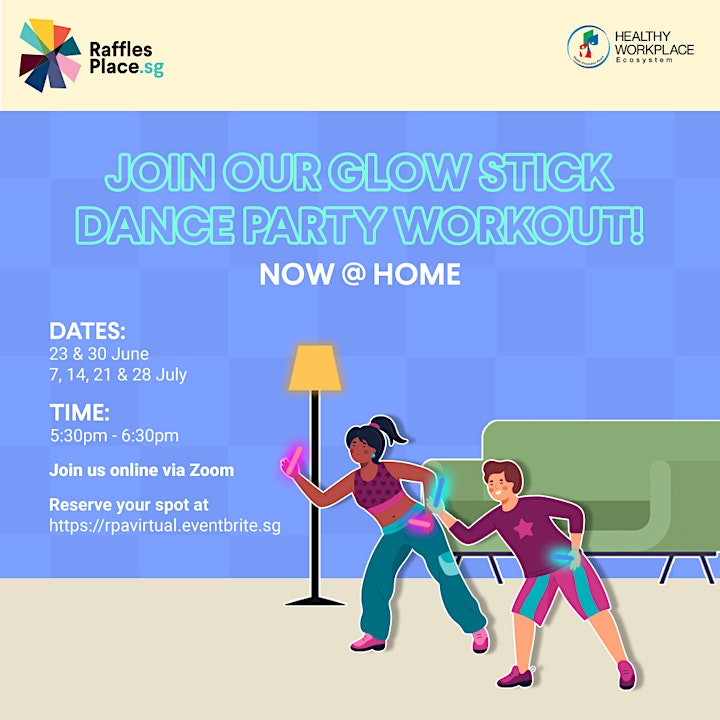 Overview
SNEF, HPB and Raffles Place Alliance have partnered to bring exciting workouts to the Raffles Place community. The collaboration aims to establish a Healthy Workplace Ecosystem to make healthy living a way of life for all.
In view of the current situation, we are bring our popular workout to you online, in the comforts of home!
Mode
Sessions will be conducted via Zoom. Registered participants will receive the link to the Zoom session via email.
Do note that slots are limited and available on a first-come-first-serve basis. Only those registered will be admitted.
Duration
1 hour
Upcoming Sessions
Notes:
Schedule and registration for the July 2021 virtual workout sessions will be updated in June 2021. Stay tuned!
Prepare your "props" – grab your glow sticks, handheld weights or even a pair of chopsticks!
Remember to wear a mask and practice safe distancing measures to avoid close contact with others if you need to go out.
Session Synopsis
An integrated cardio, toning and plyometric workout that is suitable for all levels of fitness!
Personal Indemnity Notice
By participating in this Virtual Workout session, you and any other person(s) participating in this workout together with you, acknowledged that physical exercise can be strenuous and subject to the risk of serious injury, we urge you to obtain a physical examination from a doctor before using any exercise equipment or participating in any exercise activity. You agree that by participating in physical exercise or training activities, you are doing it at your own risk and agree that you are voluntarily participating in these activities.
Personal Data Protection Notice
Personal Data will be collected and protected by SNEF.
Personal Data will be used, transferred and retained only for administrative purposes of Healthy Workplace Ecosystem virtual sessions at Raffles Place Alliance.
Images and videos will be captured during the conduct of the event.
Organiser of Glow Stick Dance Party Workouts - Now @ HOME!