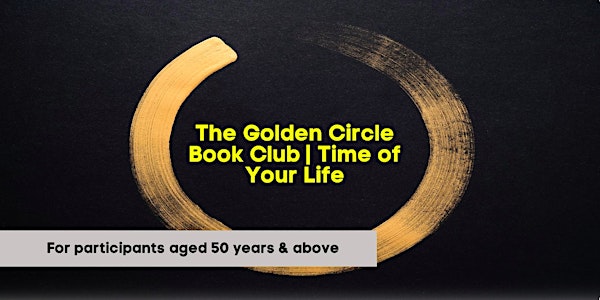 Golden Circle Book Club | Time of Your Life
A Book Club for Fiction Book Lovers
By GoLibrary | National Library Board, Singapore
Date and time
Wed, 8 Feb 2023 15:00 - 16:00 +08
Location
Geylang East Public Library - Activity Room 50 Geylang East Ave 1 Singapore, 389777 Singapore
About this event
About the Programme
The rustle of a well-thumbed page, the whiff of age from a much-cherished tome—come and appreciate the beauty of a good book with the Golden Circle, an English book club for seniors. Discussions will be centred around fiction books, so join us for a stimulating afternoon of lively discussions.
Frequency: Bimonthly (Once every 2 months)
Space: Geylang East Public Library
About LearnX Communities 
Golden Circle Book Club Learning Community is one of NLB's many LearnX Communities that connect like-minded people to create a modern kampong of communal learning. These communities cover a wide range of topics and can be found in libraries all over the island.  
Interested? Head over to https://go.gov.sg/what-is-a-learnx-community to join an existing community or start one of your own! 
About Time of Your Life
Organised by the National Library Board, the Time of Your Life (TOYL) features informative talks, creative workshops, learning communities and resources for those aged 50 and above. Covering a wide range of topics such as Digital, Careers, Sustainability, Arts & Wellness, start your learning journey with us today. Visit https://go.gov.sg/toyl for the full programme listing and check out our dedicated publication at https://go.gov.sg/50plusmag.
Please note the following:
All participants are required to register for a ticket. Each ticket admits 1 person only. Please present your ticket when you enter the library and the event venue.
Arrive 10 mins before the session commences. Seats of late attendees may be given to those in the waitlist.
NLB reserves the right to deny entry to participants who do not abide by the ground rules.
Please note that photos and/or videos of this programme and its participants may be taken.
About the organiser
The National Library Board (NLB) manages a network of 28 libraries, the National Library and the National Archives of Singapore. NLB promotes reading, learning and information literacy by providing a trusted, accessible and globally-connected library and information service through the National Library and a comprehensive network of libraries.