Golden Groove - Free Chair Yoga & Gentle Stretch for Seniors
About this event
Golden groove is our dream for those approaching their golden age or at their golden age to be grooving everywhere and grooving at everything instead of thinking "I am too old for this and that!".
That's our mind talking, not the body.
No one is too old or too stiff for yoga.
Golden Groove
Chair Yoga & Gentle Stretch For Seniors
Free Every Saturday
215 - 315 pm (Spore GMT +8)
Online with Yvonne (You will love her!)
60 minutes class = 30 mins on the chair + 30 mins on the mat.
30 mins chair functional movements and chair yoga will help build strength and have better body control
30 mins yoga stretches on the mat is to improve flexibility, help us wind down and relax.
Golden groove is a safe practice for seniors. It is a combination of functional movements and yoga stretches with the support of a chair and a yoga mat. It can be an excellent way to keep your body strong and healthy without the joint stress that comes from other activities.
there is no age limit and geographical limit (it's online)
participant needs to have the ability to stand, sit and move around independently
please prepare a chair with a backrest, mat, towel and yoga block (if available)
seek permission from professionals if you have underlying conditions or chronic pain
Benefits of practising golden groove
Better Balance: Many of the movements and balancing yoga poses focus on strengthening the legs, abdominal muscles and improving core stability. That can definitely help to be steadier and reduce the risk of falling.
Improved flexibility: Yoga movements can be great stretching exercises. Holding poses for several breaths of minutes encourages the muscles and connective tissues to relax and loosen, which helps to increase the body's range of motion.
Stronger body and bones; If you are worried about brittle bones and osteoporosis, try yoga. A consistent yoga routine that includes our own body weight-bearing postures can help bolster bone strength.
Reduce anxiety, stress and better sleep; Yoga can help alleviate sleep disturbances, which are common complaints among seniors. The practise encourages us to focus on the present moment and find a sense of ease and peace. With that, it can lower levels of stress hormones and help ease symptoms of anxiety and depression and help improve the overall quality of sleep.
Enhanced breathing; The practice is accompanied by simple breathing control practices of yoga. This can expand lung capacity and improve pulmonary health.
Thank you for your kindness Yvonne. You show us what it means to transform your passion into caring for the community.
Limited Liability Waiver:
By attending the online yoga class, you will stay mindful of your body and come out of the poses immediately should pain or extreme discomfort arise. You are aware to seek permission from professionals if you have underlying conditions or chronic pain. You will inform the instructor beforehand if you / your child have an old injury/recent injury/recent operation, treatment/therapy or any health condition. If you are doubtful, seek clearance from your doctor before participating. On your own behalf, or as guardian on behalf of the senior, you release, discharge and hold harmless Mindful Space, its associates, its educators, directors, employees and partners (hereafter the 'Released Parties') from any and all liability for injury to your child or/and yourself arising out of or in connection with, or caused in any manner by your participation or your senior's participation in the activities.
Mindful Space
97837313
https://www.mindfulspace.com.sg/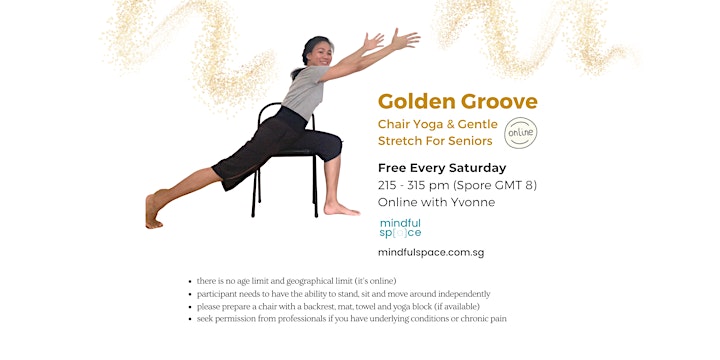 Organiser of Golden Groove - Free Chair Yoga & Gentle Stretch for Seniors
Holistic and inclusive space to empower parent & child with life skills - develop & balance the mind (IQ), body (PQ), emotions and behaviour(EQ).
We believe in order to support the child, we must first support the parent.
1. Parent's Well Being
2. Parenting Knowledge & Skills
3. Parent's bonding & learning with their child
OUR SERVICES:
Parent & Child Classes
Kids Enrichment
Yoga & Fitness
Life Coach
Business Coach
Family Consultation 
Parenting Workshops 
Teacher Trainings
Corporate Events
Holiday Programmes