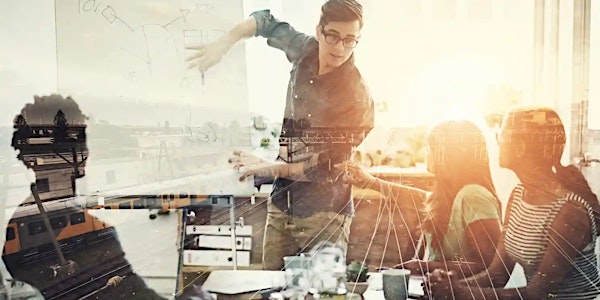 GOLDZONE 1/2-Day Leadership Seminar-0419
Join Andrew John Harrison, the co-founder of Goldzone, guide you through a step-by-step process to transform your Leadership.
Date and time
Wed, 19 Apr 2023 13:00 - 17:00 +08
Location
One Raffles Quay 1 Raffles Quay Singapore, 048583 Singapore
Refund Policy
Contact the organiser to request a refund.
About this event
A revolution has changed the way we live, work, and play. Learn the
New Rules of LEADERSHIP for the DIGITAL Age.
Are you ready, or will you be left behind?
Join us for an exciting 1/2-Day Leadership Seminar and learn the latest strategies, techniques, and systems to guarantee a competitive edge and accelerate your success.
What Is It?
A 1/2-Day Seminar to guide you through a step-by-step process to transform your Leadership for the Digital Age. You will understand Personal Power and how to use New-Paradigm Leadership to dramatically improve performance and results. Join Andrew John Harrison, the co-founder of Goldzone, for a fun and interactive session.
Focus
Learn and apply Goldzone's revolutionary leadership model, including; the 40 Dynamics of Leadership, 20 Keys to Lead Anyone, the 7 Types of People, 7 Types of Leaders, 7 Types of Followers, and how to lead people by their zone. Apply the Four Levels of Engagement and 7 Levels of Consciousness. Full of dynamic content you won't find anywhere else and how-to-do-it tools, strategies, and systems to revolutionize your leaders, teams, and organizations.
Combining the best of Classic Leadership with the New Rules, you will see, touch, and feel the benefits of New-Paradigm Leadership. You'll gain new ideas and tools you can apply right away and see results immediately.
Who Should Attend
Leaders looking for an edge
Anyone leading a team and wanting better results
Business Owners, CEOs, Executives, and Professionals
You'll Learn
Some of what you'll learn:
How to lead difficult people.
How to lead, align, and manage in-person and remote teams.
How to get more done in less time, with less effort.
Improve your results by 400% to 3,200%, guaranteed!
Get people to do exactly what you want, happily!
Dramatically reduce your negative stress.
Solve the toughest people challenges.
You'll also learn:
Attract, retain and motivate the best people!
How to master Learn, Unlearn, and Relearning.
Learn which of the 7 Types of Leader you are.
Learn how to lead the 7 Types of Followers.
Know which person is impossible to lead and what to do with them.
How to use updraft leverage to accelerate your success.
Get the entire team to own their SUCCESS!
Key Takeaways:
The steps to move from leadership mediocrity to greatness!
Your personal keys to success in the Digital Age.
The 40 Dynamics of Leadership and OPTIMA Zones System.
The difference between Emotional Intelligence and Emotional Well-being.
The confidence to lead, influence, and inspire anyone to take action!
Use leadership to increase your income in less time, with less effort!
A step-by-step system to lead anyone, anywhere, anytime, and get results!
When & Where
Select a convenient date/time:
Wed, March 15 - 9 am to 1 pm
Wed, April 19 - 1 pm to 5 pm
Wed, June 14 - 1 pm to 5 pm
Where:
Goldzone Leadership Center - One Raffles Quay, Singapore
What's Included
1/2-Day Seminar (4 hours)
Refreshments
Workbook, handouts, and slides
40 OPTIMA Zones of Leadership
Private Facebook Group
Certificate of Completion
Your Investment
$250 for one attendee
$200 each for partners
$125 each for groups of ten
Better-than Risk-FREE Money-Back GUARANTEE
Simply attend the Seminar and if you're not delighted, let us know at the end of the program, and we will arrange a 100% no-questions-asked refund.
As a bonus, you can keep the Workbook and Handouts - as a thank you!
This seminar is live and in-person! You will not be bored - we promise!
Your Seminar Leaders
Now you can experience these extraordinary leaders live and in person. You will be inspired, expanded, and challenged to look at your life, career, and business in a new way!
Andrew John Harrison
Co-founder, Goldzone Group
Harrison has captivated live audiences worldwide and is highly sought after for fresh ideas and simple solutions by CEOs, leaders, investors, and high-performance individuals.
Co-creator of the Goldzone body of knowledge, creator of the Optima Zones®, and author of the Goldzone Education Curriculum. Goldzone Leadership Center is a member of the Goldzone Group. Harrison's vision, passion, and commitment to extraordinary standards of service excellence have become hallmarks of his career and defining characteristics of the Goldzone Group.
For nearly 30 years, Harrison has met and hired many well-known leaders and developed a corporate client list that reads like a "Who is Who" of business, including many of the world's top companies.
Harrison has personally advised CEOs, entrepreneurs, and investors on a wide range of strategic business dynamics with an extraordinary reputation for dramatically transforming the overall results of leaders, high-net-worth individuals, and corporations.
When Harrison speaks, people listen. A riveting, memorable public speaker and master communicator, Harrison has designed, produced, and presented over 500 seminars, talks, and engagements with live audiences of up to 5,000.
Besides founding more than twenty companies, Harrison is perhaps best known for his ability to articulate complex ideas, strategies, and concepts in a way anyone can understand and implement. One of his unique gifts is to combine practical, real-world experience with the theoretical to produce dynamic, usable techniques and strategies.
Victoria Dior Wang
Managing Director, Global Leadership Systems
Victoria is an Impact Investor, Entrepreneur, Leadership Educator, Coach, and Advocate of traditional Chinese philosophy and culture.
After a successful nine-year insurance career helping individuals and entrepreneurs to protect themselves and their families, Victoria followed her passion to focus on educational and support services for leaders.
In 2010, Victoria acquired a new company, negotiated, and paid $2 million for an exclusive ten-year license and system to distribute Goldzone's Advanced Leadership Curriculum within the territory of Singapore. Subsequently, the license was renewed for an additional ten years to include the Asia Pacific region.
Goldzone's tools and know-how integrate the best of eastern and western leadership thought into a holistic performance management system that aligns with and honors traditional Asian values.
Victoria is a student of Conscious Leadership, Wushu, Chinese philosophy, and advocates that when combined with the latest science and international thought any leader is better able to solve their challenges and accelerate results.
Born and raised in Singapore, Victoria travels frequently to learn and adapt the best international practices to a local context.
Success Stories
Measurable and tangible results!
While there is no guarantee your results will match these, you can be assured that Goldzone's Leadership Systems have a remarkable track record of producing impressive results.
Some client results include:
Make More Money:
> Young entrepreneur raised more than $300,000 in capital for business expansion.
> The Managing Director of a pizza company saved $400,000 in operating expenses.
> Finance professional changes career to follow their passion, buys a business, and raises $8 million in capital from investors.
> A troubled 20-year marriage avoided divorce and the loss of more than $2 million each.
> Entrepreneur develops a hobby into a business that is valued at $25 million.
> A doctor changed jobs to focus on a different career path and more than tripled their income.
> Small business owner restructures and saves $600,000 in taxes over ten years.
Take Charge of Your Career:
> Middle-aged professional does a full physical checkup and as a result, receives life-saving medical treatment.
> Veteran senior executive found the courage to retire and follow their passion.
> Team of professionals and entrepreneurs with no experience secure $25 million in capital from investors.
> Ph.D. and business owner realized how much their health had suffered and transformed their energy with Optimum Nutrition.
> Senior director with diabetes was able to dramatically reduce their blood sugar level and medication in a few days by making changes to their diet.
> Business owner saved a $500,000 deal that was on the rocks.
> Veteran medical specialist achieved a dramatic reduction in long-term back pain by making small changes after discovering the real cause of their misery.
Personal Leadership:
> Medical professional who experienced chronic tiredness and afternoon sleepiness, solved their energy issues in a matter of days. No more afternoon naps!
> Couple with three children moved countries to a new culture to follow their dreams.
> Young entrepreneur used Goldzone's leadership principles to make $200,000 in two weeks.
> Terminal cancer patient discovers a new purpose in life and makes the most of their time left.
> Professional from the IT industry, discovers their passion and purpose and changes career to do what matters to them most.
> Business manager was able to raise project capital and get back their educational investment, even before the actual program began.
> Engineer receives life-saving treatment after a consultation to identify root causes.
Learn the World's Most Advanced Leadership System.
Imagine the possibilities to differentiate yourself and your organization from everyone else.
Most leadership books, seminars, and training focus on the skills and techniques of famous leaders and how you can do the same as them. This system is different. You are different. The magic of a system is it works every time, so you don't have to!
Together we will look at the 20 different Areas of Your Leadership Potential and measure how much your success could improve with a few small adjustments. The average leader identifies a minimum of a 627% improvement!
You will leave the seminar with tools you can apply right away and see results immediately.
If we are afraid of making mistakes, it is impossible to think of new ideas and creative and innovative solutions that defy old ways of doing things.
Leading a team of creative talent is very different from leading a bunch of workers who are compliance-based and will do what you tell them to because they are afraid of upsetting you or, worse, losing their jobs.
You cannot command creativity!
The key to transforming your personal, leadership, partnership, team, and organization's results is to use a LEADERSHIP SYSTEM that solves the #1 Challenge of most leaders:
"THE UNDERSTANDING AND KNOWLEDGE OF WHY PEOPLE BEHAVE THE WAY THEY DO AND WHAT TO DO ABOUT IT TO ACHIEVE THE RESULTS YOU WANT!"
Join this Seminar and Become an Extraordinary Leader!
A different angle and approach to leadership performance. The learning environment is excellent. One of the most beautiful training rooms I have been to. The organizers have clearly been client focused to ensure participants enjoy a beautiful environment that aids learning. Well Done!
— Jacquelynne (Singapore)
The program gives you an insight to your ultimate potential and ability to achieve what is impossible. It would provide you with a system which is timeless — a set of tools if fully utilised to be at peace with yourself. A very holistic approach to life.
— Sylvia (Singapore)
I recommend this program to anyone that recognises that from time to time we all need to take time out and focus on ourselves for a while. I don't mean in an egotistical way, but how can you move forward if you don't know where you are?
— Alex (Singapore)
Accelerate Your Success with Goldzone!
Join this 1/2-Day Seminar and Transform Your Leadership!
This seminar is proudly sponsored by Vita Fontaine Pte. Ltd. We are passionate about your success.
Your greatest luxury is time. We offer unsurpassed personal services that allow you to focus on what is important to you; imagining your ideal life, visualizing innovative products, services, and business models, aligning your teams, and infusing passion into your organization.
About the organiser
We specialize in helping entrepreneurs, business owners, leaders, executives, and professionals to get more done in less time, tap into the new hyper-growth industries and opportunities of the future, and succeed more and fail less.

Singapore Leadership Systems Pte. Ltd. is the exclusive licensee for Goldzone Programs and Services within the territory of Singapore.
#goldzone #andrewjohnharrison #goldzoneaccelerator #goldzoneleadership #leadership #conscious #dream #professionaldevelopment #capital #results #liveyourdream #extraordinary