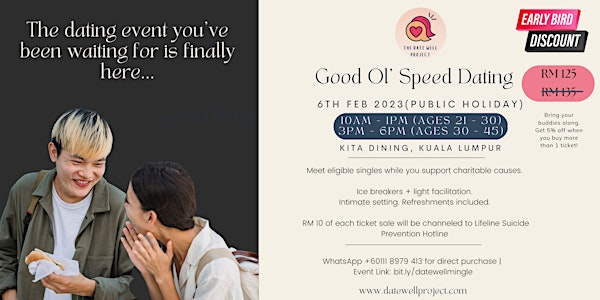 Good Ol' Speed Dating | Singles Event Malaysia | Date for a Cause
Tired of dating apps? Find Love Meaningfully. Meet eligible singles who share your values while raising funds for charitable causes.
Date and time
Monday, February 6 · 10am - 5pm +08
Location
KITA Dining 01 Jalan Dungun #G Kuala Lumpur, Wilayah Persekutuan Kuala Lumpur 50490 Malaysia
About this event
We are SOLD OUT! Thank you so much for all the love! Follow us on Instagram @datewellproject and stay tuned for the next event. Details up next week.
MEET ELIGIBLE SINGLES IN AN INTIMATE SETTING WHILE YOU SUPPORT SOCIAL IMPACT!
All of our Date Well Project events support charitable causes. Our beneficiary for this event is Lifeline Suicide Prevention Hotline. RM10 of each ticket sale will go to Lifeline.
You can opt for direct purchase to save on EventBrite fees. WhatsApp us at +601118979413 to directly purchase.
ABOUT THE EVENT
Life is too short to be playing games on dating apps. At The Date Well Project, it's our mission to reinvent the dating culture. We believe that doing good together feels good and meaningful relationships happen. Meet like-minded singles. All you have to do is sign up, and let the connections bloom.
10am - 1pm for ages 21 - 30
3pm - 6pm for ages 30 - 45
Why is there an age range for this event?
Research has shown over and over that age is the no. 1 predictor of compatibility. We also take into consideration our participants who have asked for events catering to similar age groups. Do not fret if you are outside this age range. We will be organising events catering to your age group!
Here's what to expect:
A low-pressure date night with a party feel. Snacks and drinks will be provided.
Intimate Setting. We try to keep it to a max of 8 ladies and 8 gentlemen.
Before the event starts, our host will help break the ice. No worries if you're a bit shy. It's a great way to meet people and ease into dating.
During the event, you will be on mini-dates with each date for approximately 15 minutes each. If you feel a little awkward, it is perfectly normal.
We have curated some conversation cards for you to get to know each other better.
Psss.. You don't have to give out your number. Only give out your number if you both are a match
You'll receive your mutual matches' info after the event (within 24 hours) if you have both indicated interest on the match card. Score.
When facilitated mini-dates session is done, please stay for the mingle session and hang out with the crowd some more. It's an awesome way to connect with people … and maybe get some extra face-time with your favorite dates.
HOW TO JOIN
Purchase your ticket on Eventbrite or directly here.
Keep an eye on your email… we'll send the confirmation email with the event info / instructions there.
Expect the event reminder to arrive via email/WhatsApp before the day of the event.
Come by the venue 15-20 minutes prior to start time to register. Bring an personal identifying document like IC, driving license to register.
Enjoy yourself!
That's it! Happy dating!
Follow us for more exciting dating events
Instagram: @datewellproject
Website: www.datewellproject.com
For any enquiries, feel free to WhatsApp us or email to hello@thedatewellproject.com.
PS: You can opt for direct purchase to save on EventBrite fees. WhatsApp us at +601118979413 to directly purchase.
P/PS: We have a buddy discount available if you buy more than 1 ticket. Insert the promo code DWPBUDDY for 5% off at checkout.

Agenda
2:00 PM - 2:30 PM
Introductions and Ice Breakers
2:30 PM - 4:30 PM
Mini-Dates (Facilitated)
4:30 PM - 5:00 PM
Free & Easy Mingle Session
Frequently asked questions
Why is there an age range for this event?
About the organizer
Tired of dating apps? Life is too short to be playing games and being ghosted on dating apps. Join us to meet eligible singles while contributing to social impact. All of our dating events support charitable causes.