| | |
| --- | --- |
| Google & Facebook Advertising Hands On Training (100% Claimable by SkillsFuture) | |
Event Details
Note: For Singaporean Citizens above age 25, NO Cash payment is required. You can make payment directly using your SkillsFuture Credits.
CLICK HERE TO CLAIM SKILLSFUTURE CREDITS
Should need further assistance, kindly email training@conversion-hub.com
Overview
STOP losing your customers to your competitors!

Are you constantly losing potential customers to your competitors because people need to scroll through 5 pages to get to your listing on Google? You probably won't know, because you aren't tracking it. Tons of potential customers are lost on Facebook because you don't put your company on the largest social network outside of China.

Join us for a day of learning--how to get your business more leads, more sales, more money and more time for your family.


Learning Outcomes
By the end of this course, participants will be able to:
(1) Create, Manage & Optimize an Adwords Campaign
(2) Create, Manage & Optimize a Facebook Advertising Campaign
(3) Understand best practices and draw on Case Studies to improve their ads
(4) Create a Landing Page to generate leads online
Curriculum Overview
(A) Google Adwords "Hands On" Training
- Introduction to Google AdWords and Pay-Per-Click (PPC) Advertising
- Hands-on practice - Setting up a Google AdWords Campaign
- Hands-on practice - Using Google Keyword Planner
- Hands-on practice - Competitor & Search Term Analysis
- Hands-on practice - Writing High-Performing Ads
- Advanced Strategies - How to Use Conversion Tracking, Re-targeting, Ad Scheduling etc
- Real World Case Studies

(B) Facebook Advertising "Hands On" Training
- Facebook Marketing and How It Works
- Hands-on practice - Setting up a Facebook Ad Campaign
- Hands-on practice - Audience targeting, Ad Placement & Ad Scheduling
- Advanced Strategies - Custom and Lookalike Audience
- Advanced Strategies - How to Optimize Your Ads and Track Conversions
- Real World Case Studies
(C) Lead Generation & Landing Page Creation
Benefits
BLENDED LEARNING 24/7 Complimentary Online Access to Facebook Marketing course on our Online Academy worth $88, Over 100 minutes of Step By Step Training Videos, Mind Maps and Cheat Sheets
.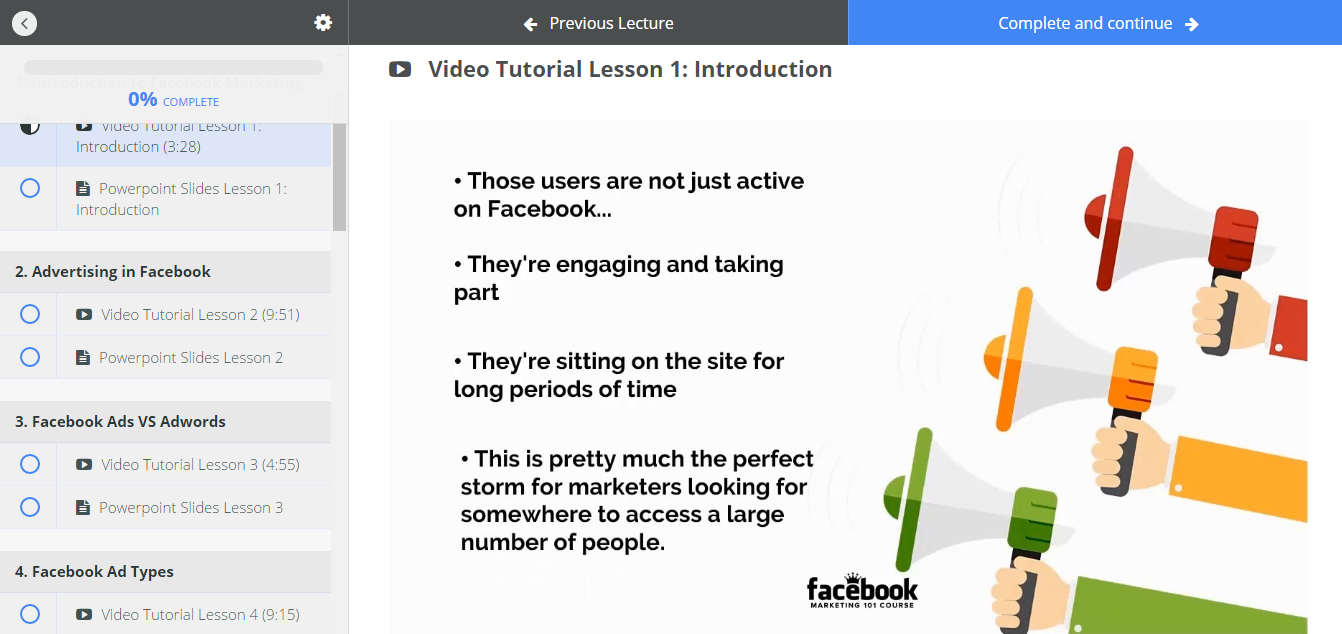 OVER $1,000 WORTH OF EXCLUSIVE BONUSES
Certification of Completion By Conversion Hub Marketing - A SPH Associate Company
FREE Google Account Setup Voucher by Google's Adwords Specialist worth $500
FREE $75 Google Adwords coupon (T&Cs apply) Exclusive discounts for digital marketing services worth up to $500
2 Resource guides worth $299
Exclusive discounts for Conversion Hub Academy worth $299 (access to over 30 online courses)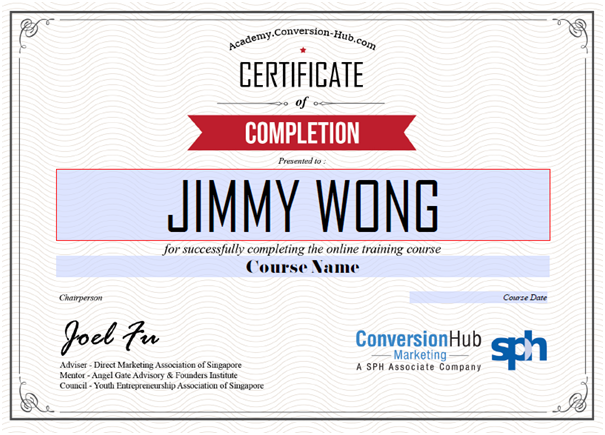 Disclaimer : Coupon use subjected to Google Coupon's Terms & Condition. All printing will be done in black and white.
Reviews
"I am a IT professional specializing in Wordpress development. A lot of customers are asking me for internet marketing services. I am still a beginner at internet marketing so I'm speaking from that perspective but the lessons are easy to follow and understand. The content is expertly organized and contains fantastic, easy to implement actions to increase a website's online presence. I can't wait to up my business my offering internet marketing services."
ChoonHong, Founder of Mimzo Solutions
"I'm fairly new to internet marketing and so I deeply appreciate the detail explanations given during the course. I also like the PDF downloads, as whenever I started to feel a little overwhelmed with all the new information, I can easily print out the materials to go back through it at a later date. It is a great course at an affordable price. Thank you! "
Henry Seah, Founder sgCarMart
"I love the practical hands on how to do marketing. I work with agencies a lot during the course of my work and understanding these internet marketing basics allow me to better communicate with them."
Linda Teo, Head of Marketing


Do you have questions about Google & Facebook Advertising Hands On Training (100% Claimable by SkillsFuture)?
Contact Conversion Hub
When & Where

NOTE: PLEASE BRING ALONG YOUR LAPTOP FOR HANDS-ON EXERCISES;[=-
Conversion Hub
61 Ubi Ave 2, #07-07, Automobile Megamart
(Nearest MRT - UBI), Singapore 408898
Singapore

Organiser
Conversion Hub is a Google Adwords Certified Partner and a S6 Gebiz Government approved vendor for projects up to $3,000,000. We are an award winning agency and the digital advisor to the Direct Marketing Association of Singapore.
Some of the government and private companies that we have worked with include SMU, NUS, MIT, NHB, Singapore Pools, Prime Minister Office, Mindef, SingTel, HDB, Sentosa and many more.