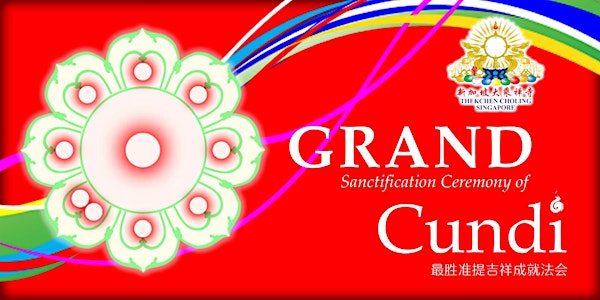 Grand Sanctification Ceremony of Cundi 2022 On-site Participation
The Grand Sanctification Ceremony of Cundi from 4th to 6th November 2022
When and where
Location
Thekchen Choling Singapore 2 Beatty Lane Singapore, 209945 Singapore
About this event
Introduction:
Shine brightly by connecting with Lhamo Cundi through this sublime spiritual experience; gain abundant merits and dispel immense inauspiciousness!
As advised by H.E. Jhado Rinpoche, Lhamo Cundi is the patron deity of Thekchen Choling. He had especially transmitted the esoteric lineage of Lhamo Cundi to our Spiritual Director Singha Rinpoche, thus establishing a direct connection between our temple and Cundi practice.
During the Grand Sanctification Ceremony of Cundi, we make strong supplications to Cundi as a group. Throughout the entire ceremony lasting three days and two nights, Lhamo Cundi's short mantra "Om Cale Cule Cundi Soha" will be chanted continuously. Practicing collectively like this greatly magnifies our efforts, bestowing multitudes of blessings and benefits. Through this powerful ceremony, we pray for the happiness of all sentient beings, long and stable lives of our Lineage Gurus, as well as the quick fruition of all our virtuous wishes and that of our sponsors' and devotees'.
How to Participate in the Ceremony:
The annual Grand Sanctification Ceremony of Lhamo Cundi is held on-site at Thekchen Choling (Singapore)'s main hall, where we recite a sadhana led by a member of the sangha within our allocated two-and-a half hour time slots. The key section of the sadhana is where we recite Lhamo Cundi's long mantra 100 times and then proceed to accumulate Lhamo Cundi's short mantra.
The first time slot starts at 5am on 4 Nov 2022 followed by continuous overlapping sessions all the way to its auspicious completion at 3.30pm on 6 Nov 2022. Participants can choose from 29 sessions that are staggered in a relay format that provides all an opportunity to be a part of the non-stop recitation of Lhamo Cundi's short mantra.
At the end of each session we each submit the number of short mantras recited via QR code, and the grand total achieved by all sangha and participants for the duration of the ceremony will be tallied up.
Register for a Prayer Session:
Open to those above the age of 12, who have taken refuge in the Triple Gems.
Eligible participants can register for more than one session.
Limit of 12 participant spaces available for each time slot, on a first-come-first-served basis.
Participants are required to be on pure vegetarian diet around the time of their chosen prayer session (refer to table attached).
Participants' Briefing Session:
All participants are strongly encouraged to attend the participants' briefing session on 26 Oct (Wed) 8pm at Thekchen Choling temple (2 Beatty Lane S209945) for all the specific details regarding the event and on how the ceremony will proceed, so as to facilitate a smooth and fruitful experience.
Register for a Prayer Session now!
For further information of the Grand Sanctification Ceremony of Cundi and other offering items available, click to our webpage link here: www.thekchencholing.org/cundi