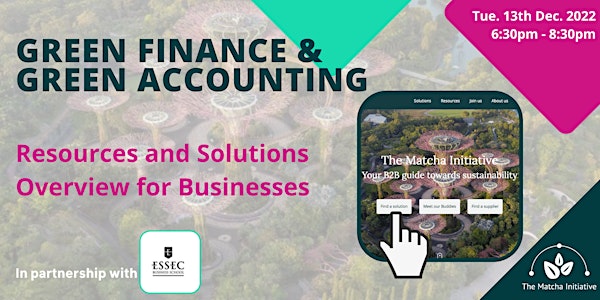 Green Finance and Green Accounting: resources and solutions for companies
Join us for an interactive session to understand how companies can start or accelerate their Green Finance and Green Accounting journey.
When and where
Location
ESSEC Business School Asia-Pacific, Classroom 1C1 - Level 1 || 5 Nepal Park Singapore, 139408 Singapore
About this event
About
More than a trend, going green in finance and accounting gradually is becoming a core part of many business strategies. So, why is there a growing interest? And what does it mean for your company?
This event will feature our youngest do-gooders: 5 Master in Management Students at ESSEC Business School, and one of their 2 mentors Anna Haakansson.
They will present in an interactive and engaging way, resources and solutions that help companies to start or accelerate their Green Finance and Green Accounting journey.
Speakers
Mingjia Chen - Student - ESSEC Business School
Amelie de Charrin - Student - ESSEC Business School
Alexandre Dauchy- Student - ESSEC Business School
Antoine Gardeau - Student - ESSEC Business School
Hui Zheng- Student - ESSEC Business School
Anna Haakansson - Co-Founder - Tulya
Agenda
6.30pm - 6.45pm: Registration
6.45pm - 7.45pm: Session
7.45pm - 8.30pm: Q&A and Networking
Register for your free ticket and expect an interactive session with high-end networking!
Limited seats!
Biographies
About Anna Håkansson
Anna is co-founder of Tulya, a recently incorporated company here in Singapore. Tulya help small and medium size enterprises (SMEs) to measure and understand the impact that environmental and social factors will have on their ability to create value through "Sustainability Management Accounting".
She has a passion for improvement of processes and data-driven insights and has worked many years as Quality Manager in the industry and later as COO. Four years ago, she decided to re-purpose her career and has since then studied different aspects of Sustainable Business Development at the University in Sweden.
She is also leading the "Green Innovation Centre", a collaboration between the Swedish Chamber of Commerce, South West District and Bukit Batok People Association, Secondary Schools, Universities, local providers of sustainable solutions and the community. The purpose of the project is to help people see alternative ways to live more sustainable in an urban setting.
About Radhika Chavan
Radhika is the Co-founder of Tulyā, A Sustainability Management Accounting (SMA) Services company. Her work includes measurement and understanding of the impact environmental and social factors will have on the value creation for SMEs. She develops tailored tools and practices that integrate material topics (ESG & Business) with accounting statements line items to demonstrate financial impact of action vs inaction.
She has worked with Lehman Brothers, Barclays and IT services companies before starting her entrepreneurial journey with Digital Tensor®.She is a graduate in Chemical Engineering and has been certified in SASB , PMP, CSM & Design Thinking-MIT.
In 2021, she shifted base to Singapore. During this transition phase, she delved deeper into Sustainability and derived inspirations from the people around her to help nudge the change. In this process, she met Anna through mutual interest groups. This has now taken shape in the form of Tulya.