Our speakers discuss whether consuming more plant-based products will help the planet and more!
About this event
Our speakers dissect plant-based protein innovations and explore its nutritional value, affordability to whether consuming more plant-based products will help the planet.
Vaccination-differentiated Safe Management Measures
Please be informed that from 13 October 2021, all visitors have to be fully-vaccinated in order to enter Lot One Shopper's mall to visit Choa Chu Kang Public Library.
Important Notice
This programme is open to members of the National Library Board, Singapore. Please ensure you have your myLibrary username on hand before proceeding with the registration. If you do not have a myLibrary username, you can create one here: https://account.nlb.gov.sg/
Green Market, a bi-annual marquee event for all ages, promotes sustainable living as a community and introduces ways to practice it by introducing everyone to sustainability principles and connecting them to green groups and initiatives that they can support. Each iteration of the Green Market will take on a unique theme to expose patrons to different aspects of sustainable living through talks, workshops, and exhibitions.
The first Green Market entitled Green Market: SG Food Tech Fest will focus on food technology and food sustainability. It is organised by Choa Chu Kang Public Library with Asia Sustainability Forum and supported by CapitaLand Hope Foundation and Lot One Shoppers' Mall.
The event will bring together food innovators, urban farmers, start-ups, and experts who will share their experiences and innovations with the public. There will also be exciting activities for children!
Click here to register for other programmes.
Featured Speakers
1. Sanchita Sachdev
Sanchita is the Director of Business Development at Ants Innovate - an A*STAR spin-off food-tech startup working on cell-based meat technologies. She is an advocate for vegan and flexitarian lifestyle, and she is passionate about transforming the way we consume through food-tech; for a healthier planet and society. She is a graduate of NUS Business School who has worked with multiple food-tech start-ups and incubator in Singapore and Israel.
2. Mihir Pershad
Mihir Pershad is the founder and CEO of Umami Meats, a Singapore-based startup cultivating the future of sustainable seafood by crafting delicious, affordable, nutritious cell-cultured seafood. Mihir has an academic background in protein biochemistry and has spent his career working to commercialize deep tech innovations to address humanity's grand challenges. Most recently, he was a Venture Partner at Early Charm Ventures, where he led the commercialization of university spin-outs at the intersection of biotechnology and aquaculture and authored "Cultivated Abundance", a book exploring how entrepreneurs can leverage transformative technologies to build an inspiring, abundant future for humanity.
3.Ronald Dalderup
Ronald Dalderup is a passionate change maker, driven to enable people to embrace a (more) plant-based lifestyle.
He is the Chief Marketing Officer at Growthwell Foods, a Plant-Based Nutrition Company with a clear focus on delivering healthier and better seafood alternatives to people.
4.Francesca Stumpacher
Francesca started her career in the cosmetics industry, working across various functions in Marketing and Sales for Pierre Fabre, a French pharmaceutical and dermo-cosmetics group, in France and then Finland. Her personal journey brought her to Singapore in March 2020, where she reconnected with a Singaporean friend whom she met during her studies in Toulouse.
The encounter led her to be linked up with WhatIF Foods, where she joined the team as Marketing Manager, embracing the challenge of transitioning to an entirely new industry and working environment. With her international experience and eye for detail, Francesca is a thoughtful marketer who uses her learnings from her career journey to help build and grow WhatIF Foods as a planet-based brand that is aiming to disrupt the food industry.
Growing up in a binational family, and having lived in several countries in Europe and Asia, she is a true global citizen who loves to discover new cultures and foods.
5.Durgalakshmi Sathiakumar
Durgalakshmi is the Chief Operating Officer at Shiok Meats, a cultivated meat and seafood company based in Singapore. She leads the operation and business development functions at Shiok Meats. Prior to joining Shiok, she has worked with premium research institutes in Singapore on research and developmental projects in the area of metabolic and infectious diseases. She has co-authored scientific publications in high impact journals and is truly passionate about the sustainability and commercialization of scientific research.
Moderator
John Lee
John has worked with both government agencies and private sector clients in developing sustainable solutions in the sustainability technology start-ups, green data centres, new mobility, renewable and alternative energy sectors, water sectors (including municipal water supply, waste-water treatment, and seawater desalination) and waste management sectors (including circular economy).
He is a Managing Director in Infracrowd Asia to focus on jointly working with developers and investors on sustainable infrastructure development, commercial structuring, financing and investments. Prior to his current role, John was a senior partner of a Big 4 accounting & advisory firm.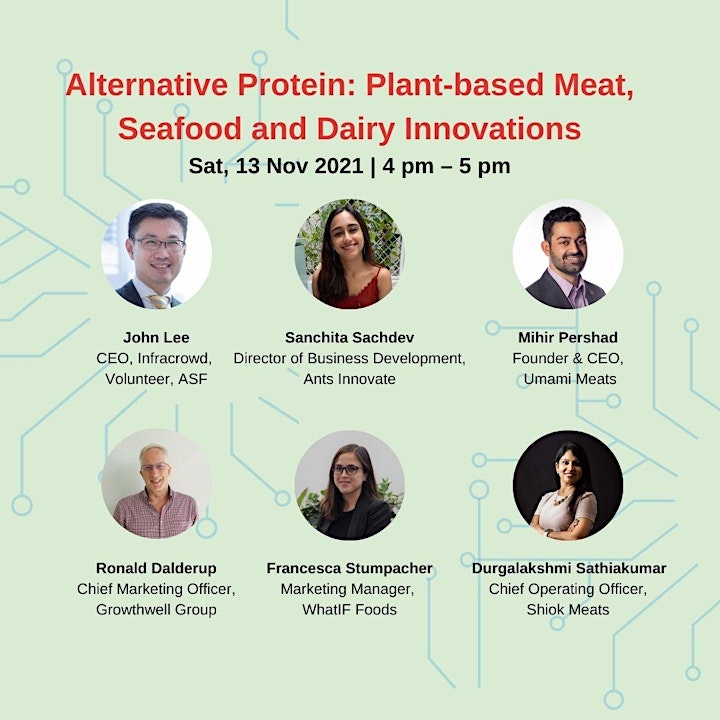 Organiser of [Green Market] Alternative Protein: Plant-Based Me
The National Library Board (NLB) manages a network of 27 public libraries, the National Library and the National Archives of Singapore. NLB promotes reading, learning and information literacy by providing a trusted, accessible and globally-connected library and information service through the National Library and a comprehensive network of Public Libraries.