Get a behind the scenes peak into the Sustainable Food Industry with our four innovators!
About this event

Vaccination-differentiated Safe Management Measures
Please be informed that from 13 October 2021, all visitors have to be fully-vaccinated in order to enter Lot One Shopper's Mall to visit Choa Chu Kang Public Library
Importance Notice
This programme is open to members of the National Library Board, Singapore. Please ensure you have your myLibrary username on hand before proceeding with the registration. If you do not have a myLibrary username, you can create one here: https://account.nlb.gov.sg/
About the Programme
Borrow our four 'living' books and get an exclusive peek into their journey within the sustainable food industry. You take the lead to uncover their stories in this personalised conversation format with the innovators.  
Find out how they started out, navigate and manage within their industry as well as what keeps them going!
Green Market, a bi-annual marquee event for all ages, promotes sustainable living as a community and introduces ways to practice it by introducing everyone to sustainability principles and connecting them to green groups and initiatives that they can support. Each iteration of the Green Market will take on a unique theme to expose patrons to different aspects of sustainable living through talks, workshops, and exhibitions.
The first Green Market entitled Green Market: SG Food Tech Fest will focus on food technology and food sustainability. It is organised by Choa Chu Kang Public Library with Asia Sustainability Forum and supported by CapitaLand Hope Foundation and Lot One Shoppers' Mall.
The event will bring together food innovators, urban farmers, start-ups, and experts who will share their experiences and innovations with the public. There will also be exciting activities for children!
Click here to register for other programmes.
Featured Speakers
Panelists
 1. Matthew Godfrey
Matthew's role as CEO is to create partnerships in the battle to combat the global obesity & diabetes epidemic through research, development, and the industrial licensing of Nucane™ technologies to the world's leading sugar, food and beverage companies. Providing a solution to governments, producers, industry, manufacturers, and consumers.
Nutrition Innovation has been awarded Top 10 Start-up by FI Europe 2017, Best new ingredient by the World Food Awards and the Asia Food Innovation Awards 2019, Global Agri-Food Tech Winner by Slingshot 2019, One of Singapore's Top 20 Start-ups 2019, part of the Global FoodTech 500 in both 2019 and 2020 and named as a Best Small Business in the world by the United Nations Food Summit in 2021.
In 2009, 2013, 2014, 2015 and 2016 he was a finalist for Campaign's APAC CEO of the Year, as well as Marketing's Agency Professional of the Year and voted by the Industry as one of Campaign's Most Admired Leaders in the Asia Pacific. In 2015 he was named by Mumbrella as the winner of The Asia Pacific CEO Of The Year.
In 2021, he authored his first book on innovation called "The Insanity Of ideas" available on Amazon.
2. Travin Singh
Travin Singh is the Founder & Group CEO of CRUST Group, a food-tech startup at the forefront of food loss management and also a member of the Upcycled Food Association. From incorporating leftovers into meals to founding a food tech startup, Travin Singh's journey into the realm of food waste management and sustainability is a remarkable one. It was after serving in the Singapore Navy that Travin had his first eureka moment. Seeing opportunity in the large amounts of unsold bread thrown out daily, he perfected the art of brewing, starting from YouTube and painstakingly improving his recipe. 1 year later, CRUST Group was born, their first product being a bread-based beer. Today, the company aims to fight the perennial issue of food loss and has wonderful ambitions - to reduce global food waste by 1% by 2030.
3. Martin Zorrilla
Martin Zorrilla is the Chief Technology Officer at Nutrition Technologies, a company that produces sustainable insect protein, oil and organic fertiliser from food waste.
Nutrition Technologies is headquartered in Singapore and operates a commercial scale insect production facility in Malaysia.
Martin is a lifelong insect enthusiast who grew up in Ecuador and studied agricultural science and entomology at Cornell University in the United States.
He currently oversees an interdisciplinary R&D staff of 15 and steers company strategy on intellectual property and innovation.
4. William Quek
William Quek is the founder of Ezy- Gardening. EZY is passionate and focused on sustainable agriculture, growing high nutrition fruits and vegetables.
We use advanced technology to increase the product quality and consistency, and reduce environmental impact.
Our vegetable grower created a food production solution by growing vegetables all year round. We will align with our Nation Food Sustainable goal!"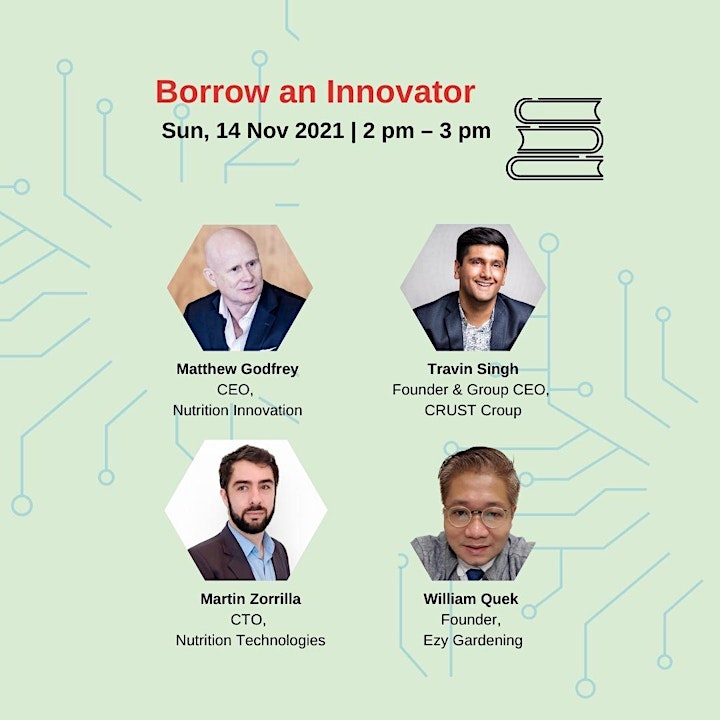 Organiser of [Green Market] Borrow an Innovator
The National Library Board (NLB) manages a network of 27 public libraries, the National Library and the National Archives of Singapore. NLB promotes reading, learning and information literacy by providing a trusted, accessible and globally-connected library and information service through the National Library and a comprehensive network of Public Libraries.