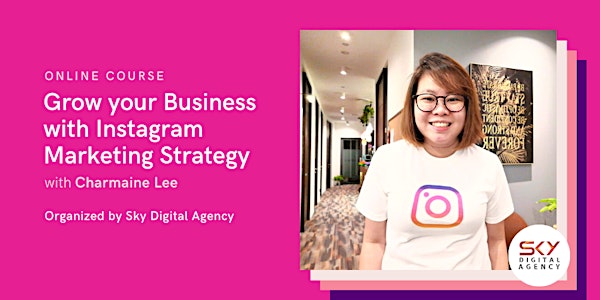 Grow your Business with Instagram Marketing Strategy
Instagram Marketing is an essential tool for most businesses today whether you're B2C or B2B company. Get started with tools for growth!
Refund Policy
Contact the organiser to request a refund.
About this event
Instagram has rolled out many new features, and it is a social media platform with 1.5 billion users worldwide, and 3.12 million users in Singapore (as of Jan 2022). On average, we use social media for 2 hours a day (based on Hootsuite's research).
Most importantly, with the right tools, knowledge, frameworks and strategy, there is a huge potential for small business and even non-profits to reach their customers and stake holders on Instagram.
Create Social Media Content Strategy on Instagram like us!
Take a peek of our Instagram
$100 discount for non-profit organizations. Valid non-profit email is required. (Registered Charity in Singapore) Email us for the $100 discount promo code to be applied before check out.
Workshop Outline:
1) Instagram Marketing Fundamentals - Organic & Paid Strategies (Hashtags, Engagement, Content, etc: 20-30 min)
2) What makes Instagram Marketing effective for SMEs? (10-15 min)
3) Explore and adopt a Content Strategy for your business on Instagram (30 min)
4) Develop an effective Instagram Marketing Content Strategy (20 min)
5) Introduction to Social Media Design on Canva - Trainer Demo (15 min)
6) Participants hands-on time on Social Media Design in Canva (40-55 min)
7) What makes an Instagram Ad effective? (Discuss & Brainstorm existing and new ads)
8) Advertising ROI basics (15-20 min)
9) Q&A with Trainer (10-15 min)
This is a practical hands-on course.
Limited Tickets to 10 pax. 80% hands-on.
Pre-requisite(s):
1) Instagram App + Instagram Business Login
2) Free Canva Account.
If you do not have a Canva account yet, please create one (preferably with your gmail account) before the training.
The basic Canva account is free: https://bit.ly/canva-sg
3) Please use either Chrome or Firefox browser during the class.
4) Please update the latest version of Zoom.
5) Please ensure you have good WiFi connection.
6) You will need to have good computer knowledge, and basic knowledge about Instagram
7) You will need to share your screen during the class (over Zoom) when needed
Join in, get tickets now!
Additional T&Cs to note below:
1) The Zoom Link will be sent to you via email and What'sApp within 3~5 days prior to the session.
2) Please share your What'sApp with us during registration so we can contact you in case of emergencies
3) Min. 4 pax to proceed with the class.
For unforeseen circumstances of low sign ups, we will provide a full refund to all paid participants.
4) If you have any questions, please email us at workshops@skycrm.asia
5) Learners will be admitted according with their registered name submitted via this Peatix Form registration.
i.e. If you registered under Jake Tan, but login as Jenson Tan on Zoom, you will not be admitted. 
6) The webinar session will be recorded for internal audit purposes.
7) For corporate registrations and enquiries who would like to pay via PayNow or GIRO, please email us at workshops@skycrm.asia or call us at +65 9296 3877
Trainer Profile:
Charmaine is the Chief Digital Marketing Officer at Sky Digital Agency.
Check out Charmaine's Linkedin: https://linkedin.com/in/charmaine-lee
She specializes in identifying the gaps that help small businesses, marketing managers, and financial practitioners (insurance agents, i.e. Summit Planners, Prudential, Manulife, etc) to help them in brand awareness and lead generation with social media and digital marketing strategies since 2016.
Out of her passion to share her social media and digital marketing knowledge with small business owners and equip them with social and digital marketing strategy, she has developed more than 13 digital marketing curriculums and taught for multiple educational institutions in Singapore.
She is a WSQ ACTA Certified Trainer, and an Associate Adult Educator (AAE) with Institute for Adult Learning (2019-2025), an adjunct digital marketing trainer for various schools and ATOs (i.e. SBF Institute, SRA, Avado's Squared Online Program, and many others), a business mentor to startups at SUTD, NUS MSVC and Temasek Polytechnic.
Till date, she has more than 7 years of training experience and curriculum development of courses, in the last 2-3 years alone, she has trained more than 2,250 individuals, and conducted more than 1,950 hours of training for marketers and business owners.