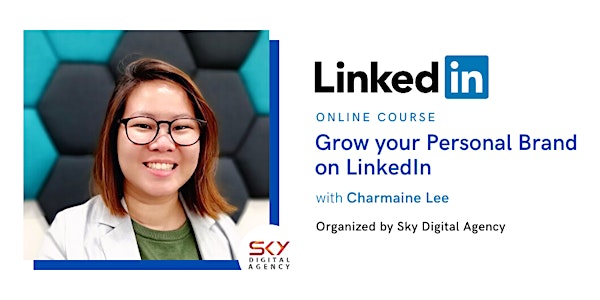 Grow your Personal Brand on LinkedIn
Would you like to boost your personal brand on LinkedIn? Learn ways on how you can create an impressive LinkedIn Personal Brand!
Refund Policy
Contact the organiser to request a refund.
About this event
You maybe a Founder, Small Business Owner or an individual in the Sales & Marketing Profession looking to grow your leads with the help of LinkedIn. Well, the first and most important thing to have is your Personal Brand!
So if you would like to get started with your Personal Brand on LinkedIn, join us for this 3 hour workshop which the trainer will cover lots of practical tips and have hands-on time!
In this workshop, it is hands-on and created to help you get started on:
1) Learn what personal branding on LinkedIn is about, how it benefits you in the long run
2) Understand the long-term benefits of Personal Branding
3) Learn how to define and create your brand
4) Learn the essential functions within LinkedIn and how you can optimize your LinkedIn profile to impress and be found!
5) LinkedIn Hands-on activity:
a) Optimize your LinkedIn profile for search
b) Write a description to SELL your skills and position yourself as a thought leader in the industry
c) The importance of your LinkedIn profile's banner design + graphic creation on Canva
d) Learn how you can create high quality thought leadership content
e) The type of contents that work on LinkedIn
f) How you can interact with your community
Here's the LinkedIn Profile of the Trainer, Charmaine Lee (Chief Digital Marketing Officer Sky Digital Agency): https://www.linkedin.com/in/charmaine-lee/
Below is a video about "What is branding?" so what do you think "Personal Branding is?" - Share with us during the workshop or on our Social Media channel! - https://www.instagram.com/skydigitalagency/
This is a practical hands-on course.
Limited Tickets to 10 pax. 80% hands-on.
Pre-requisite(s):
1) Personal LinkedIn Profile
2) LinkedIn App + Login to your profile
3) Free Canva Account.
If you do not have a Canva account yet, please create one (preferably with your gmail account) before the training.
The basic Canva account is free: https://bit.ly/canva-sg
4) Please use either Chrome or Firefox browser during the class.
5) Please update the latest version of Zoom.
6) Please ensure you have good WiFi connection.
7) You will need to have good computer knowledge, and basic knowledge about LinkedIn. You will also need to be able to share your computer screen during the class (over Zoom) when needed.
Additional T&Cs to note below:
1) The Zoom Link will be sent to you via email and What'sApp within 3~5 days prior to the session.
2) Please share your What'sApp with us during registration so we can contact you in case of emergencies
3) Min. 4 pax to proceed with the class.
For unforeseen circumstances of low sign ups, we will provide a full refund to all paid participants.
4) If you have any questions, please email us at workshops@skycrm.asia
5) Learners will be admitted according with their registered name submitted via this Peatix Form registration.
i.e. If you registered under Jake Tan, but login as Jenson Tan on Zoom, you will not be admitted. 
6) The webinar session will be recorded for internal audit purposes.
7) For corporate registrations and enquiries who would like to pay via PayNow or GIRO, please email us at workshops@skycrm.asia or call us at +65 9296 3877
Trainer Profile:
Charmaine is the Chief Digital Marketing Officer at Sky Digital Agency.
Check out Charmaine's LinkedIn - https://linkedin.com/in/charmaine-lee
She specializes in identifying the gaps that help small businesses, marketing managers, and financial practitioners (insurance agents, i.e. Summit Planners, Prudential, Manulife, etc) to help them in brand awareness and lead generation with social media and digital marketing strategies since 2016.
Out of her passion to share her social media and digital marketing knowledge with small business owners and equip them with social and digital marketing strategy, she has developed more than 13 digital marketing curriculums and taught for multiple educational institutions in Singapore.
She is a WSQ ACTA Certified Trainer, and an Associate Adult Educator (AAE) with Institute for Adult Learning (2019-2025), an adjunct digital marketing trainer for various schools and ATOs (i.e. SBF Institute, SRA, Avado's Squared Online Program, and many others), a business mentor to startups at SUTD, NUS MSVC and Temasek Polytechnic.
Till date, she has more than 7 years of training experience and curriculum development of courses, in the last 2-3 years alone, she has trained more than 2,250 individuals, and conducted more than 1,950 hours of training for marketers and business owners.