Learn from our paediatric specialists about your children's health and wellness!
About this event
As our children grow from toddlers to tweens, how do we meet their health and developmental needs?
During this free webinar, learn more about children's health and wellness, and pick up learning and development tips from our paediatric specialists at Thomson Paediatric Centre, Thomson Surgical Centre, Thomson Chinese Medicine and Thomson Kids Specialised Learning.
Cosy up with our speakers at our Fireside Chat, as we get expert advice on how to raise healthy and happy kids in the "New Normal". Submit questions that you'll like us to discuss and they could be addressed by our paediatric specialists during the session.
Plus, you can also stand a chance to win prizes worth over $1,000 in total. Register now and see you online!
For enquiries, write to hello@thomsonmedical.com
Mask Up, Wash Up: Hidden Dangers of the New Normal
Dr Kenneth Chua, Paediatrician, Thomson Paediatric Centre
Dr Kenneth Chua graduated from the National University of Singapore with his Bachelor of Medicine and Bachelor of Surgery degree in 2001. He subsequently underwent further training at KK Women's and Children's Hospital and Singapore General Hospital in various departments including Paediatric Medicine, Neonatology, Children's Emergency and Intensive Care.
How Will Tongue Tie and Hernia Affect Your Child?
Dr Nidhu Jasm, Paediatric Surgeon, Thomson Surgical Centre
Dr. Nidhu Jasm specializes in Paediatric Surgery for conditions such as lacerations and congenital abnomalities. She has special interest in the field of laparoscopy, for which she obtained fellowships from World Laparoscopy Hospital, India, and National University Hospital, Singapore. She is also a lifetime member of World Association of Laparoscopic Surgeons since 2016.
Improving your Child's Digestion with TCM
Ms Ho Chin Ee, TCM Physician, Thomson Chinese Medicine
Ms Ho Chin Ee is a fully registered physician and a member of Academy of Chinese Medicine Singapore and World Federation of Traditional Chinese Medicine. Her clinical expertise includes the use of TCM Paediatric Tui Na and herbal medicine for children with common paediatric conditions of the respiratory and digestive systems.
Fun with Chinese: A Specialised Approach
Ms See Lay Yen, Senior Specialist Teacher - Specialised Chinese Programme, Thomson Kids Specialised Learning
Ms See Lay Yen has been specialising in Chinese Language intervention for students with Specific Learning Difficulties (SpLD) since 2012. She believes that such students can reach their highest potential through perseverance and systematic, multi-sensory instructional approach. She is also constantly exploring teaching strategies to make learning engaging and effective.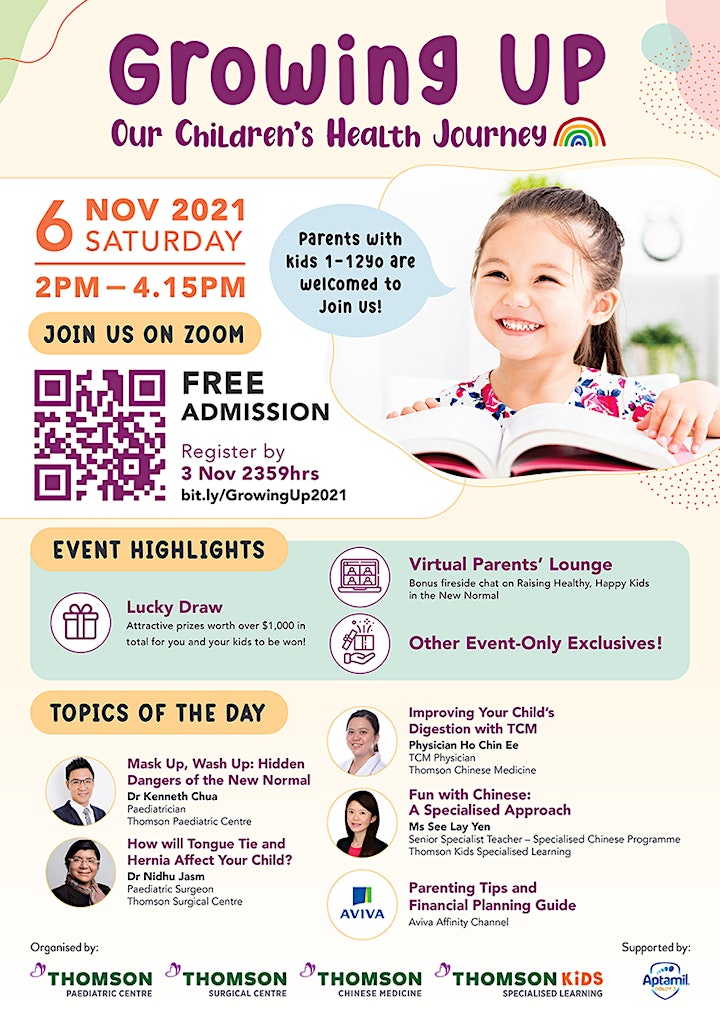 Organiser of Growing Up: Our Children's Health Journey
Listed on the Mainboard of Singapore Exchange, Thomson Medical Group Limited (SGX: A50) is one of Asia's largest healthcare players. Headquartered in Singapore, the Group's healthcare business includes Thomson Medical and TMC Life Sciences Berhad.
Established in 1979, Thomson Medical is Singapore's largest private provider of healthcare services for women and children. It owns and operates the iconic Thomson Medical Centre and a network of specialist medical clinics and facilities in Singapore. Etching a unique identity of providing personalised services in a friendly and cosy environment, Thomson Medical Centre has helped families celebrate life by embracing the birth of countless babies.
TMC Life Sciences Berhad is a multi-disciplinary healthcare company listed on Bursa Malaysia. It operates Tropicana Medical Centre, a tertiary hospital located in Kota Damansara, and the award-winning TMC Fertility Centre which is the industry leader in assisted reproduction in Malaysia. TMC Life Sciences also owns Thomson Iskandar Medical Hub, which is adjacent to Vantage Bay Healthcare City in Iskandar Malaysia. Sited on freehold waterfront land in Johor Bahru's City Centre, Vantage Bay Healthcare City is conceived as a first-of-its-kind integrated medical, education and wellness hub.
Over the years, Thomson Medical Group has expanded its operations to include new areas of specialities and services to care for women beyond maternity and their families across generations and operates across Singapore, Malaysia and Indonesia. Leveraging on the prestige and best practice of the companies under the Thomson brand, the Group is expanding beyond its heritage women and children's health services to transform into Asia's preferred health system.