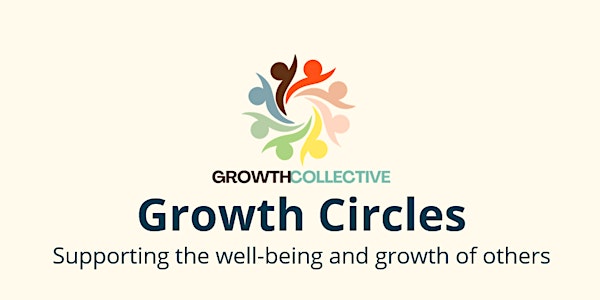 Growth Circle 25 Jun 22
Growth Circle Morning 25 Jun 22 , 9:30am - 11:30am.
About this event
A Growth Circle is a 2 hour safe space session created by the Growth Collective SG for individuals in the community to be empowered to support the well-being and growth of themselves and others. It is designed for participants to connect in a meaningful manner, support and feel supported while practicing human centric skills.
A Movement to build a world where everyone can support, be and feel supported
​​When a child cries, it does not take long for someone to rush forward with loving kindness. So, how is it that when we grow older, we often feel alone in our struggles? Let us change that. Let us be present much more for one other. Growth Collective SG is taking that first step to work across organizations and with individuals to break barriers and build a collaborative space where anyone can contribute. We can all be in this together to create a world where no one feels alone and unsupported, wherever they are.
Championing our Theory of Change
​​​​Growth Collective SG brings together individuals in Growth Circles where everyone belongs. In this space, everyone is heard, and is supported to develop themselves through exchanging ideas and expanding perspectives. Everyone too is empowered with skills to positively impact and support others to grow in the way they want to, without expectations. Build awareness, build kinships, and build capacity to support and impact anyone around you. Be part of an extended family. Here is a toast to growth, friendships and overall well-being.
Empowering our community with human-centric skills through Growth Circles
​Growth Collective SG trains Growth Fellows to create Growth Circles in their communities through our curated system of growth and support. Our Growth Champions are empowered with opportunities to practice and apply human-centric skills like empathy and compassion, emotional and cultural intelligence - skills which will positively influence relationships in their life.