Guru Rinpoche Retreat 2013

Saturday, 6 July 2013 at 09:00

-

Sunday, 7 July 2013 at 21:00 (Singapore Standard Time Singapore Time)
Event Details
Guru Rinpoche Retreat 2013
A weekend that will change your life forever!
莲花生大士闭关法会2013
一个能改善您一生的周末
Date:6 & 7 July 2013 (Sat & Sun) 9am - 9pm
日期:2013年7月6日与7日 (星期六与日) 早上9点至晚上9点
Registration open to all aged 7 years and above.
报名开放给7岁以上的朋友们。
Light refreshment provided, meals not included.
只提供茶点,不提供膳食。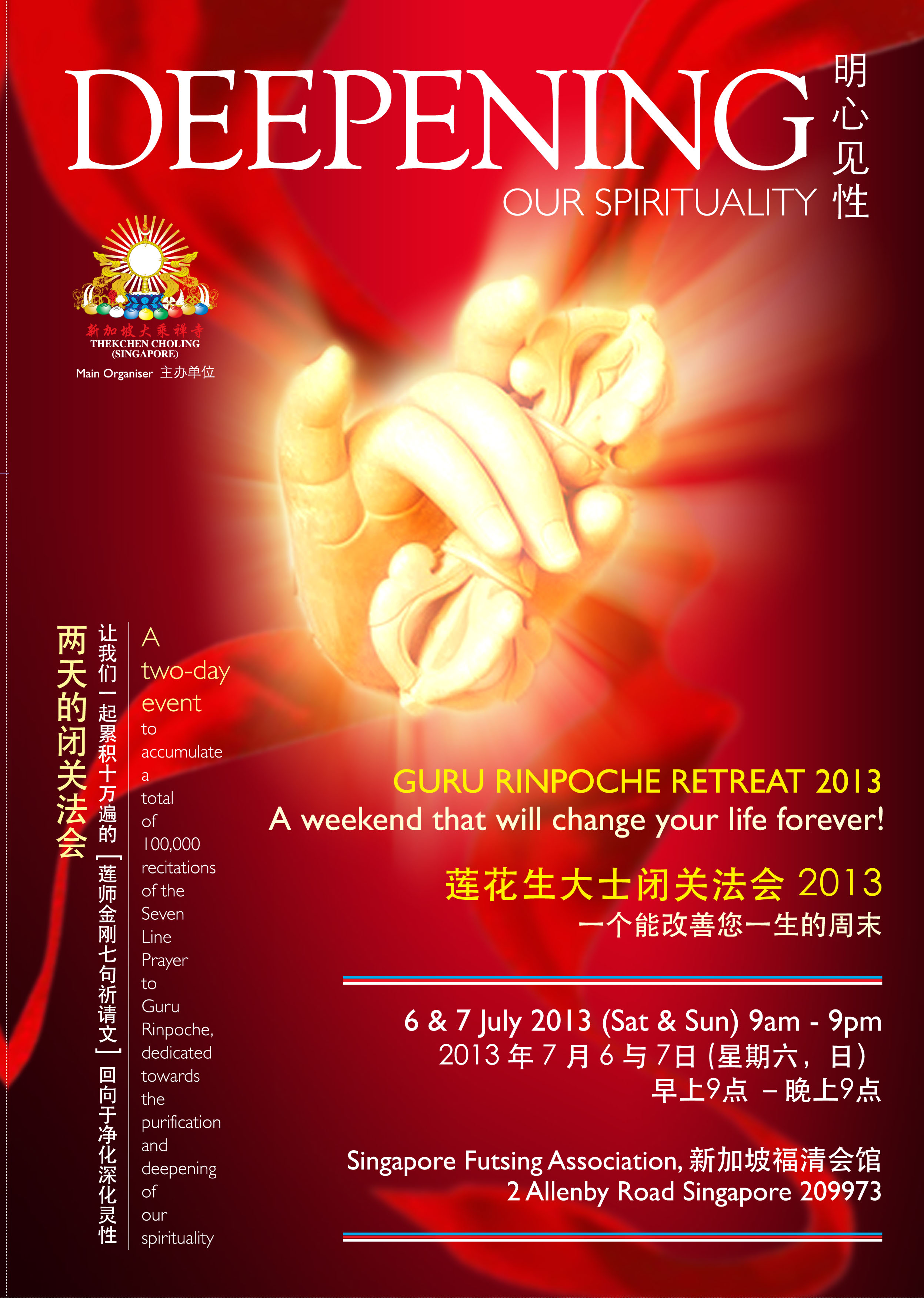 Deepening Our Spirituality 明心见性
A two-day event to accumulate a total of 100,000 recitations of the Seven Line Prayer to Guru Rinpoche dedicated towards the purification and deepening of our spirituality.
---
About the Lama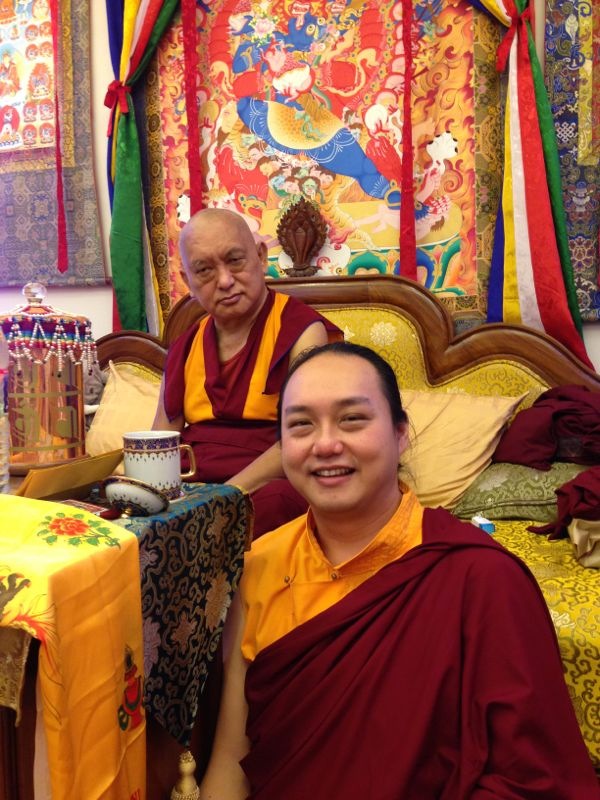 who is leading this Retreat 
Namdrol Rinpoche
(also known as Lama Dorje)

Through his ingenious use of lively examples, personal anecdotes and incisive reasoning, Namdrol Rinpoche allows students to experience the Dharma in a deeply relevant and intimate manner.

"So here i want to say yes, he (Lama Dorje) is definitely a reincarnation of a high Lharampa Geshe... He is not only carrying the name "incarnation" but, most importantly, he benefits so many different suffering people, helping in many ways, that is what i appreciate  most. So I say "Thank you" to Lama Dorje."
- Kyabje Lama Thubten Zopa Rinpoche
  Spiritual Director of FPMT
关于主法上师
南都仁波切 (也称为喇嘛多杰)
南都仁波切擅于巧妙的应用生活经历,尖锐的论证以及贴身轶事引导信众,让我们能更深刻的亲身体验佛法。
"我在此所要提的就是,他(喇嘛多杰)绝对是一位备受尊崇的喇嘛巴葛西的转世。我要谢谢喇嘛多杰,他不是只有"转世"的虚名,而是真正以各种善巧方式帮助,利益许多受苦的人,那才是我衷心感谢的。"
-FPMT 上师

喇嘛图登梭巴仁波切尊者

---
About Guru Rinpoche
关于莲花生大士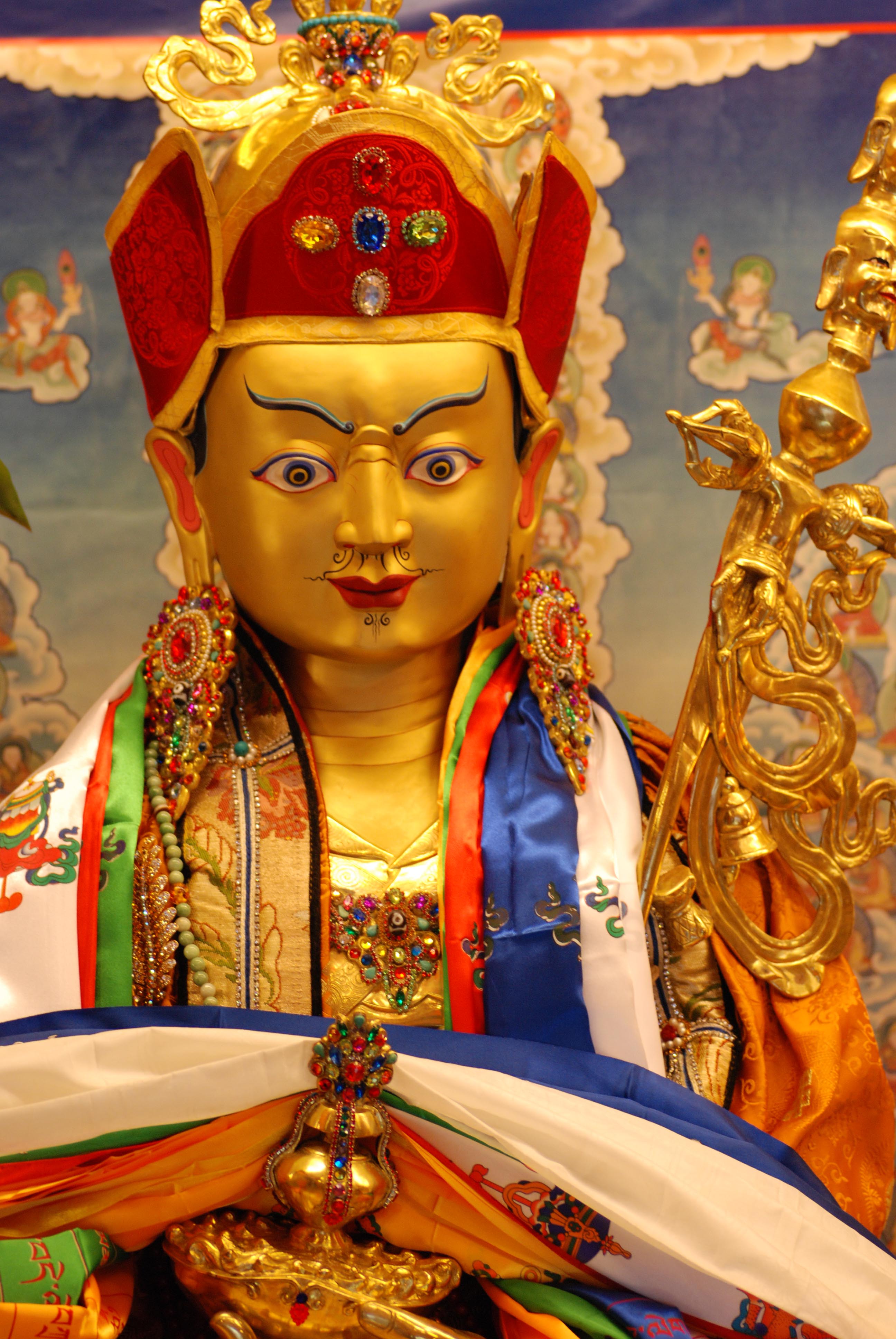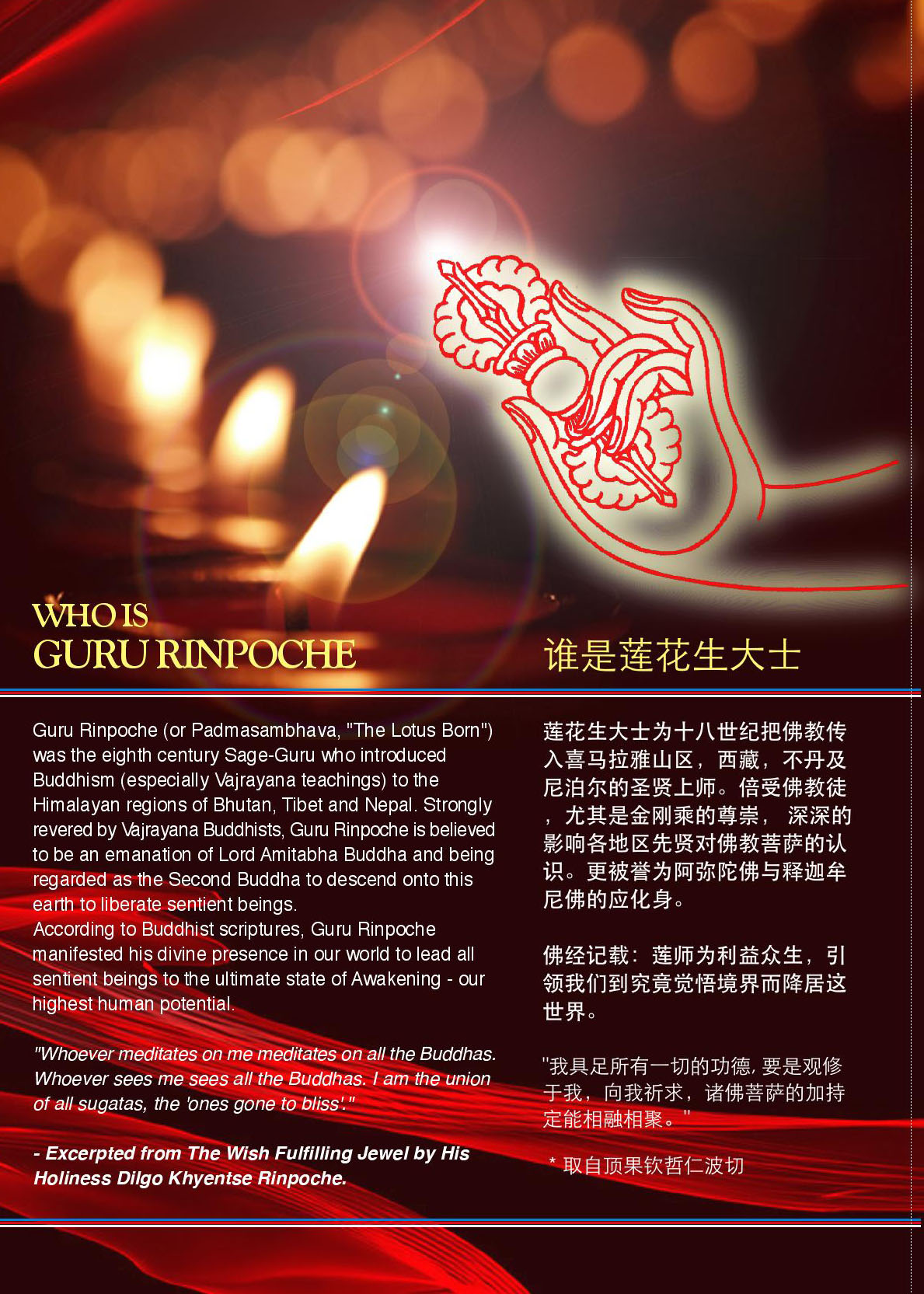 _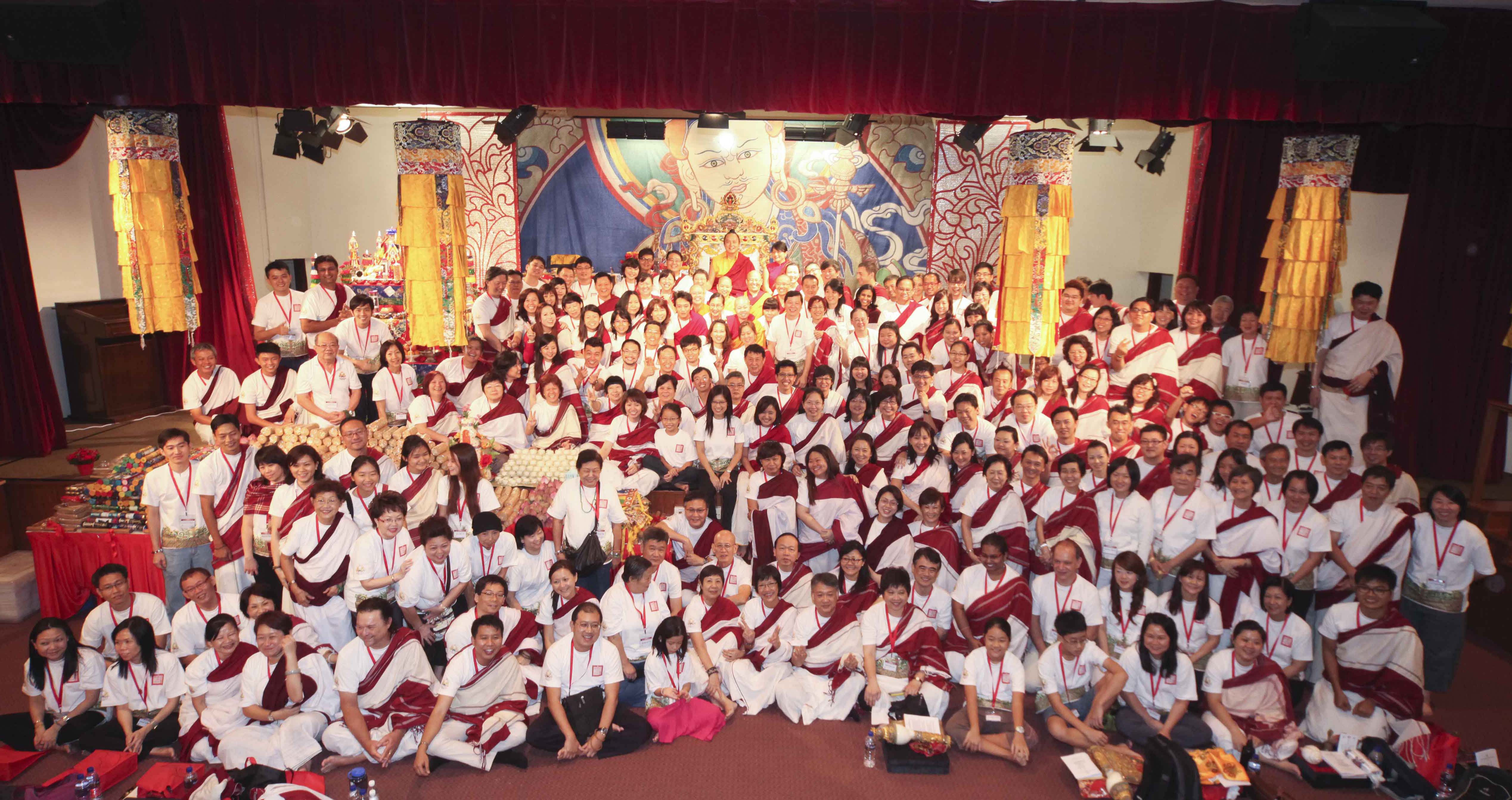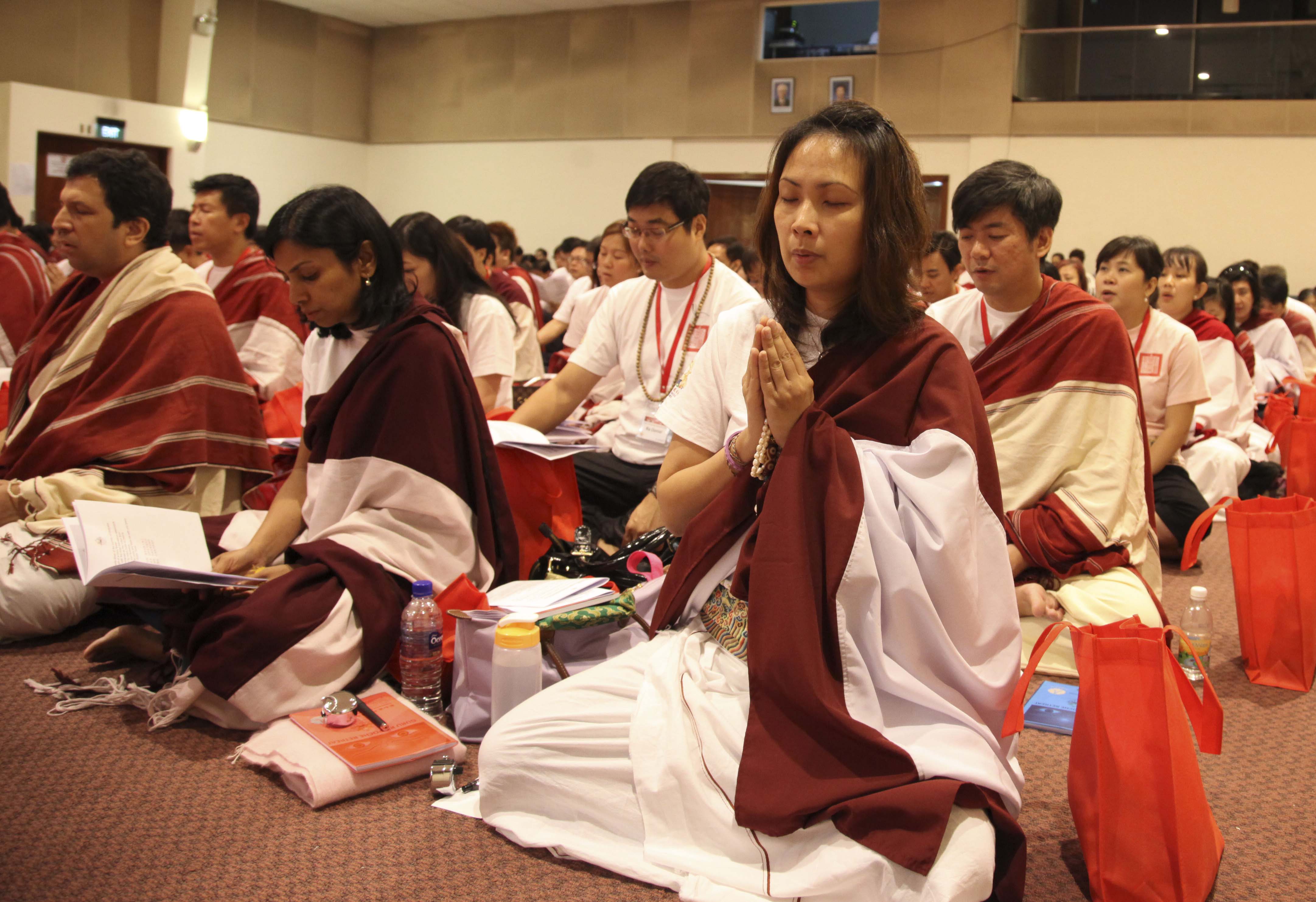 When & Where

Singapore Futsing Association 新加坡福清会馆
2 Allenby Rd
Singapore, 209973
Singapore

Saturday, 6 July 2013 at 09:00

-

Sunday, 7 July 2013 at 21:00 (Singapore Standard Time Singapore Time)
Add to my calendar
Organiser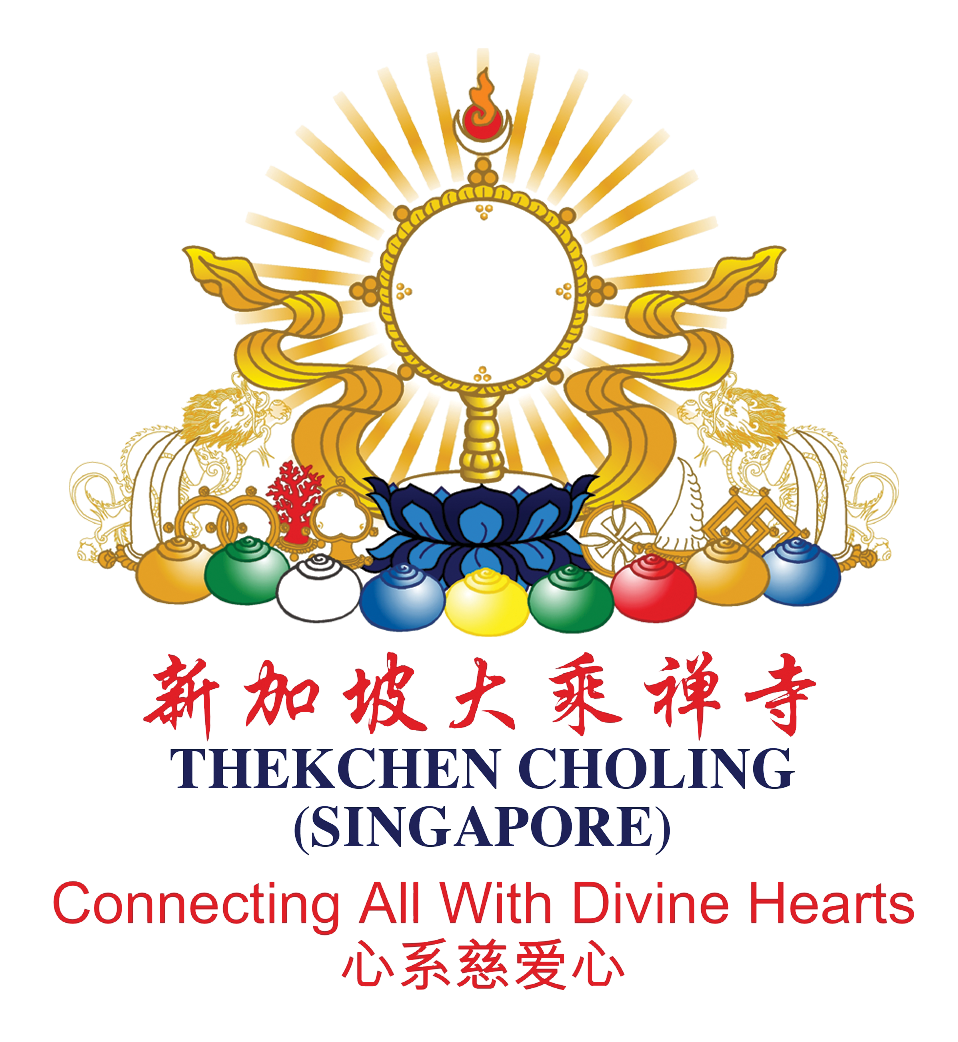 Thekchen Choling (Singapore), a Buddhist temple, that opens 24 hours, to serve your spiritual needs.
Background
On 20th March 1999, the late Geshe Lama Konchog, now reincarnated as Tulku Tenzin Phuntsok Rinpoche, instructed Singha Thekchen Namdrol Rinpoche (formerly known under the name "Lama Thubten Namdrol Dorje") to start a Dharma Centre. He bestowed the name Thekchen Choling, meaning 'Great Mahayana Dharma Temple' named after the monastery of His Holiness the 14th Dalai Lama.
Geshe-la's vision was for the temple to change the current mindset of that one can only practice the Dharma as ordained Sangha. Thekchen Choling's focus is thus to impart ways that lay people can practice the Dharma, integrating it into their everyday lives and learning to realize their inner potential and be happy and fulfilled.
In 2001, Thekchen Choling (Singapore) was formally registered. From a handful of students, the crowd at Thekchen Choling is now several times larger with a mailing list of five thousand and regular students numbering to several hundred.
Mission
The Mission of our Temple is to propagate the Buddha dharma and practise it ourselves.