Sales Have Ended
Ticket sales have ended
We thank you for your registration. See you at Stop.Breathe.Live. Retreat 2017 - Amitabha Phowa! Details of the program schedule and things to bring will be communicated nearer the date of the retreat at http://english.thekchencholing.org/sblretreat/
Sales Have Ended
Ticket sales have ended
We thank you for your registration. See you at Stop.Breathe.Live. Retreat 2017 - Amitabha Phowa! Details of the program schedule and things to bring will be communicated nearer the date of the retreat at http://english.thekchencholing.org/sblretreat/
Description
Guru Rinpoche Retreat 2018 - Feel His Presence
莲花生大士闭关法会2018 - 与他相应
Date:19 July 2018 (Thu) 7pm - 22 July 2018 (Sun) 9pm
日期:2018年7月19日(星期四) 晚上7点 至
2018年7月22日(星期日)晚上9点
THEKCHEN CHOLING (MALAYSIA)
Lot 691 Tai Hong Village
81900 Kota Tinggi Johor Malaysia
马来西亚大乘禅寺
马来西亚 柔佛州 哥打丁宜 泰丰新村 Lot 691

A 3-day event led by Singha Rinpoche, the spiritual director of Thekchen Choling (Singapore) to accumulate recitations of the Seven Line Prayer to Guru Rinpoche and tsok offering dedicated towards the purification and deepening of our spirituality.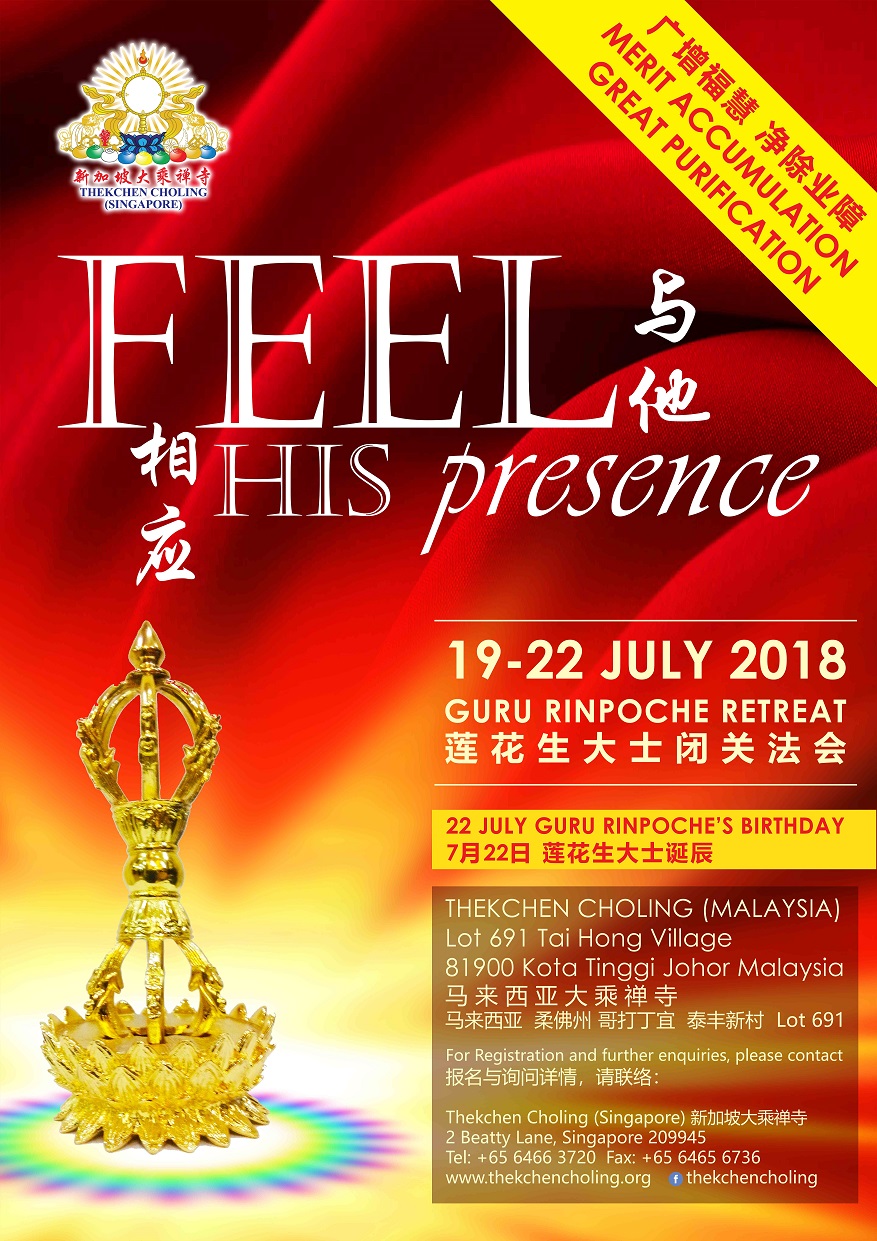 FAQs
1. Are there ID or minimum age requirements to participate in the retreat?
Yes, the minimum age requirement to be able to attend this retreat is 7 years old. Parents will need to take care of their children during retreat to ensure that the retreat environment is conducive for all.
2. What are my transport options for getting to and from the event?
2 way bus transport between Thekchen Choling Singapore (TCCLSG) and Retreat Venue/ Kota Heritage Hotel is available on 19 July (Thursday) at 7pm and 22 July (Sunday) night (Subject to changes).
Thekchen Choling (Singapore) - 2 Beatty Lane, Singapore 209945
Retreat Venue - 691 Tai Hong Village Kota Tinggi 81900 Johore Malaysia
Participants are encouraged to take the bus transport and NOT to take their own car. If you are obliged to take your own car, please inform us. The organisers will not be liable for any loss or damage to the car or any belongings inside the car.
During registration, please make sure to indicate whether you need to take the bus and/or the daily bus transfer by opting for the transport selection. There's transport fee to be incurred each bus transport selection.
If you do not indicate this, we will assume you do not need transport and make your own transport arrangement.
3. Can I park at the Retreat Venue if I come by my own means?
There's limited parking lots at the Retreat Venue. We encourage participants to take the bus and daily shuttle instead (ref. item 2 above).
4. What are my accomodation options?
Accommodation at Retreat Venue dormitory is provided but limited for the 1st 100 signups only. Subsequent participants who choose to stay at hotels at Kota Tinggi Town are to make their own booking through online portals like booking.com or agoda.com.
The recommended hotels to book are:
Kota Heritage Hotel
No 11 – A Jalan Seri Warisan 1, Kota Heritage Commercial Center, 81900 Kota Tinggi, Johor, Malaysia
Phone: +60 7-883 3866
Rest Inn Hotel
1-4, Jalan Abdullah, Pekan Kota Tinggi, 81900 Kota Tinggi, Johor, Malaysia
Phone: +60 7-882 7777
Hotel Cascada
41 , Jalan Kolam Air, Taman Medan Indah, Pekan Kota Tinggi, 81900 Kota Tinggi, Johor, Malaysia
Phone: +60 7-880 1888
5. What type of food will be served during the Retreat?
Only vegetarian food will be served.
6. What do I need to bring to the retreat? What do I need to wear during the retreat?
Please check our Information Sheet which will be posted on our website: http://english.thekchencholing.org/guru-rinpoche-day/
7. Is my ticket transferrable or cancellable?
We regret to inform you that your ticket is not transferable/assignable to any other person and it is not refundable.
8. How can I contact the organiser with any questions?
outreach@thekchencholing.org
Notes:
- "TCCL SG" means Thekchen Choling (Singapore), 2 Beatty Lane, Singapore 209945.
- "Retreat Venue" means Thekchen Choling (Malaysia), Lot 691 Tai Hong Village Kota Tinggi 81900 Johor Malaysia.
- "KH Hotel" means Kota Heritage Hotel, No 11 - A Jalan Seri Warisan 1, Kota Heritage Commercial Center, 81900 Kota Tinggi, Johor, Malaysia [participants to self-book hotel at agoda.com or any other booking website]