Halloween Mindful Scavenger Hunt & Yoga Obstacle Course
About this event
Halloween Mindful Scavenger Hunt & Yoga Obstacle Course
Join us for an adventure where our friendly zombies guide you through a series of yoga, aerial obstacle course and scavenger hunt in the studio and outdoor garden.
31 Oct (SUN), 1.5 hours
age 3 – 6
3:45 – 5:15pm
4:15 – 5:45pm
5 pax to commence per group
age 7 – 13
3:00 – 4:30pm
3:15 – 4:45pm
5 pax to commence per group
For private group request
3:30 – 5:00pm
4:00 – 5:30pm - SOLD OUT
4:30 – 6pm
5 pax to commence per group
$90 per child
10 winstedt rd, S227977 (Newton)
Disclaimer:
For safety measures:
In the event, we cannot proceed with the session due to Covid restrictions, some children under quarantine order or sick (no longer can meet 5 pax to commence), we will provide a refund to the entire group who sign up for the session.
For wet weather plan:
For the garden activities, we will still continue the session under shelter (a great time to learn mindfulness practice, to accept where we are and choose how we can want to continue to enjoy the session).
By registering for this event, you agree to be contacted for future events.
Mindful Space
97837313
https://www.mindfulspace.com.sg/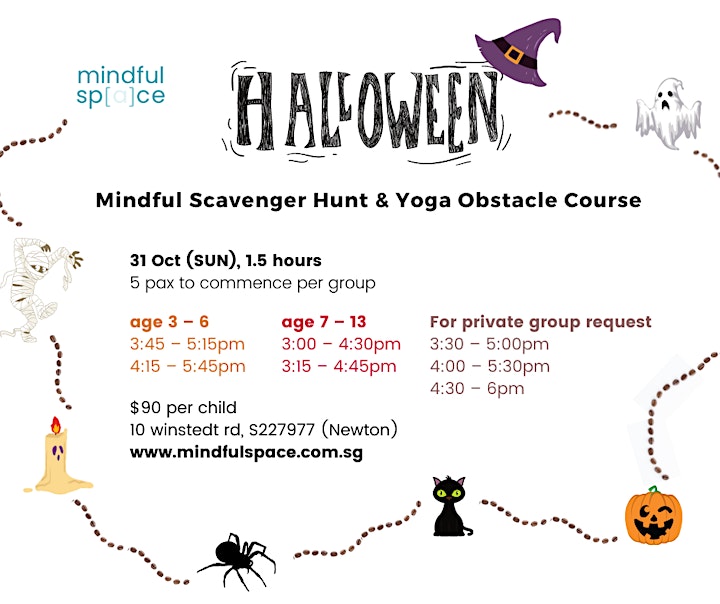 Organiser of Halloween Mindful Scavenger Hunt & Yoga Obstacle Course
Holistic and inclusive space to empower parent & child with life skills - develop & balance the mind (IQ), body (PQ), emotions and behaviour(EQ).
We believe in order to support the child, we must first support the parent.
1. Parent's Well Being
2. Parenting Knowledge & Skills
3. Parent's bonding & learning with their child
OUR SERVICES:
Parent & Child Classes
Kids Enrichment
Yoga & Fitness
Life Coach
Business Coach
Family Consultation 
Parenting Workshops 
Teacher Trainings
Corporate Events
Holiday Programmes