Hands-On Money Making Mobile Apps Session - (KL/Sgor)

Sunday, November 30, 2014 from 3:00 PM to 7:00 PM (Malaysia Time Malaysia (Kuala Lumpur) Time)
Event Details
 Warning:
THIS COULD CREATE MASSIVE TURNING POINT IN YOUR LIFE!!
You can stay in the rat race OR break free and create that fulfilling &
WEALTHY LIFE you've always wanted!
 YOU CHOOSE…
  This could be your answer to:
How YOU Can Create Multiple Streams of Income

Quit Your Job & Earn a Good Income From Home

An Extra 5-Figure Income to Do Things You Love

Endless Possibilities For YOU & Your Loved Ones
We are good at creating Mobile Apps and to date, we have sold so many Apps on the market place and earn a regular Monthly Passive Income that is many times more than the average monthly income of most people.
 If you are interested to explore how you could receive more income, we welcome you to this rare Hands-on Apps Creating Session where you can build a functional app within this short period.  It's easy & no program knowledge required!
You need to bring:
A smartphone or tablet 
A Laptop for actual practical
(pls reserve your laptop if you need to use ours, first come first serve basis)

Who should attend?
You who want more income, more time freedom, more choices in life
You who want to bring your business into the mobile digital marketing

You who want to create a home-based business
You who want to explore changing career
You who are curious at how apps are built & created
SEATS ARE LIMITED!  Reserve your seat(s) early to avoid disappointment!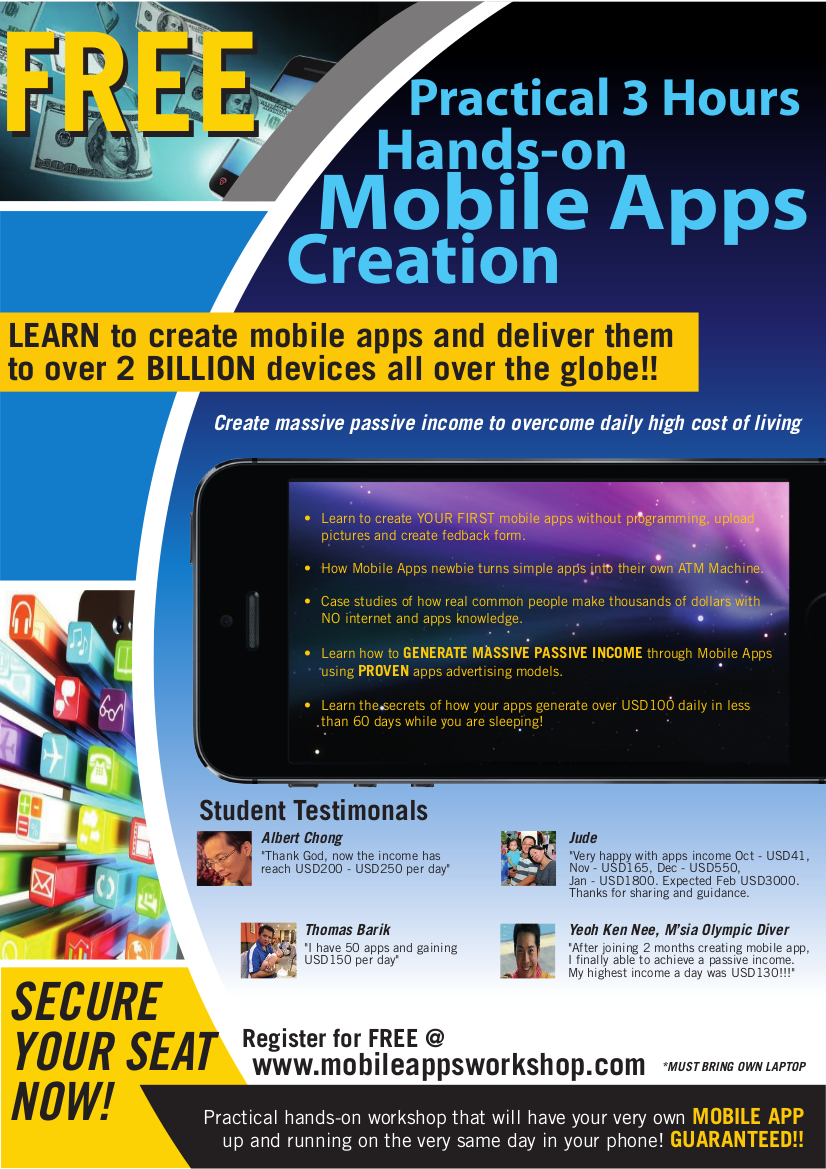 ▓ Testimonial from our FREE 3 Hours Workshop Particpants ▓

"Good introductory session about what is a mobile apps and how it can be build and develope from zero. Very good for people with zero knowledge. After the course ends, you are already an apps developer".
- BALQIA ENZY ZAINAL - Sept 2014
"There is only one way to describe how I feel now____EXCITED!!!"
"Kartina's explanations & guidance is always frank and clear_____ Thank you."
"The preview gives a very clear overview of the system & its aim".
"Especially useful to be able to 'make' a simple app, rather than just theory"
"Facilities - easy parking, clean room, refreshments."
- AHMAD FI - Sept 2014
"I have a new understanding on apps making. It was an excellent workshop with great practical exercises."
- LIM ZHIN INN - Sept 2014
"Very good and fairly comprehensive exposure to beginners. A real eye-opener and learned a lot"
- MARCUS TOY - Sept 2014
"Very informative about the opportunity in mobile apps for passive income. The facility is sufficient. Kartina is very friendly and generous".
- KELVIN TAN - Sept 2014

"Tambahkan keyakinan saya untuk sesuatu yang baru, ilmu yang disampaikan sangat menyakinkan dan buat saya nampak lebih kelebihan dari kekurangan".
- YAZID MUHAMMAD AZIZI - Sept 2014

Thank you for the great preview and attractive packages. Very interactive and informative.
- TAN SZE PIN - Sept 2014
"Ini adalah ilmu masa hadapan. Hari ini saya berfikir saya sudah berbeza. Saya ketahui dimana lombong emas baru".
- KHAIRUL ANAM - Sept 2014
"It is a good introduction session for making mobile apps".
- MOHAMMAD SALLEH ABDUL RANI - Sept 2014
"I am attending preview held on 6th Sept 2014. As a normal person without a programmer but seeking a side monthly income. The preview is good, practical & beneficial to me. Clear explanation.".
- MOHD SAHARUDDIN ZAKARIA - Sept 2014
"Easy to understand & learn! Awesome and practical".
- ONG SOON KIAT - Sept 2014
 "I found that this 3 hours mobile apps workshop preview provides a very practical and hands-on overview into how to create mobile apps easily without programming knowledge & how to monetize on it. Kartina knows her stuff welll".
- RAY LEE - Sept 2014
 "In my opinion Kartina is a dedicated teacher, she aspires us to learn and be involves in creating mobile apps. She is always ready to listen and help us. I have attended her preview sessions last month Aug 2014 and move on to subscribe and she has never given up to support me in my small business app. I appreciate her efforts and hopefully be able to master the mobile apps and publish soon".
- JACQUELINE YONG - Sept 2014
"I gain much knowledge on how to build mobile apps without knowing how to do programming. Programming your own mobile apps are very tedious. You have to learn a lot on new things if you want to do apps programming. By using this App Builder will save a lot of time".
- SHAMSUL AKMAL - Sept 2014
 "This workshop has been an eyeopener. Truly inspiring and very insightful into the app market. Definitely a workshop to attend in order to gain more knowledge and insight into the app market. Truly glad, I was able to come across the workshop".
- MOHD MAAFUZ HOSSAIN - Sept 2014
 "Gain knowledge and information on how apps is making fantastic amount of money".
- ALVIN LAW - Sept 21st 2014
"Very clear explanation about passive income via mobile apps".
- HASLI - Sept 21st 2014
 "It is very good,informative and interactive session. Participants is exposed on the newest trended statistic in apps usage".
- Nur Syazana  - Sept 21st 2014
 "I do see some benefit in this line of business. Looking forward to working with the genuine expertise ".
- Huda Sohail - Sept 21st 2014
 "A very good workshop. Eventhogh I came in late. Believe that this was a great talk by Mrs Kartina. I will suggest to friends if they are looking for mobile apps workshop.".
- NOR FARA AZWIN - Sept 21st 2014
 "7 star must come again ".
- MOHD INAM - Sept 21st 2014
"Enough to say that this session is an eye openor. This is an oppurtunity virtually untapped. The presenter has done her job satisfactorily. She has showed me the door, it's just a matter of walking into it. Appreciate it so much".
- AINAN ROAZA ABD RAHIM - Sept 26th 2014 
 "Very interesting explanation. Easy, clear explanation to follow through".
- MONA JAAFAR - Sept 26th 2014
"Workshop sangat menarik dan memberikan laluan yang mudah kepada kami untuk menghasilkan mobile apps yang boleh menjana passive income! ".
- JAFIZATUL AZLINDA JAAFAR - Sept 26th 2014

 "Simple and easy tutorial & hands-on to generate apps for android and apple. Great lecture and easy to understand. Great passive income! Thank you!".
- ABDUL HAFIZ- Sept 26th 2014
  "What a comprehensive, informative & pwerful workshop! Mobile apps is the latest & biggest thing to come. Glad I came. Now to earn from it!  ".
- COACH RIZAL,COACH & ACCELERATED LEARNING TRAINING & CONSULTANCY - Sept 26th 2014
"As someone who is quite familliar with the mobile dev scene, I'm pleasantly surprised to learn something in regards to mibile development in a very interesting way. Workshop is done really well and love the personal interaction that the trainer had with the participants".
- SURIAVARMAN- Sept 27th 2014
 "Good motivation speech. Nice perspective on money ads and app relationship ".
- SANJAYA DESA- Sept 27th 2014
 "I found to be informative and approprite to learning about the mobile apps. Thank you for sharing tips. Very exciting to learn what oppurtunities there are. ".
- DHYAANAH LOW- Sept 27th 2014
  "Good to expose new learner to get to know about mobile apps. Easy parking & good accomodation ".
- AHMAD NASRON MOHD NASIR- Sept 27th 2014
"The pace how the workshop conducted was just nice. It was easy to grab/understand. Despite being in a class of 10 people, I felt as if I had a personal coach. Kudos to Miss Kartina ".
- BHUVANESHWARI JEYAKUMARAN- Oct 4th 2014
"Step by step mettod to passive income. In depth knowledge on mobile apps creation, Thank you. ".
- CHIA KAH HIAN- Oct 4th 2014
"I am thrilled on how easy to create a mobile apps. I am amazed".
- ALEX WONG - Oct 4th 2014
 -------------------------------------------------------------------------------------

** Each attendee is allowed to join the workshop once only. **
(the workshop training is the same for all the classes)

Venue: Mobile Apps Workshop, 7-2, Jalan 3/4C, Desa Melawati, 53100 KL(Beside Taman Melawati, 5 mins away from The National Zoo & 5 mins away from Wangsa Maju LRT station)
-------------------------------------------------------------------------------------
 WIFI is provided in our place for effective practical using your laptop.

 If you do not have laptops, pls sms 019-2186767 for bookings of laptops as we only have few spare availables. Please indicate your name, date and time of registration.
---------------------------------------------------------------------------------------
For Muslims : Praying area is provided in our Desa Melawati training centre.

RESERVE AND COME FOR OUR FREE WORKSHOP THIS YEAR AS NEXT YEAR WE WILL START CHARGING FOR THE WORKSHOP.

When & Where

Mobile Apps Workshop
7-2, Jalan 3/4C
Desa Melawati
Kuala Lumpur, Kuala Lumpur 53100
Malaysia

Sunday, November 30, 2014 from 3:00 PM to 7:00 PM (Malaysia Time Malaysia (Kuala Lumpur) Time)
Add to my calendar
Organizer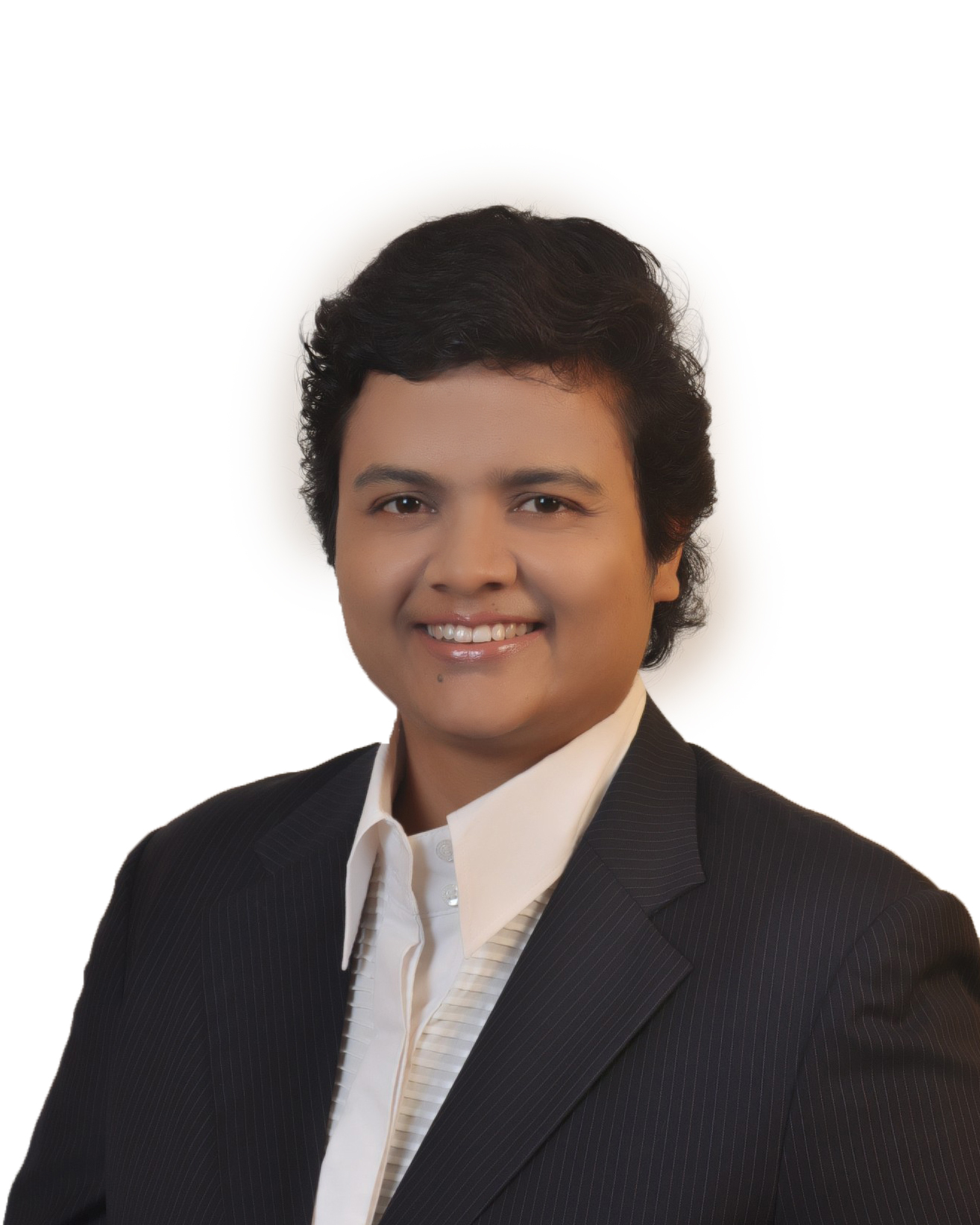 Kartina Abdul Ghani, holds a BBA, UiTM and Executive Diploma in Engineering Business Management (Project Management), UTM & Professional Diploma in Internet Business & Media Social, OUM. She is also a Certified Professional Intellectual Property Manager, MIM and has conducted various workshops since 2006. She is a certified HRDF Trainer since 2014. She now operates and conducts all her workshop from her own Trailblazer Success Training Centre situated in Desa Melawati, Kuala Lumpur.
Since 2013, she has trained more than 2000 new mobile apprenuers who attends her FREE Mobile Apps Workshop throught out Malaysia between 2013 to 2015. Currently she operates under Trailblazer Mastery in conducting proven mobile apps workshop to entreprenuers and inviduals who do not even need to have IT knowledge to create mobile apps using her 3 simple techniques that is guaranteed.
Kartina continues to publish apps to achieved her own daily passive income target. She has published more than 300 apps into Google Playstore and Apple ITunes Store. She kept hereself up to date with latest trends in Mobile Apps by attending many professionals workshop organised by Google and others. She is very focus on creating and publishing her own mobile apps and training new mobile apprenuers.
Hands-On Money Making Mobile Apps Session - (KL/Sgor)