Learn to make your own sugar, gluten and nasties free Kimchi. Customise it to suit your taste bud and add some probiotics into your diet. :)
About this event
Kimchi is a popular Korean dish enjoyed by every Korean family in their everyday meals. By eating Kimchi with their food, it aids in digestion of the food better.
It made by fermenting vegetables using the Lacto Fermentation method. Hence, the nutrients from the vegetables are intact and it is loaded with probiotics produced during the fermentation process.
Learn how to make your own Sugar and Nasties Free Kimchi and introduce natural probiotics into your diet.
Workshop contents:
-Kimchi Workshop Hand-outs
-All ingredients
-Hands on Cabbage Kimchi making
-Ways to modify Kimchi to suit your tastebud
-Vegetarian/non Vegetarian Kimchi
-Glass container to store the Kimchi
You would get to bring back the Kimchi(about 1 litre) that you have made during the workshop.
Please bring along 2 big clean basin, a knife and chopping board as this is a hands on class.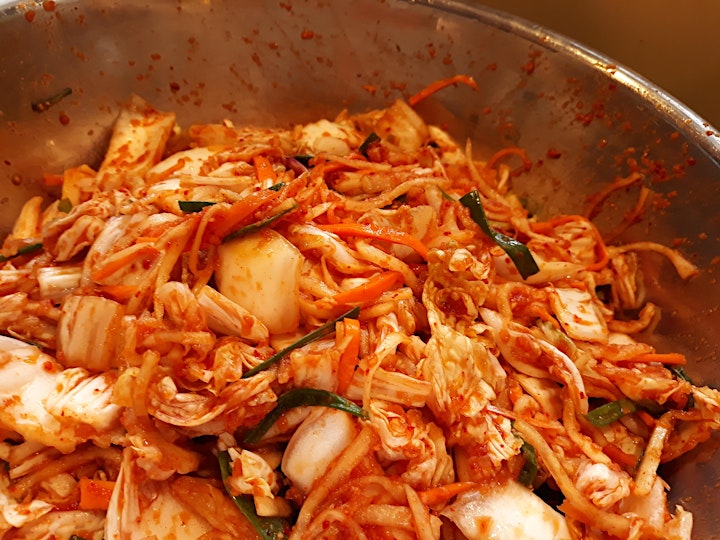 Organiser of Hands on Vegetarian Kimchi making Workshop(Gluten and Sugar Free)
Jaslyn was introduced to Reiki in Oct 2013 and is a Usui Reiki Teacher. She received her training under Elaine Grundy, the founder of The Reiki Centre, Singapore. Reiki helped her find the necessary balance in a hectic work environment – Jaslyn was a Logistics Officer in a local manufacturing company. The active practice of Reiki has also played a big part in her personal growth. In 2015, Jaslyn resigned from her corporate job to pursue a holistic career as a Reiki teacher/healer as she saw how Reiki had transformed and benefitted her and her family.
Aside from group classes, Jaslyn also offers private Reiki healing sessions and Reiki Sound healing at One Heart. She integrates these sessions with her Alchemy crystal singing bowls, which further aids healing at a deeper, and harmonised level.
She is passionate about passing on the teachings of Reiki to others and helping them in their journey of self-healing, self-discovery, self-empowerment, and finding their inner peace to deal with a hectic lifestyle.
Jaslyn believes that it is never too late to learn a new skill, and at any point in your life. It is about having the trust and faith in yourself, to take the first step. She believes that everything that you experience in your life is not by chance – they all happen for a reason. Her role as a teacher/healer is to guide you on your journey, to empower you to heal yourself and others with light, love, and compassion.
Jaslyn is also a Certified Personal Trainer(American Council on Exercise, USA), Senior Fitness Trainer(American Council on Exercise, USA), Fitness Nutrition Specialist (American Council on Exercise, USA), Certified Sports Massage Practitioner(International Sports Academy) and a RYT 200 Yoga Teacher certified by Yoga Alliance.
Jaslyn is also available for private and corporate Yoga classes. Please contact her at 97524857 to find out more.
Jaslyn has an extensive background and passion for cooking. She is actively conducting demonstrations and workshops in One Heart to share her knowledge on optimum nutrition and healthy food preparation techniques under her movement, Cook Food Eat Love.
Please contact Jaslyn if you are looking for Corporate Events or Team Building workshops at 97524857.