Join us in this 4-week course on Tuesdays: Aug 17, 24, 31 & Sept 07 7.30pm - 8.45pm.
About this event
"The purpose of understanding and believing in karma is to prevent future suffering and to establish the basic foundation for the path to liberation and enlightenment." - Venerable Geshe Kelsang Gyatso Rinpoche
Everyone wants to be happy, peaceful and successful, but few people confidently know how to create the causes to experience these results.
The law of karma is a special instance of the law of cause and effect, and a fundamental Buddhist principle. According to the law of karma all our actions of body, speech and mind are causes and all our experiences are their effects. The law of karma explains why each individual has a unique mental disposition, a unique physical appearance and unique experiences. These are the various effects of the countless actions that each individual has performed in the past.
During this series of classes, Kelsang Rabka will help us to gain an understanding of the law of karma with which we can protect ourself from future misfortune and create a pathway toward future happiness and success.
Week 1: An introduction to karma
Week 2: The general characteristics of karma
Week 3: Specific actions and their effects
Week 4: How to purify negative karma and protect positive karma
** This course is also repeated in-person on Wednesday evenings. [Book Here]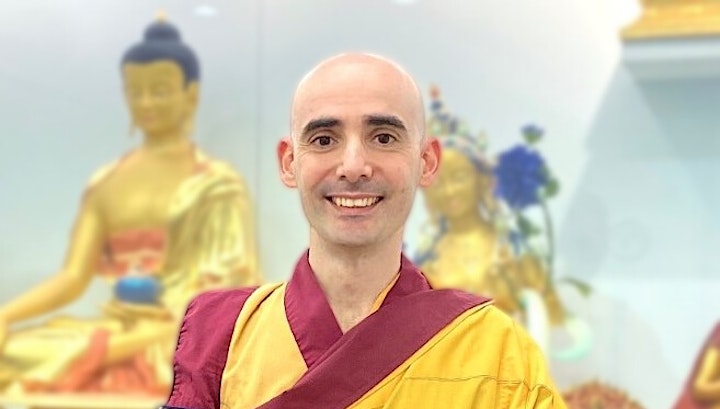 About The Teacher:
Kelsang Rabka was appointed as the Resident Teacher of KMC Singapore in mid 2020. He is an Australian Buddhist monk who has been studying and practicing Kadampa Buddhism with Venerable Geshe Kelsang Gyatso Rinpoche and his senior disciples for 13 years, and has taught both in Australia and the UK.
The clarity and warmth in his teachings has helped many students experience the practical benefits of modern Kadampa Buddhism in their daily lives.
Organiser of Happiness & the Law of Karma (Tuesdays)
Kadampa Meditation Centre Singapore at 18B Keong Saik Road is a precious sanctuary of peace in the middle of this bustling city.
The Centre offers a full range of meditations, teachings and retreats, which offer practical advice from Buddha to help people make their daily life happier. Study Programmes are also available for those who wish to deepen their understanding or train as Buddhist teachers. With its magnificent statues, tranquil atmosphere and modern Buddhist bookshop it is a perfect destination for anyone seeking peace, relaxation and inspiration.
Modern Buddhism is a special presentation of Buddha's teachings for the modern world that shows how Buddha's advice on wisdom and compassion can benefit anyone in modern society regardless of age, race, gender or faith.