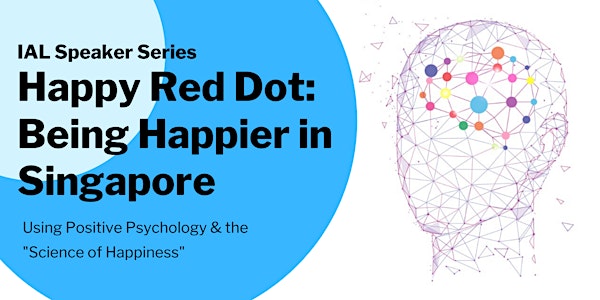 Happy Red Dot: Being Happier in Singapore
Learn how to achieve greater happiness in your life by exploring the nature of happiness and becoming happier in Singapore.
About this event
What is this topic about?
Happiness is one of the most sought after qualities in life, in both personal and professional contexts. Singapore, however, does not generally appear at the top of global happiness rankings — a stark comparison with other areas such as education, safety, low corruption, and standards of living, in which Singapore frequently tops the lists. There is a clear disparity between achieving professional success and attaining happiness, and this can lead to feelings of loneliness and anxiety.
Learn how to achieve greater happiness in your life by exploring the nature of happiness. Explore credible evidence and ground-breaking research in the fields of neuroscience and psychology, and discover ways in which happiness can be cultivated and developed through the application of specific principles and the use of a number of tools, designed to target specific aspects of happiness.
In this interactive and fun-filled three-hour session, you will explore The Science of Happiness, examine what happens in the brain when you feel happy, and learn how being happy can be controlled by making a conscious decision. Drawing on findings from research in the social sciences, tools such as the Happiness Calendar and the Singapore Happiness Wheel will help you to explore happiness in your own context, and work on happiness in a systematic, step-by-step manner through hands-on activities and discussions. From here you will be able to apply your learning to foster your own form of happiness, and in turn attain and sustain a uniquely Singaporean brand of happiness. This fun and entertaining session draws on real world examples, custom-designed videos, games, and resources authored by the programme leader, and empowers you to take full control of your own happiness — and attain sustainable, genuine, Singapore-style happiness.
Please note that no form of recording is permitted during this session. All copyrights and trademarks are to be respected at all times.
Who is it suitable for?
Adult Education: individuals involved in learning design, curriculum development, learning facilitation, competency assessment, integration of learning technology, or those involved in consultancy and advisory services relating to business performance
Learning Management: individuals involved in the management or support of learning programmes, systems and technology management and implementation, quality assurance of learning programmes, and business development
All educators, executives, healthcare professionals, and any other interested adults
===============================
Registration closes 1 day before event at 12pm.