A gorgeous 45 min practice with meditation and breath-work sewn in. A yoga class like no other: I create each session for every new group.
About this event
I'm very excited to join together with The Canvas Cafe, E1 and launch FREE Hatha Yoga and Meditation in their Community Hub.
Come along for simple, mindful yoga sessions in this creative space. It's so much fun to practice in inspiring places and connect with like-minded souls.
Classes are at 10.00, 12.30 and 18.00 on the following dates:
Wednesday 24th November // Monday 29th November // Wednesday 1st December // Monday 6th December.
Wear comfy clothes, bring a yoga mat and grab something to eat or drink in the Cafe after if you fancy.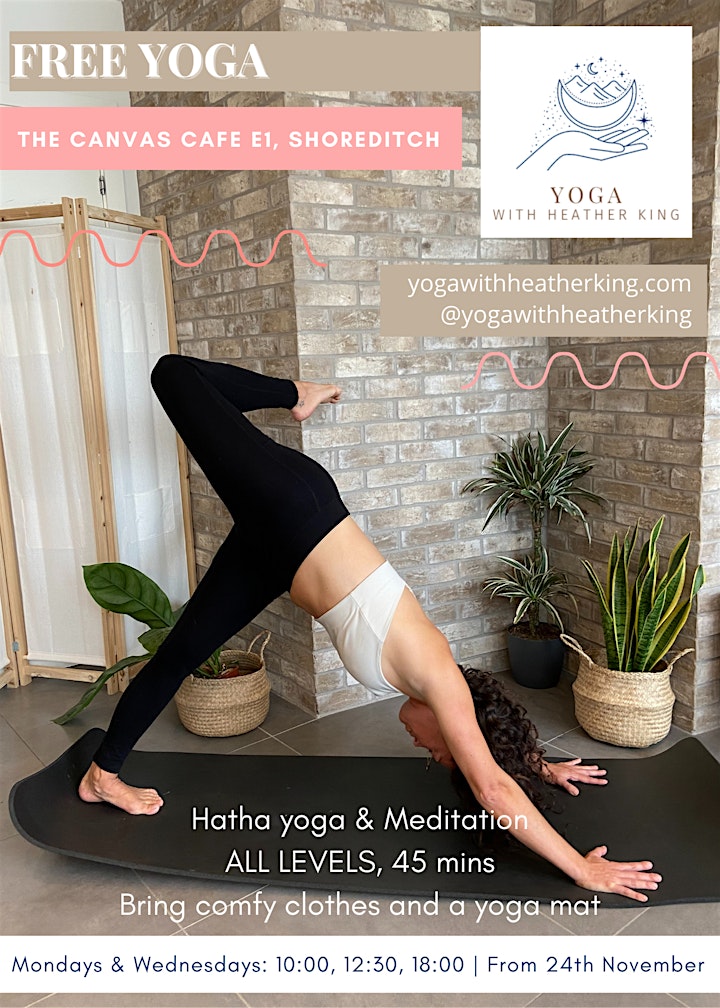 Arrive at The Canvas Cafe, and immediately feel part of something unique, because each class is created for whoever arrives. You're invited to share what brings you, and what you need from practice (and if you just want to move and be quiet, I've got you too). I design each class individually, with the aim to give you what you need. Our bodies and minds are all so different, and so you set your own pace, find your own flow and go as far as feels juuuuust right for you.
I provide the container, you decide what you need. Through yoga we remember our innate goodness, and practice connecting to the divine light that resides within each of us.
Come in comfy clothes, no Lycra needed. Please bring a yoga mat. This is simple yoga and meditation at it's best. Inclusive, collaborative and deeply nourishing.
Leave the class feeling supported, open and calm. Feeling set for the rest of the day, whatever that may be. Perhaps that's grabbing a delicious smoothie, vegan meal or a coffee at The Canvas Cafe.
Classes are free for a limited time, so come and join when you can :). I'll be opening classes in another space in January 2022, so watch this space!
As always, Covid-19 precautions are still in place.
We will look to maintain adequate social distancing, but please do bring a facemark in case distancing it difficult to maintain at all times. Please reframe from attending if you or anyone in your household have possible Covid symptoms, including cough, high fever or loss of sense of taste or smell. Please do let us know if you test positive for Covid-19 following your visit.