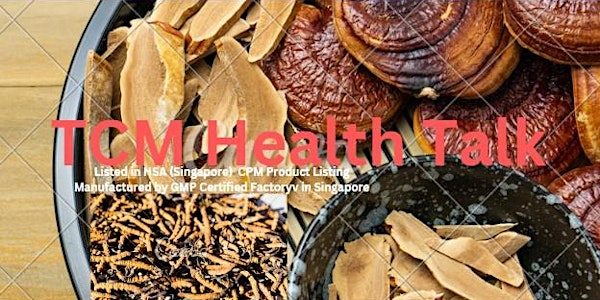 Health Talk on TCM Supplements
Discover how you can build a stronger mind and body - Explore the King of Herbs of Traditional Chinese Medicine(TCM) for your immune system
When and where
Location
Paya Lebar Square 60 Paya Lebar Road Singapore, 409051 Singapore
About this event
Are you feeling the signs of aging?
Are you longing to have a healthier and more active life?
Discover how you can build a stronger mind and body
- Explore the King of Herbs of Traditional Chinese Medicine (TCM) for your immune system to stay healthy
Unlike western medicine focuses on science and drugs, TCM is based on balance, harmony and energy. TCM is an ancient system of health and wellness that has been used in China for thousands of years. Western medicine focuses mainly on treating or managing diseases, but TCM looks at your entire well-being.
At the Health Workshop, you will learn:
1. Introduction to TCM Supplements
2. Ganoderma lucidum (Lingzhi) and its benefits
3. Cordyceps (Dong Chong Xia Cao) and its benefits
4. Other TCM Supplements products
5. Product speaks for itself - Testimonies sharing
6. Great Products Great Opportunity - How can I eat healthy on a tight budget?
TAKE CARE OF YOUR BODY, IT IS THE ONLY PLACE YOU HAVE TO LIVE IN IT.
"True wealth is having a Healthy Body, Mind and Spirit. It is having the knowledge to manoeuvre and navigate the mental obstacles that inhibit your ability to soar", quoted by RuPaul.
Register and Connect with us at the Workshop!
Who Should Attend: Health enthusiasts who want to live a healthier and happier life.