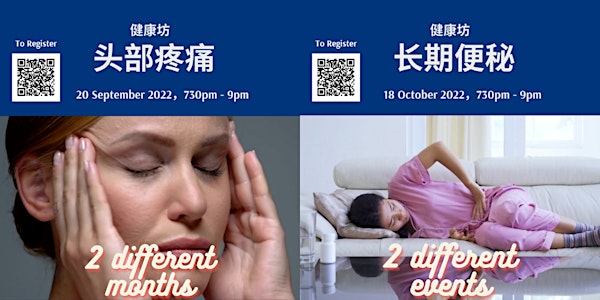 Health Workshop (Chinese) 健康坊
健康的身体来源于气血顺畅、经络畅通与腑脏平衡。如果没有好好保养,气血不顺经络不通腑脏就会受到影响。
When and where
Location
Singapore Singapore Singapore Singapore, Singapore 179100 Singapore
About this event
A healthy body comes from the smooth flow of qi and blood, the smooth flow of meridians and the balance of the organs.
If it is not properly maintained, the qi and blood will not flow through the channels and collaterals and the internal organs will be affected.
Can the recent popular detox meal really help eliminate toxins from the body?
Every month, we are having 1 different type of chines health workshop for you.
Follow to get the latest updates on our events
Let's listen to Iris Sun share what maintains a healthy body, how do toxins behave in the body, and how to truly detoxify?
Let Teacher Sun teach us how to promote detoxification of the body.
Friends who are interested, please sign up for it.
See you on meeting!
健康的身体来源于气血顺畅、经络畅通与腑脏平衡。如果没有好好保养,气血不顺经络不通腑脏就会受到影响。
如何发现我们身上有毒素,怎么进行排毒?
最近盛行的排毒餐真的可以帮助排除体内毒素吗?
每个月,我们都会为您举办 1 场不同类型的健康坊。
请关注我们,这样可以及时关注我们的最新活动。
一起来听听Iris孙老师分享健康的身体是靠什么维持的、毒素是如何做的在身体上表现、如何真正排毒?让孙老师教我们如何促进身体排毒的方法。
有兴趣的朋友们,请踊跃报名参加。
云端分享会上见喔!